Vaccine Passports Dealt Another Blow as Ohio Lawmakers Push Bill Against Them
Vaccine passports have been met with pushback in some states across the U.S. On Tuesday in Ohio, two Republican state lawmakers moved forward to introduce legislation prohibiting their use.
Representatives Al Cutrona and Mike Loychik said they are working to co-sponsor legislation to prohibit entities from requiring proof of a COVID-19 vaccination to allow people access into an area or establishment.
"Ohioans are encouraged to take the COVID-19 vaccine for the health and well-being of themselves and others," Cutrona said in a statement on Tuesday. "However, a vaccine should not be mandated or required by our government for our people to integrate back to a sense of normalcy. We've had restrictions on our freedoms for over a year and more restrictions or mandates are not the answer to every issue related to COVID-19."
The statement comes amid growing buzz for the use of vaccine passports, a form of digital documentation that would allow Americans to show they have been inoculated against the coronavirus.
Advocates for a vaccine passport system say it could allow nations to open up international or domestic travel more quickly, and provide an incentive for more people to receive the shot and return to a sense of normalcy.
Requiring individuals to show proof of a vaccine to travel is not a new concept globally. Around the world, nations have required travelers to show proof of inoculation against diseases such as yellow fever, rubella, cholera and poliovirus for decades.
Now, countries including Denmark, Japan, Israel and Greece have already laid out plans to implement digital coronavirus vaccine passports in order to expand travel and socializing opportunities.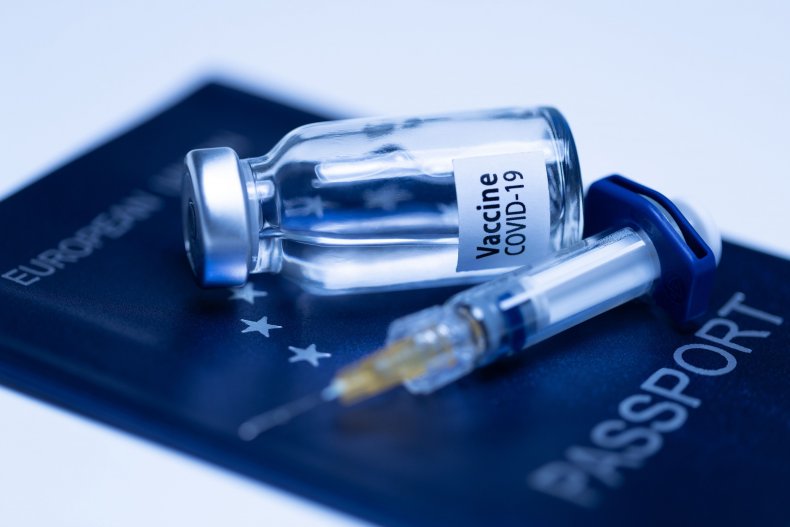 But in the United States, where vaccine hesitancy remains relatively high and many have expressed concern over privacy and personal freedoms, the idea has been met with significant pushback.
On Monday, Florida Governor Ron DeSantis echoed concerns that a vaccine passport system would be a breach of privacy, and said he plans to take executive action against their implementation.
"It's completely unacceptable for either the government or the private sector to impose upon you the requirement that you show proof of vaccine to just simply be able to participate in normal society," he said.
Meanwhile, in Kentucky, the state's Libertarian Party compared vaccine passports to indicators that Nazis used to identify Jewish people during the Holocaust.
It tweeted: "Are the vaccine passports going to be yellow, shaped like a star, and sewn on our clothes?" in a reference which compared the program to the yellow stars that were sewn on the clothes of Jewish people to identify them during World War Two.
The negative comments follow New York on Friday becoming the first state to launch a vaccine passport, dubbed the "Excelsior Pass."
The digital pass can be downloaded as a QR code on a phone app and scanned as proof of vaccination. Officials hope that it will allow for bigger crowds at events such as weddings or major entertainment venues.
President Joe Biden's administration has also indicated support for a vaccine passport, but has said that the federal government will not be the one to issue the vaccine credentials, or store citizens' vaccination information in a database.
Instead, a potential vaccine passport system would be overseen by the private sector, while the U.S. government would focus on providing guidance.
"Unlike other parts of the world, the government here is not viewing its role as the place to create a passport, nor a place to hold the data of—of citizens. We view this as something that the private sector is doing and will do," White House coronavirus adviser Andy Slavitt said Monday.
"What's important to us, and we're leading an interagency process right now to go through these details, are that some important criteria be met with these credentials," he added.
Newsweek contacted Cutrona and Loychik for additional comments but was unable to receive statements in time for publication.