Michigan GOP Candidate Says Rape Victims Find 'Healing' Through Having Baby
The Republican nominee for governor in Michigan has spoken of the "bond" between a mother and child when asked if an underage rape victim should be able to have an abortion.
Tudor Dixon, who won the GOP primary this month following the endorsement of ex-President Donald Trump, told Fox 2 Detroit that she was "pro-life with exceptions for life of the mother" when questioned about how her stance on terminations was being presented.
She said that campaign ads that portrayed her as not believing in the life of the mother were "not true" and that her view is that the "health of the mother and life of the mother are two different things."
She described as "fake" stories that there were no dispensations for women who have, for instance, ectopic pregnancies, amid a confusing legal landscape following the Supreme Court's overturning of Roe vs. Wade, which had guaranteed a women's federal right to an abortion.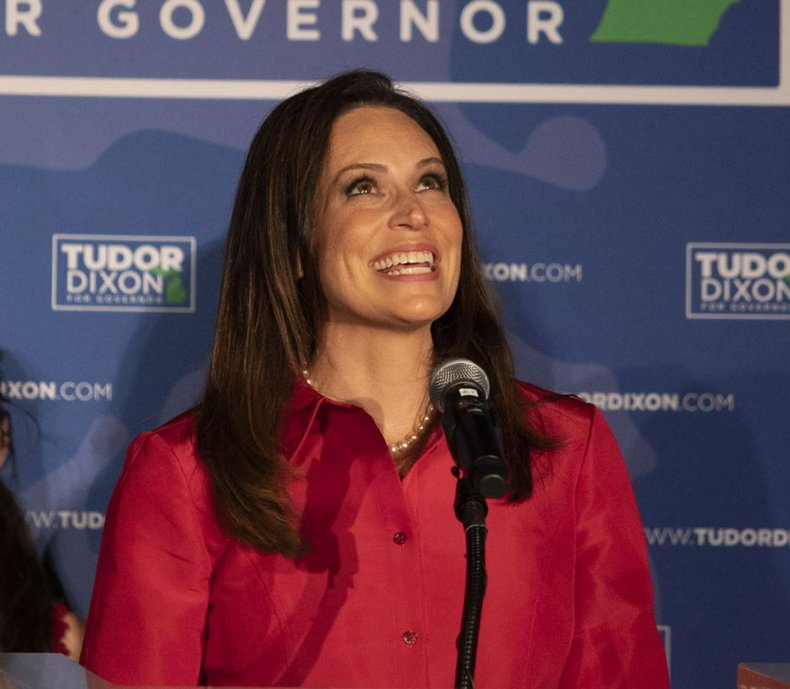 Anchor Roop Raj then asked Dixon about whether she would support terminating the pregnancy of a 14-year-old rape victim.
Dixon replied that she had spoken to people who were the children of rape victims and that "the bond that those two people made and the fact that out of that tragedy there was healing through that baby, it's something that we don't think about."
"We assume that that story is someone who was taken from the front yard, then returned," she told Raj.
"Those voices—the babies of rape victims—that have come forward are very powerful when you hear their story and what the truth is behind that. It's very hard to not stand up for those people," she said.
As of Saturday morning, the video of the interview from Friday had been viewed nearly half a million times. Newsweek has contacted Planned Parenthood of Michigan for comment.
Dixon, 45, is a conservative commentator and business owner who clinched the Republican nomination after getting the last-minute support of Trump.
She is looking to unseat the incumbent Democrat Gretchen Whitmer, who she is trailing by five percentage points, 51 percent to 46 percent, according to a poll from AARP this week.
However, Whitmer holds a 17-point lead over Dixon among women voters polled in the survey conducted between August 8 and August 14 with a margin of error of 4.4 percent.
Despite the Supreme Court ruling in June that handed responsibility for abortion rights to states, the procedure remains legal for the time being in Michigan.
This week, a judge blocked county prosecutors from enforcing a 1931 law banning abortion which did not exclude cases of rape or incest and would punish anyone carrying out the procedure.
Oakland County Circuit Court Judge Jacob James Cunningham granted a preliminary injunction blocking the law until a final ruling is determined, arguing that the century-old legislation "simply does not pass constitutional muster."