Tulsi Gabbard Blames Trump for Baghdad U.S. Embassy Attack, Calls His Foreign Policy 'Impulsive, Short-Sighted, Erratic'
Rep. Tulsi Gabbard (D-Hawaii) posted a series of tweets on Tuesday afternoon in which she accused President Trump's "short-sighted" military policies in Iraq "led to our embassy being besieged."
"The problems created by Trump's impulsive, erratic military action/foreign policy are again on display, this time in Iraq. Trump's military strike against Iranian militia was impulsive, short-sighted, and lacked strategic purpose. It has led to our embassy being besieged and undermined our relationship with the Iraqi government and people. Serving the interests of Saudi Arabia and Jihadists like AQ [Al-Qaeda], Trump is taking us deeper and deeper into mid-east quagmire," Gabbard tweeted.
She then tweeted about her own prospective policies as she continues her candidacy for the Democratic nomination for president.
"As president, I will end our servitude to Saudi/AQ and will provide the experience & sober, thoughtful, strategic leadership to the job of commander-in-chief that our country so badly needs."
Gabbard, who recently came under fire after voting "present" during President Trump's House impeachment trial, has long criticized the Trump administration's foreign policy choices.
Her own stance on foreign policy has caused the occasional bumpy moment for her campaign. Aside from controversy which arose from her 2017 meeting with Syrian President Bashar al-Assad, her occasional praise of Russian President Vladimir Putin resulted in Hillary Clinton calling her "the favorite of the Russians" during a podcast appearance (and Gabbard firing back on Twitter by calling Clinton "the queen of warmongers"). Gabbard has also declared herself in disfavor of "regime change wars."
On Tuesday, a large group of Iraqi protesters forced its way past security forces and into the U.S.'s embassy in Baghdad. Armed with rocks and chanting "Death to America!," they marked the interior walls of the embassy with graffiti, set fires, destroyed property, broke windows and announced their demands—a complete withdrawal of U.S. troops from Iraq.
According to The New York Times, the protesters have declared their intent to camp outside the embassy until their demands are met.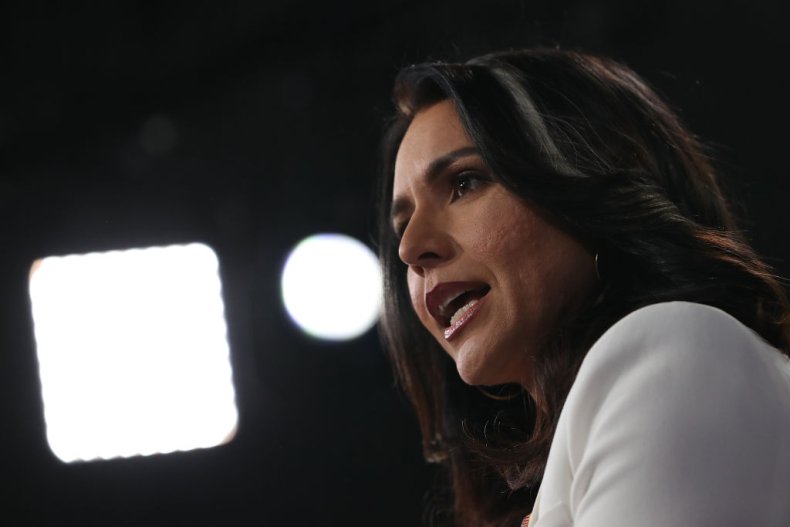 The protest was a reaction to airstrikes launched by the U.S. over the weekend, which killed twenty-four Kataib Hezbollah combatants.
Kataib Hezbollah are an Iran-supported militia force which the U.S. has accused of launching a rocket attack on an Iraqi military base in Kirkuk on December 27. That assault killed one American, a civil contractor, and wounded several U.S. soldiers. A spokesperson for Kataib Hezbollah denied involvement in the attack, according to The New York Times.
President Trump responded to the protests with a series of tweets in which he said, "Iran will be held fully responsible for lives lost, or damage incurred, at any of our facilities. They will pay a very BIG PRICE! This is not a Warning, it is a Threat."
"This protest was a stand against US political dominance," said Mohamad Mouhiye, a spokesperson for Kataib Hezbollah, to CNN.
Newsweek reached out to the White House for comment, but did not hear back by press time.
Updated: (12/31/2019: 10:00 p.m).: further clarifying the nature of Ms. Gabbard's connection to Bashar al-Assad