Tulsi Gabbard Tells Democratic Leaders to Stop Dividing Americans 'by the Color of Our Skin'
Former Representative Tulsi Gabbard, a Hawaii Democrat, took aim at the leaders of her political party, urging them to stop dividing Americans "by the color of our skin."
Gabbard ran an unsuccessful 2020 Democratic presidential primary campaign and chose not to seek reelection to the House after facing substantial backlash from her own party. Although she endorsed then-presidential candidate Joe Biden when she dropped out of the race last year, she has continued to be critical of fellow Democrats.
On Sunday morning, Gabbard tweeted a clip from a Friday interview with Fox News host Sean Hannity, in which she slammed the "arrogance" of "elite" Democrats. She argued that they are disconnected from the American people and not listening to voters.
"MSM and Dem leaders need to stop calling millions of Americans dogs (only dogs respond to 'dog whistles'). Stop trying to divide us by the color of our skin. End your open-border policy. Treat us all with the respect we deserve as Americans & God's children," she tweeted with the video of the interview.
Conservatives are often accused by those on the left of using "dog whistles" to gain the support of white voters. In politics, the term refers to using coded messages—that are generally considered subtly racist—to animate one group against another.
Gabbard told Hannity she sees "continued disrespect of the American people" from Democratic leaders. The former congresswoman said that "we don't have leaders who actually respect the American people." She said that they are not listening to "what parents are concerned about."
Gabbard said the "power elite" are trying to "tear us apart based on the color of our skin." She cautioned that parents are concerned about their children's education and other issues, but Democratic leaders aren't listening to them.
Last week, Gabbard cheered the defeat of former Democratic Governor Terry McAuliffe in Virginia. She tweeted that McAuliffe's loss to Republican Governor-elect Glenn Youngkin is "a victory for all Americans."
Education, and particularly the contentious issue of whether or not "critical race theory" should be taught to students, became a core issue in the Virginia gubernatorial campaign. Although critical race theory is not being widely taught in Virginia schools, many parents there were politically animated by the issue. McAuliffe also drew substantial backlash for saying parents should not "be telling schools what they should teach."
In her tweet last week, Gabbard nodded to this issue to explain her support for Virginia's Republican governor-elect. She wrote that Youngkin's victory was "was a resounding rejection of efforts to divide us by race, the stripping of parental rights, and arrogant, deaf leaders."
Critical race theory started as an academic legal framework to analyze and examine how race and law intersect in the U.S. The theory has been pushed forward by activists and civil rights scholars to challenge mainstream approaches to racial justice in society.
Polling conducted by USA Today and Ipsos from August 30 to September 1 actually found that a plurality of parents across the country support teaching critical race theory to their children. While 49 percent said they support the theory being taught in schools, just 30 percent said they oppose it.
When they were asked more specifically about whether they support teaching children about the "ongoing effects of slavery and racism in the U.S.," the percentage in support shot up to 63 percent. Again, just 30 percent opposed teaching children about slavery and racism.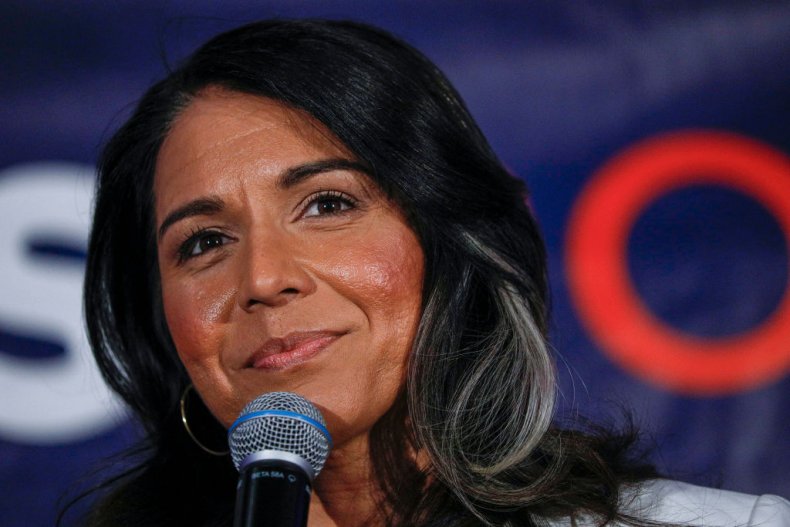 Back in April, Gabbard released a video message to Americans raising concerns about the current societal discourse around race and identity.
"Please let us stop the RACIALIZATION of everyone and everything—i.e., racialism. We are all children of God and are therefore family in the truest sense, no matter what our race or ethnicity. This is aloha. This is what our country and world need," the former congresswoman wrote in a social media post sharing the video.
Newsweek reached out to the Democratic National Committee for comment but did not immediately receive a response.