Tulsi Gabbard Urges Americans to 'Stop the Racialization of Everyone and Everything'
Former Congresswoman Tulsi Gabbard, who represented Hawaii as a Democrat, urged Americans to "stop the racialization of everyone and everything" in a weekend Facebook post.
Gabbard ran for the Democratic Party's 2020 presidential nomination, campaigning largely on bringing an end to America's forever wars. She also regularly criticized the mainstream media and "establishment" politicians. The former Democratic lawmaker served in Congress from 2013 until January of this year. She announced in October 2019 that she would not seek reelection to the House of Representatives as she continued her ultimately unsuccessful campaign for president.
"My dear friends and fellow Americans, please, please let us stop the RACIALIZATION of everyone and everything—i.e., racialism. We are all children of God and are therefore family in the truest sense, no matter what our race or ethnicity. This is aloha. This is what our country and world need," Gabbard wrote in a Sunday Facebook post, including a video where she shared the remarks.
The former congresswoman argued that the mainstream media and politicians "want us to constantly focus on our skin color and the skin color of others because it helps them politically or financially." She urged Americans to "cultivate aloha in our hearts" and "not allow ourselves to be led down the dark, divisive path of racialism and hate."
Aloha is a native Hawaiin word for love, affection, peace, mercy and compassion. It is often used as a routine greeting.
Gabbard's message comes as Americans continue to grapple with racial inequalities and systemic racism, as national attention is focused on regular police shootings and killings of Black Americans.
Additionally, the country has also seen a spike in anti-Asian hate crimes and other incidents of racism targeting Asian Americans. The surge in anti-Asian incidents came amid the COVID-19 pandemic, as former President Donald Trump and some other Republicans repeatedly referred to the novel virus as the "China virus" or the "kung flu" as they attacked China's handling of the pandemic.
Furthermore, anti-immigrant views—particularly against Latinos—are readily promoted by many conservatives.
President Joe Biden and his administration have attempted to center issues of racial inequality and address systemic racism since taking office just over 100 days ago.
Meanwhile, Black Lives Matter and anti-racism demonstrations continue across the country, with the recent shooting deaths of Ma'Khia Bryant and Daunte Wright at the hands of police officers drawing significant backlash. Wright's and Bryant's deaths came as the nation watched the trial of Derek Chauvin, a former Minneapolis police officer who is white.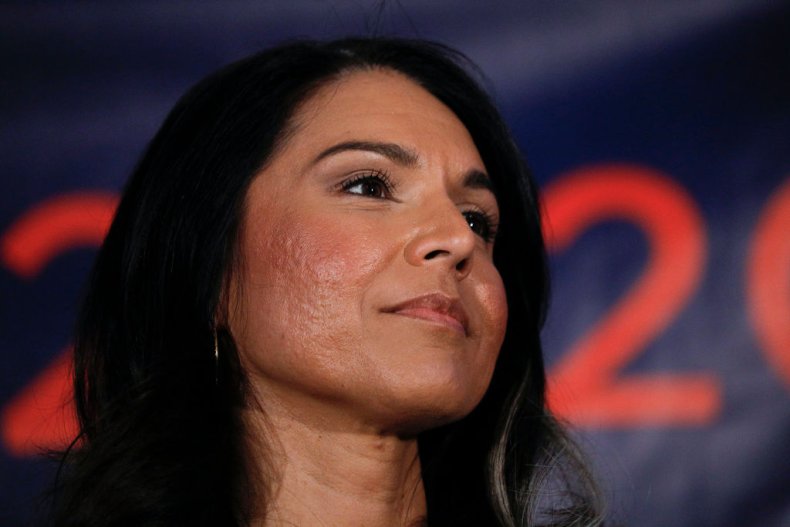 Chauvin was convicted by a grand jury on Tuesday of murdering George Floyd, an unarmed Black man, last May. Floyd's death sparked a massive wave of nationwide demonstrations against systemic racism and police brutality. Civil rights leaders, activists and politicians have hailed the guilty verdict as a step toward progress at holding police accountable.
But some white Americans have also begun mounting "White Lives Matter" protests, arguing that systemic racism does not exist and suggesting that white Americans are now being oppressed.
Gabbard, who endorsed Biden last March as she suspended her presidential campaign, is of European and Samoan descent.
Newsweek contacted Gabbard through her website for further comment.