Two Electric Vehicles Aced IIHS's New Crash Test
The risk of dying in a car accident, in vehicles model year 2007 and onward, is 46 percent higher in a rear seat than in a front one, according to an Insurance Institute for Highway Safety (IIHS) study. The organization just completed a recent round of testing on midsize SUVs and only four earned good ratings in the moderate overlap test. Only one, the Ford Mustang Mach-E, returned a perfect rating in rear passenger injuries.
"All these vehicles provide excellent protection for the driver," said IIHS President David Harkey in a press release, "but only a handful extend that level of safety to the back seat."
The IIHS recently added a rear passenger dummy, positioned behind the existing driver seat dummy, to its moderate overlap front crash test after finding safety gains for front passengers had not matched the pace of rear safety.
The test features a vehicle traveling at 40 mph toward a barrier with a deformable face made of aluminum honeycomb. Forty percent of the total width of the vehicle strikes the barrier on the driver side. IIHS says that the forces in the test are similar to those that would result from a frontal offset crash between two vehicles of the same weight, each going just under 40 mph.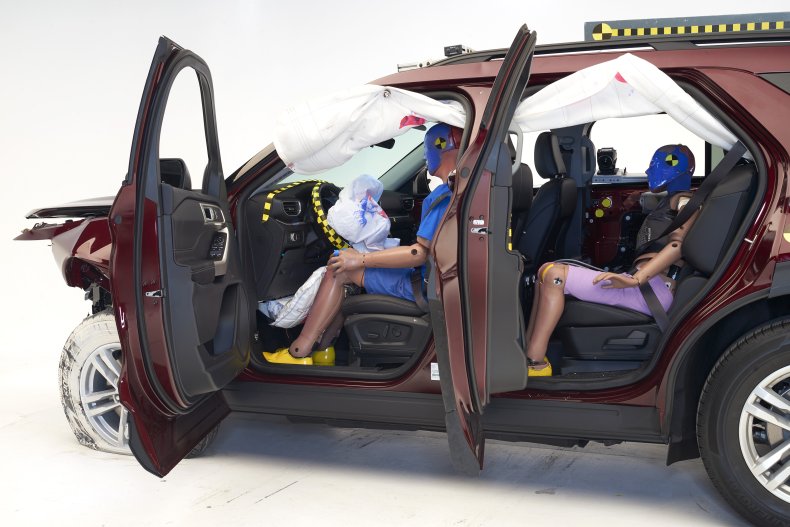 To earn a good rating, sensors in the rear dummy can't show excessive risk of injury to the head, neck, chest, abdomen or thigh. IIHS also uses video footage and greasepaint applied to the dummy's head to see if it hits the vehicles interior, or comes close to the front seatback. Additionally, it looks for passengers sliding under the seatbelt, which causes abdominal injuries. A pressure sensor is used to help gauge the risk of chest injuries.
The SUVs that earned good overall ratings include Ford Explorer, Ford Mustang Mach-E, Subaru Ascent and Tesla Model Y. The Mach-E earned a good rating (the rating system consists of good, acceptable, marginal and poor) in all ten tests. The Model Y's only blemish was an acceptable rating in rear passenger restraints and kinematics. The Ford Explorer and Subaru Ascent both received acceptable ratings in head and neck injuries, as well as restraints.
"Safety and quality are two of our top priorities. Receiving this recognition from IIHS for Mustang Mach-E and Explorer has reaffirmed that we're focused on the right places to make our customers' lives better and safer," Jim Baumbick, vice president, Ford Product Development and Quality told Newsweek.
The Chevrolet Traverse, Toyota Highlander and Volkswagen Atlas earned marginal ratings. The Highlander received its one poor mark in rear passenger restraints. The Honda Pilot, Hyundai Palisade, Jeep Grand Cherokee, Jeep Wrangler 4-door, Mazda CX-9 and Nissan Murano earned poor ratings, all due to the ratings for its rear passengers. All six have good ratings in all front row categories.
"Zeroing in on weaknesses in rear seat safety is an opportunity to make big gains in a short time, since solutions that are already proven to work in the front can successfully be adapted for the rear," said IIHS Senior Research Engineer Marcy Edwards in a release. "The four good ratings in this round of testing show that some automakers are already doing it."