Royal Family Should Investigate Meghan Markle's Racism Claims: Poll
Two thirds of Brits believe Meghan Markle and Prince Harry's claims in their bombshell Oprah Winfrey interview should be investigated, polling for Newsweek suggests.
The Duke and Duchess of Sussex said an unnamed royal commented on what color their unborn child's skin might be, expressing concern it could be too dark.
Meghan also said she was left suicidal by negative press coverage and said Kensington Palace officials told her going to a mental hospital would make the monarchy look bad.
Prince Harry claimed his father stopped taking his calls while he tried to negotiate his way out of royal life and then cut him off financially at the end of March 2020.
However, Buckingham Palace announced Queen Elizabeth II wanted to handle the matter privately, two days after the interview was broadcast on CBS on Sunday.
Redfield & Wilton on Thursday asked 1,500 adults, on behalf of Newsweek, whether the royal family should launch an investigation.
Sixty six percent said there should be an investigation while 19 percent said there should not and 15 percent did not know.
It comes after 26 percent of Brits said they did not believe anything Meghan and Harry said in the interview while 45 percent believed some but not all and 21 percent believed everything they heard.
On Tuesday, Buckingham Palace said in a statement on behalf of the queen: "The whole family is saddened to learn the full extent of how challenging the last few years have been for Harry and Meghan.
"The issues raised, particularly that of race, are concerning. While some recollections may vary, they are taken very seriously and will be addressed by the family privately.
"Harry, Meghan and Archie will always be much loved family members."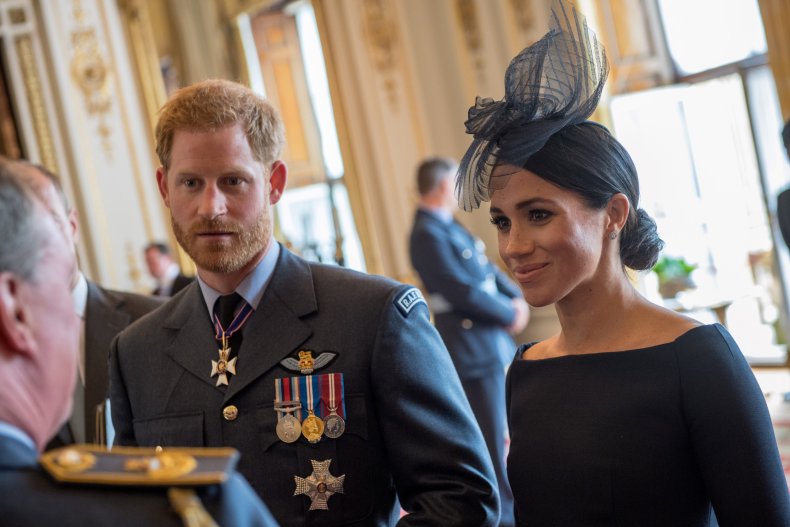 The carefully chosen words sparked a strong response from Janina Gavankar who went on U.K. network ITV to respond, with Meghan's knowledge.
The actress told This Morning: "I thought I'm so thankful that they [Buckingham Palace] are finally acknowledging the experience.
"But on the other side I thought I know that the family and the staff were well aware of the extent of it and though their recollections may vary, ours don't because we lived through it with them.
"And there are many emails and texts to support that."
Meghan told Oprah: "All around this same time, we have in tandem the conversation of he won't be given security, he's not going to be given a title and also concerns and conversations as to how dark his skin might be when he's born."