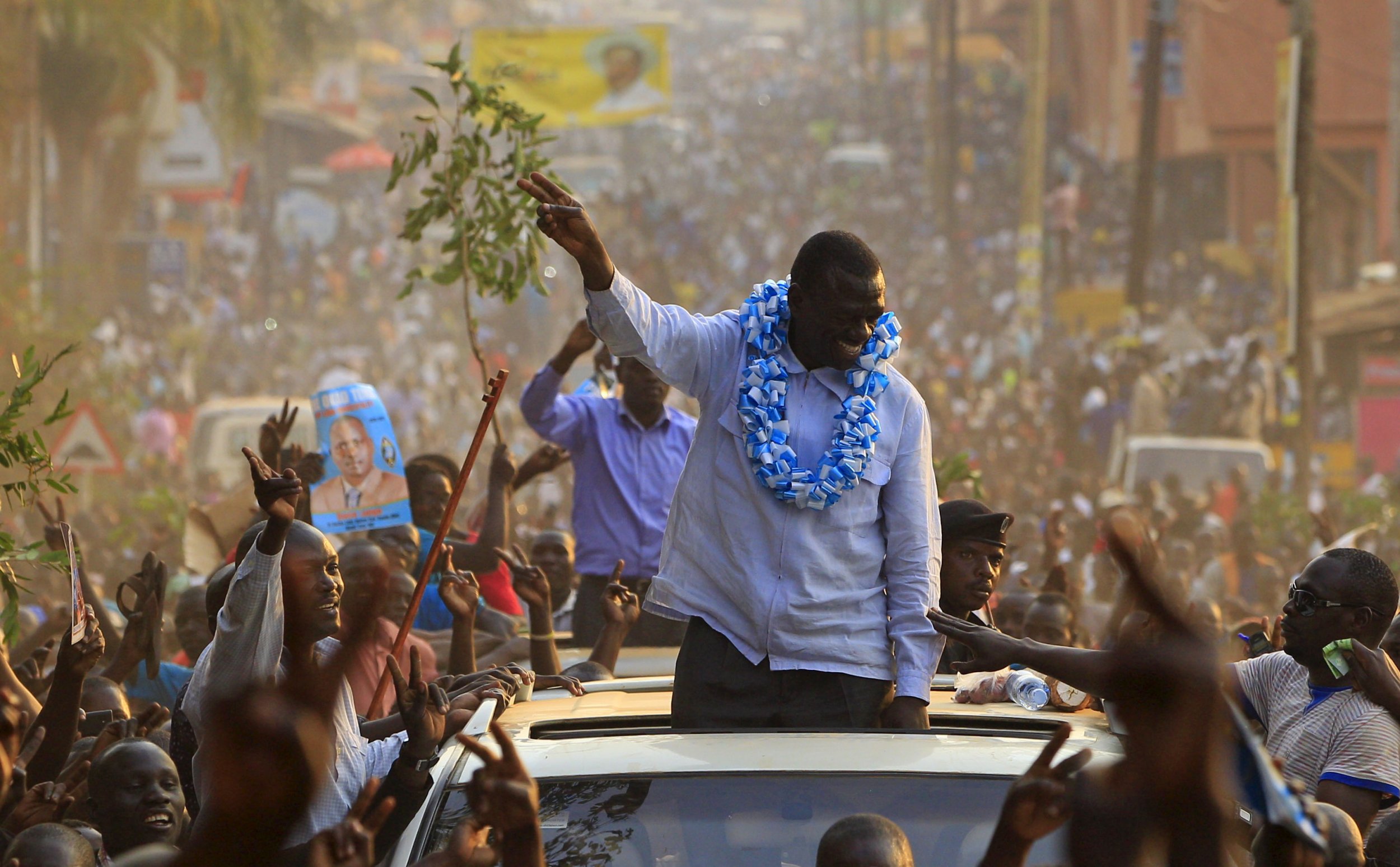 Updated | Ugandan police have arrested opposition leader Kizza Besigye, who lost February's election to President Yoweri Museveni, after his party announced he would be sworn-in in an alternative inauguration ceremony.
Voters re-elected Museveni for a fifth term with 60.8 percent of the February 18 vote, ahead of Besigye on 35.4 percent, according to the country's electoral commission. Besigye and his Forum for Democratic Change (FDC) party maintain, however, that the opposition leader actually triumphed in the controversial election.
Polling day was marred by limited access to social media and the delivery of ballots was delayed by up to seven hours in parts of the East African country, while at least one Besigye supporter was killed in clashes with police in the run-up to polling day.
Besigye—who was arrested multiple times around the election and has been under surveillance by police at his home since polling day—made a surprise appearance in the capital Kampala on Wednesday, drawing crowds of supporters. He participated in an alternative swearing-in ceremony after rejecting the election results as announced by the head of Uganda's electoral commission, Badru Kiggundu. The FDC tweeted pictures of Besigye waving to the crowds, titling him the "winner of the 2016 election."
Security forces dispersed the crowds using tear gas, according to Uganda's Daily Monitor, before arresting Besigye. Museveni was officially sworn in on Thursday.
Security was tightened ahead of Museveni's inauguration, with the Uganda Communications Commission and government officials banning live coverage of FDC protests by media outlets or journalists on social media.
Museveni came to power in Uganda in 1986 on the back of a military coup and amended the country's constitution—which originally only permitted two consecutive presidential terms—so that he could run for re-election in 2006. Uganda has experienced sustained economic growth under his leadership but the ruling National Resistance Movement has been accused of using heavy-handed tactics to quash opposition.
This article has been updated with a video and to include details of Besigye's alternative swearing-in.