A U.K. parliamentary committee has issued a report calling for a government boycott of the 2022 Winter Olympics in Beijing in order to pressure China to "end its persecution of Uyghurs."
The bipartisan Foreign Affairs Select Committee said Britain "should ensure that the Chinese government faces consequences" for its "crimes in Xinjiang."
The list of proposals given to Prime Minister Boris Johnson's cabinet on Thursday noted the "irrefutable" evidence of forced labor, arbitrary detention, cultural erasure, systematic rape, forced sterilizations, separation of children from families, as well as mass surveillance of Uyghurs and other minority groups in northwestern China—all endorsed by the Chinese leadership.
The U.K. government should shun the opening and closing ceremonies of the 2022 Winter Games, discourage British businesses from sponsoring or advertising at the event, and encourage fans and tourists to "stay away," the committee said.
The government should also discourage athletes from "supporting or accepting the Chinese government's propaganda efforts while in the country," it added.
The suggestions echo a recent rallying call by House Speaker Nancy Pelosi, who said the U.S. should carry out a "diplomatic boycott" of next year's Olympics in China.
"Let's have a diplomatic boycott if in fact this Olympics takes place," she told a congressional hearing on May 18. "Let's not honor the Chinese government by having heads of state go to China to show their support for their athletes. When they come home, let's show them even more [...] respect, adulation."
Both proposals from the U.S. and U.K. would send a strong political message without jeopardizing the opportunities of athletes who choose to take part in the elite competition.
On April 22, Britain's parliament recognized China's policies in Xinjiang as crimes against humanity and genocide. The motion came a month after U.K. Foreign Secretary Dominic Raab announced sanctions against four Chinese officials and one entity deemed responsible for the rights violations against Uyghurs.
But Johnson's government has not gone far enough, suggests the Foreign Affairs Committee report titled "Never Again: The UK's Responsibility to Act on Atrocities in Xinjiang and Beyond."
The cross-party legislators want Johnson to ban cotton produced wholly or in part in Xinjiang, while also extending the anti-forced labor mechanism to other industries.
The report calls for asylum to be fast-tracked for Uyghurs and other minority groups "fleeing from persecution in China." The government should also hold urgent consultations with Uyghurs living in Britain "to determine the extent of harassment they are facing from Chinese Communist Party officials."
The recommendations mirror some of the supportive measures the U.K. has given to Hong Kong residents who fled the city following China's crackdown on democratic freedoms in the summer of 2020.
"The evidence of severe human rights abuses and crimes against the Uyghur people is already overwhelming and indisputable, and Parliament has called it as genocide," committee chair Tom Tugendhat said in a statement enclosed in the report.
The Conservative MP said Johnson's government should strengthen the U.K.'s response and "protect our own supply chains being used to profit from abuses."
"No country is so powerful that it should be able to perpetrate atrocities with impunity. The UK can choose to act and use the mechanisms and levers built into the UN, and other institutions, to hold the Chinese Communist Party to account," he said.
On March 26, Tugendhat topped a list of nine individuals and four entities in the U.K. to be sanctioned by China for speaking out against its policies in Xinjiang.
Beijing has consistently denied any rights abuses or forced labor is taking place in Xinjiang, where it has established "vocational" reeducation camps as part of a region-wide counterterrorism effort.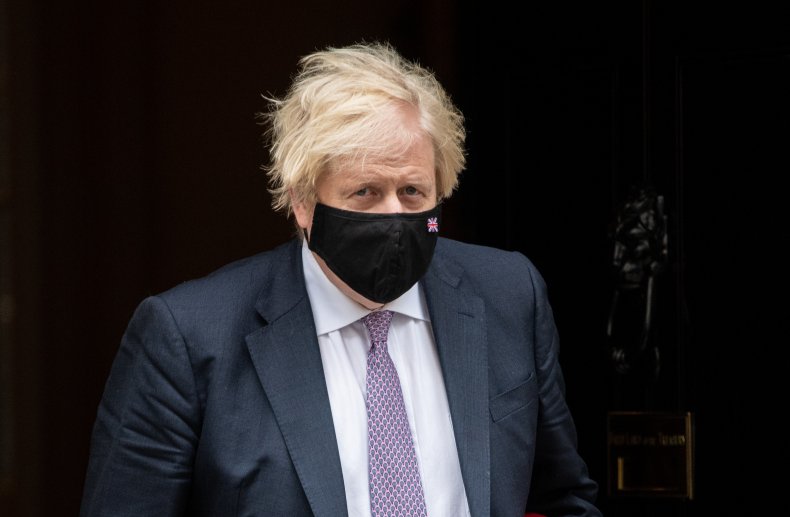 The Official Position
At a parliamentary session on Wednesday, Johnson was asked whether he would support a diplomatic boycott of the Beijing Winter Olympics—a motion to be debated in the House of Commons next Thursday.
The prime minister told fellow Tory MP Tim Loughton—one of five lawmakers hit by Beijing's sanctions—that he would "certainly consider" the proposal.
Johnson added: "[B]ut I must say that I'm instinctively, and always have been, against sporting boycotts."
At a Liaison Committee hearing later the same day, Johnson told select committee chairs, including Tugendhat, that he did not want "anti-China spirit" to "pitchfork away" every Chinese investment in the U.K.
"That would be economically foolhardy," he said.
At a daily press briefing on Thursday, China's Foreign Ministry spokesperson Wang Wenbin said Beijing "firmly opposes the politicization of sport" and interference in its internal affairs "on the pretext of human rights."
Efforts to obstruct the preparation and hosting of the Beijing Winter Olympics "will not succeed," he added.