Xinjiang Cotton Mechanized, Not Forced Labor, Says China in Propaganda Blitz
The Chinese government on Thursday sought to rebut charges of forced labor in Xinjiang by saying that the majority of its cotton harvesting is mechanized.
In a renewed information campaign spearheaded by state-owned media outlets and propagated by the Chinese foreign ministry on Western social media platforms, Beijing claims it has not forced Uyghur Muslims to pick cotton because it has mechanical harvesters.
Forced labor against Uyghurs and other predominantly Turkic minorities in northwest China is just one of several human rights charges leveled against the country's ruling party, which is also said to have arbitrarily detained over 1 million people in Xinjiang as part of an extreme counterterrorism campaign.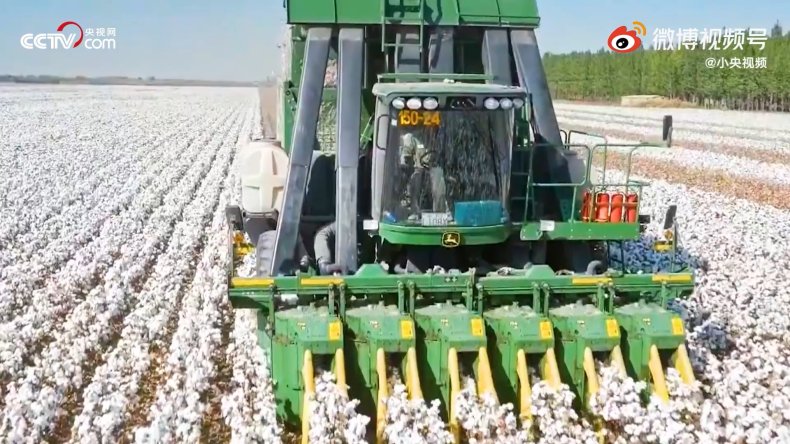 Cotton from Xinjiang, which the United States banned in January, is the focus of coordinated propaganda operations this week, after the U.S. Treasury sanctioned Chinese officials it said were responsible for the ongoing atrocities against Uyghurs.
On Wednesday, China's state broadcaster CCTV and Communist Party newspapers People's Daily and Global Times led a social media backlash against Nike, H&M and other U.S. and European clothing labels.
Attention was drawn to statements made by the fashion brands more than one year ago, in which they expressed concern about forced labor practices in Xinjiang and vowed to keep their supply chains sustainable.
Chinese state-owned media outlets called for a boycott of the brands and, over a 48-hour period, Chinese celebrities began terminating their contracts as brand ambassadors for Nike, H&M, Adidas, New Balance, Burberry, Calvin Klein and others.
The hashtag "I support Xinjiang cotton" spawned on Weibo—China's equivalent to Twitter—and has since been viewed more than 3.3 billion times at the time of writing.
On Thursday, state-controlled broadcaster CCTV began publishing reports promoting the quality of Xinjiang cotton, using descriptors that translated as "clean" and "innocent"—words later echoed on Twitter in English by Chinese foreign ministry spokesperson Hua Chunying.
It suggested allegations of forced manual labor in Xinjiang could not be true because the region relies on mechanical harvesters to do the work.
According to People's Daily, China is the world's largest consumer of cotton and the second largest producer of it on the planet, growing over 5 million tons a year.
Nearly 80 percent of the cotton produced for China's textile industry is from Xinjiang. Among that, nearly 70 percent was harvested by machine, the newspaper said, citing last year's statistics.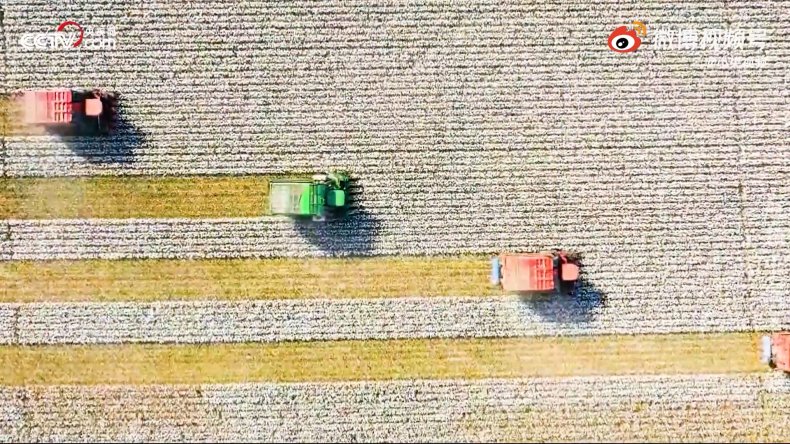 The new argument against forced labor accusations was also promoted by China's foreign ministry on Thursday. Hua, who heads its information office, posted the mechanization figures on Twitter and asked: "Forced labor?"
The coordinated effort to discredit media investigations and reports by rights groups and U.N. experts also comes in the form of apparent whataboutism.
Releasing its annual human rights report this week, the Chinese government accused the United States and other Western nations of past crimes against humanity and ongoing struggles with racial inequality, arguing that Washington had no right to point out related rights concerns outside its own borders.
At her daily press briefing, Hua also sought to compare cotton harvesting in Xinjiang with 19th century slave labor in the American Deep South.
She held up a black-and-white picture of black men picking cotton before displaying an image of what she implied were better conditions in China's northwest.
The picture she chose was "The Cotton Pickers, Ferguson Unit, Texas" by American photographer Danny Lyon, who produced the image as part of a series on correctional facilities between 1967 and 1969.