U.K. Police Accused of Sending Racist Meghan Markle WhatsApp Message
Meghan Markle was the subject of a racist photo sent on a police WhatsApp group before her royal wedding, according to misconduct allegations against three officers.
PC Sukhdev Jeer, PC Paul Hefford, and former PC Richard Hammond could be fired for gross misconduct over posts to a WhatsApp group, a Metropolitan Police statement said.
They have been accused of sharing "explicitly racist, homophobic, sexist, ableist and Islamophobic" messages between January and December 2018, according to The Guardian.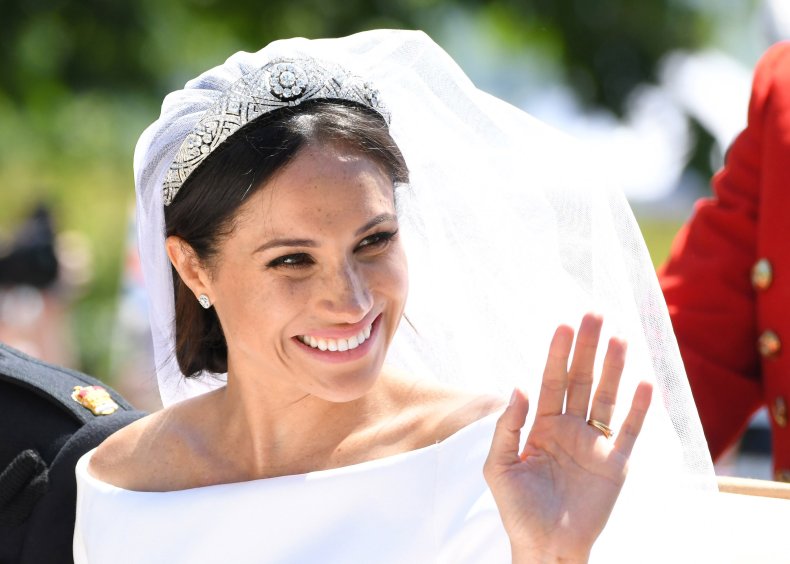 A photo of a "golliwog" toy was posted and captioned "a sneak preview at Meghan's wedding dress," a misconduct hearing in West London heard.
Golliwogs are among the most famous racist caricatures of black people in Britain, though they are less well known in America.
A description on the Jim Crow Museum website reads: "The Golliwog (originally spelled Golliwogg) is the least known of the major anti-black caricatures in the United States. Golliwogs are grotesque creatures, with very dark, often jet black skin, large white-rimmed eyes, red or white clown lips, and wild, frizzy hair.
"Typically, it's a male dressed in a jacket, trousers, bow tie, and stand-up collar in a combination of red, white, blue, and occasionally yellow colors."
During the hearing, Jeer was asked about the image, and said he did not post it because he thought it was funny.
Quoted by the Daily Mail, he said: "The fact that someone is out there [and] can create this, that is not a nice thing to do, but I posted this on the group not to laugh at it but [to show] that there are people out there who still do this and find it funny."
The newspaper quoted another post on the group, which read: "Everyone is so politically correct these days. You can't even say, 'Black paint,' you have to say, 'Tyrone can you please paint that wall?'"
A Metropolitan Police statement described the allegations as: "Gross Misconduct, which is so serious that dismissal would be justified."
Harry and Meghan got married before a global audience of millions, while thousands lined the streets of Windsor to watch their carriage procession on May 19, 2018.
However, Meghan would later tell Oprah Winfrey an unnamed racist royal expressed concern about how dark her unborn child's skin might be before he was born, while Prince Harry told the CBS tell-all that racism was a significant factor in their decision to leave Britain.
Asked by Oprah, "did you leave the country because of racism?" he replied: "It was a large part of it."
The three officers, based at Bethnal Green, in East London, were also accused of posting other racist messages to a WhatsApp group titled "But They Promised."
Among them, Jeer was accused of sharing a picture of a boy in a hoodie captioned "monkey in the jungle" with male genitalia superimposed on top.
Hefford was accused of altering the photo to include a disabled person, The Guardian reported.
A statement on the Metropolitan Police website reads: "It is alleged that former Officer Hammond, PC Hefford and PC Jeer were part of a WhatsApp messaging group which was used to exchange messages, memes and other content which was inappropriate, highly offensive and discriminatory.
"The content was discriminatory on grounds of sex, race, religion, sexual orientation and disability.
"It is further alleged that the officers failed to challenge and/or report the other members of the said WhatsApp messaging group after receiving messages, memes and other content from them which was inappropriate, highly offensive and discriminatory.
"It is alleged that these matters amount to Gross Misconduct, which is so serious that dismissal would be justified."
The hearing continues.
For more royal news and commentary check out Newsweek's The Royal Report podcast: