Ukraine Concerned With Vladimir Putin's Olympic War Games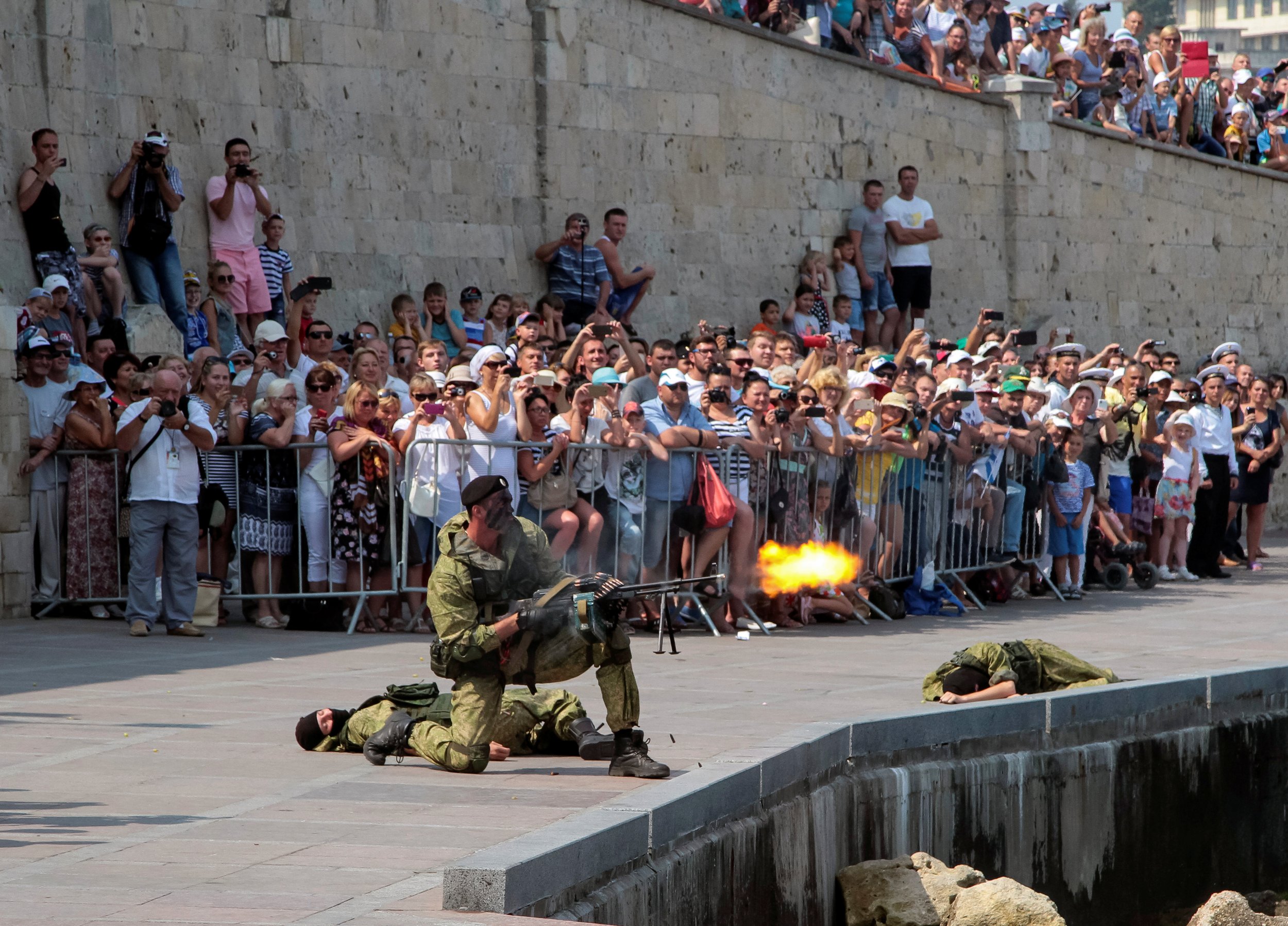 Violence in east Ukraine's rebel-held has shot up to a record number of truce violations this summer. Meanwhile the country's Russian-annexed south is going through perhaps its most tense period since the very beggining of the conflict. The Ukrainian government is worried that now is the best time for the Kremlin to escalate tension without anyone noticing. After all, they've done it before.
With the world's eyes glued to TV screens, watching the Olympic Games in Rio de Janeiro, or focused on domestic affairs such as Brexit and the U.S. presidential election, Ukraine far from the spotlight. Ukraine's armed forces are calling for the world to watch closely what the country's beleaguered southeast is undergoing now.
Earlier this week, Kiev reported unexplained closures of traffic along the three routes that connect mainland Ukraine and annexed Crimea , which has been under Russian de facto control since 2014, despite U.N. condemnation. On Wednesday, Russia's FSB security service said two people were killed in clashes and its forces had dismantled a Ukrainian spy network inside Crimea. Kiev denied the assertions, calling them an attempt by Moscow to create an excuse to escalate the situation to war. Vladimir Putin accused Ukraine of using terrorist tactics to try to provoke a new conflict and destabilize annexed Crimea.
What Kiev fears now is that Moscow could use the Olympic Games in Rio as valuable cover should it seek to escalate the situation in Ukraine's southeast.
The OSCE's independent observer mission in Ukraine said it had no evidence to back up the Russian reports, yet Putin has installed 400 soldiers on "defense exercises" in the region and troops are on high alert on both sides of the border.
Lieutenant Colonel Bohdan Senyk, spokesman for the Ukrainian military, tells Newsweek that Kiev is concerned that the situation resembles previous incidents when Russia's military has swiftly ramped up activity near disputed borders.
"The Kremlin's fabricated claims of 'provocations' in Crimea represent a threat to the national security of Ukraine," he says. "As we remember from the 2008 and 2014 Olympic Games, this is a convenient moment for Russia to escalate its aggression," he adds, referring to the annexation of Crimea in 2014, during the Sochi Winter Games and Russia's brief war with Georgia during the 2008 Beijing Olympics.
While violence in east Ukraine has increased in the last two months and routinely spikes every August, due in no small part to the lack of international attention caused by parliamentary breaks, the threat of fresh altercations near Crimea has been less common. Over the last two years, Russia has successfully integrated Crimea into its security framework and rearmed the peninsula's defense capabilities.
What is more, Moscow considers Crimea its own territory, whereas it views the forces it backs in east Ukraine as pro-Russian separatists. Any actions regarded by Russia as an attack on Crimea would warrant a much bigger response from Moscow than clashes in east Ukraine. And its capabilities on the peninsula have not gone unnoticed by Kiev.
"Today, Crimea is turned into a Russian military base with a sizeable military contingent and modern weapons, such as S-400 anti-aircraft system and Iskander missile system capable of carrying nuclear weapons," Bohdan says. "That is why we remind that the international community should pay more attention to Crimea peninsula demilitarization process."
According to Ukraine's general staff supply of arms has increased to Crimea this month and to rebels in the east, with President Petro Poroshenko bringing troops across the country on high alert, anticipating Russia could prompt more heavy-handed actions on either front.
"Beside the Olympics, other factors that should be taken into account are the Independence Day of Ukraine on August 24 and the forthcoming elections to the Russian State Duma in September," Bohdan says. "Vladimir Putin wants to increase his domestic popularity, since his aggressive actions might be left with impunity because the international community is focused on other issues.
"Clearly, we take all precautions in view of the aggressive actions of Russia in the occupied Crimea and the bellicose statements of the Russian leadership. We are not seeking escalation, but are ready to respond accordingly should Kremlin pursue this escalation any further."
Officially, Russia has claimed three incidents on the Crimean administrative border between August 6 and 8 that resulted in the deaths of an FSB agent and a Russian military officer. This claim has not been verified by the OSCE, however, and has been met with skepticism by EU members. Lithuania's foreign minister flatout accused the Kremlin of using the tactics of the Soviet secret police—accuse your opponent of striking first, to warrant striking back.
Lukasz Kulesa, from London-based think-tank European Leadership Network, warns that Russia may not intend to escalate hostilities, but could end up doing so unwittingly.
"The situation is serious and we don't really know what game the Russians are playing," he says. "It looks like the scenario of a provocation looks a little too good to be true for Russia. Everyone is watching the Olympics, concerned with domestic issues or on holiday. It all looks very familiar. It is difficult to know what the exact situation is on the ground though so far [Ukraine's] version of this provocation seems most credible.
"At the same time, I don't see what Russia could gain from escalating tensions on purpose. There would be further international reaction and there are no major gains for Russia to warrant the start of a military offensive. I am not sure they can control an escalation. It is most likely that the Kremlin is looking at the international situation and trying to remind Russians that they need to support the government because, according to the Russian narrative, Crimea is under threat from Ukraine."
"The problem is, you put a number of troops on either side of a border and there and no clear diplomatic channels between Ukraine and Russia to deescalate the situation," he says. "The Ukrainians are justified in thinking in worst case scenarios."