Congress Unemployment Gridlock Leaves 25 Million on Brink of Income Crisis
Millions of Americans face an income crisis amid the COVID-19 pandemic, with no deal for continued unemployment enhancement in sight amid division between Republicans and Democrats over its scope.
The CARES Act authorized a $600 federal boost to such payments, though the last of these were distributed last weekend with the provision officially ending Friday, July 31.
More than 25 million people had been receiving this boost, according to an estimate from The Century Foundation, which had been described as a lifeline. More than 1.4 million initial unemployment claims were made last week, the second week-on-week increase in such applications.
Democrats had pushed for the extension of the $600 rate, while Republican lawmakers argued the parameters should shift as some people were receiving more in benefits than they did for working.
In GOP proposals, the benefit boost would cut to $200 through September, then move to a plan to pay out 70 percent of a recipient's former wage.
The HEROES Act, proposed by Democrats and passed by the House of Representatives, would extend the $600 enhancement—though the bill in its entirety has widely been rejected by the Senate's GOP leadership, with Senate Majority Leader Mitch McConnell (R-KY) long refusing to bring it to a vote.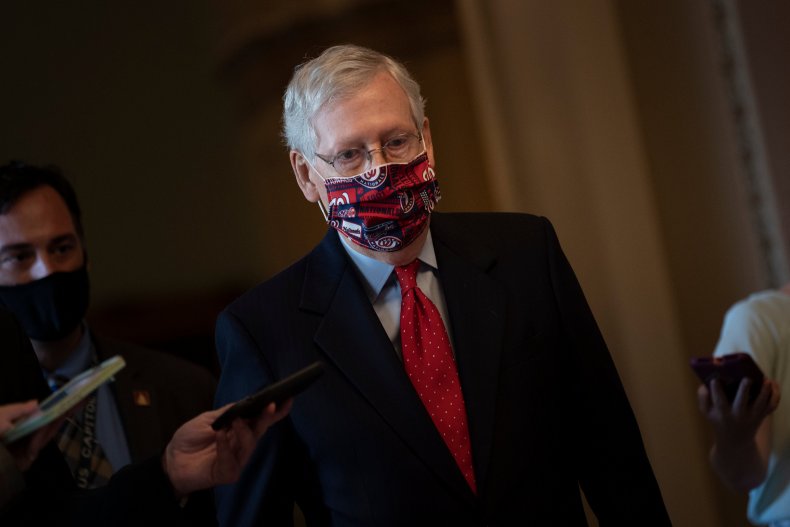 Senate Minority Leader Chuck Schumer (D-NY) previously criticized this delay, stating the Republicans "put us right at the cliff," suggesting people were not getting enhanced unemployment "because they waited for ten weeks."
Democratic figureheads Schumer and House Speaker Nancy Pelosi (D-CA) have held meetings with the Treasury Secretary Steve Mnuchin and White House Chief of Staff Mark Meadows in a bid to bridge the differences, in order to formulate a plan tenable to both chambers of Congress.
However, lawmakers across Congress expressed reservations as to whether such a deal would be able to be met.
While the Republican's pause in putting forward a plan being criticized by the Dems, President Donald Trump looked to shift the onus in comments made Thursday.
Trump expressed desire for a "temporary extension of expanded unemployment benefits," to "provide a critical bridge for Americans who lost their jobs to the pandemic through no fault of their own."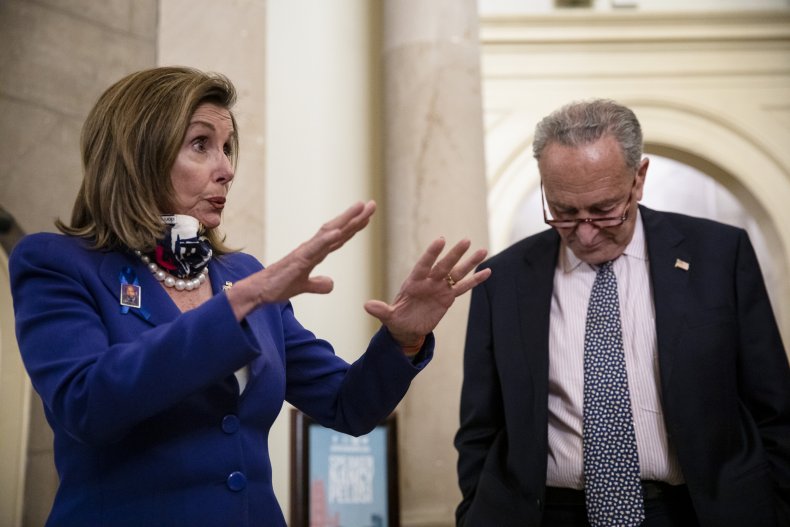 He went on to brand the Democrats' actions as obstruction to this.
"I want to thank Senate Republicans for fighting to extend unemployment benefits today—in the face of very strong Democrat obstruction, which I'm surprised at—because this is great for our country and it's great for our workers, and it wasn't our workers' fault," he said, during a press briefing Thursday.
Newsweek has contacted Pelosi and Schumer for comment on the president's remarks and the situation in negotiations generally.
McConnell and the White House have also been contacted for further comment.
As well as unemployment being a sticking point, liability protection has also proved contentious between Democrats and Republicans.
McConnell has suggested that this aspect of proposals is a red line for him, which looks to prove another stumbling block to securing a deal.
The GOP plans have a budget of around $1 trillion, while the Democrats' HEROES Act looked to spend around $3 trillion.
This spending has proved an issue for more fiscally conservative lawmakers.
Sen. Ted Cruz (R-TX) has spoken against the amounts being touted, with a spokesman for the senator telling Newsweek he believes "we need to stop shoveling cash at the financial problems the coronavirus pandemic has created and should instead focus on real recovery legislation."
But while these lawmakers have spoken of reservations, the president on Wednesday suggested he could back further spending on stimulus checks, further highlighting the divide among Republicans.
The growing split in Congress comes as coronavirus figures continue to rise across the United States.
More than 4.4 million COVID-19 cases have been confirmed across the nation, according to Johns Hopkins University figures.
The graphic below, from Statista, shows the daily reported COVID-19 deaths across the country, with more than 150,000 across the nation.