U.N. Chief Condemns War as 'Evil' Day After Meeting With Putin
United Nations Secretary-General Antonio Guterres condemned war as "evil" in Ukraine on Thursday, a day after he met with Russian President Vladimir Putin in Moscow.
Guterres traveled to Ukraine following his meeting with Putin at the Kremlin and toured several sites of "suspected war crimes," according to a U.N. release. Speaking from Bucha, where the Russian military allegedly massacred hundreds of civilians earlier this month, Guterres called on Russia to cooperate with the International Criminal Court's war crimes investigation.
"When we see this horrendous site, it makes me feel how important it is [to have] a thorough investigation and accountability," Guterres said.
Guterres announced last week that he would be meeting with Putin in Russia and then Ukrainian President Volodymyr Zelensky, stressing the need for "urgent steps to save lives, end the human suffering and bring about peace in Ukraine." While Guterres' calls for peace between Russia and Ukraine have been echoed by many throughout the world, his focus in traveling to the warring nations was to help improve the humanitarian situation he views as having an especially large impact on Ukrainian residents.
"War is evil," he wrote in a brief but solemn tweet Thursday that included a picture of him standing before a damaged, smoke-stained building in Ukraine.
Guterres visited Borodyanka, a city located northwest of the Ukrainian capital of Kyiv, and toured buildings that have been destroyed in the conflict.
"I must say what I feel. I imagined my family in one of those houses that is now destroyed and black," he said. "I see my granddaughters running away in panic, part of the family eventually killed. So, the war is an absurdity in the 21st century. The war is evil."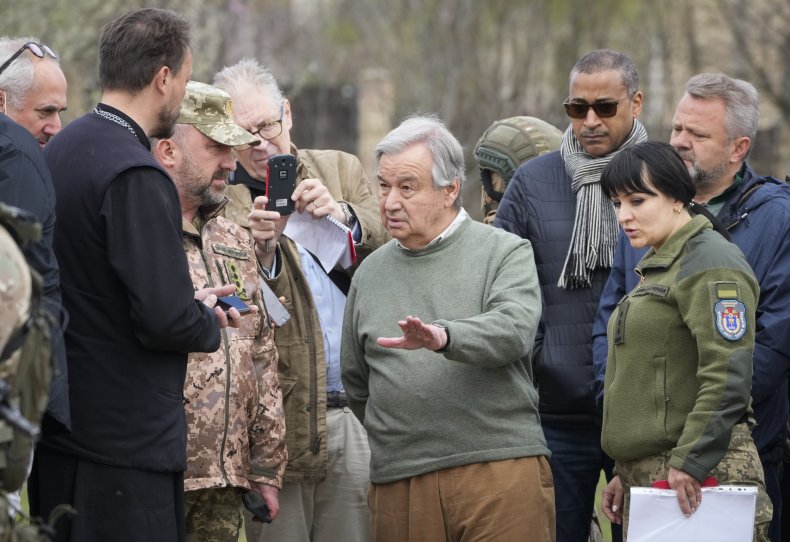 He also visited a destroyed residential complex in the city of Irpin, which is also near Kyiv, and decried the impact of the Russia-Ukraine War on civilians, according to the U.N. release.
Guterres said that the "horrific scenario demonstrates something that is unfortunately, always true: civilians always pay the highest price."
As the war recently entered its third month since it erupted on February 24, at least thousands of Ukrainian civilians have been injured or killed in the conflict. As of April 27, the U.N.'s Office of the High Commissioner for Human Rights said that 2,829 civilians have been killed, including 205 children, and 3,180 have been injured, including 303 children. The office added that the actual civilian casualty toll is likely much higher.
During Guterres' meeting with Putin the day before, he discussed several humanitarian-related proposals with the president, according to a transcript of remarks on the Kremlin's website. These included setting up humanitarian corridors to help civilians safely evacuate, particularly from the city of Mariupol, which has been overtaken by Russian forces.
Guterres told CNN's Anderson Cooper in an interview that his meeting with Putin on Wednesday was "very useful."
"First of all...it was possible to tell President Putin the same things I say in New York or I'll be able to say here in Kyiv, which means that the Russian invasion is against the charter of the United Nations, is a violation of the territorial integrity of Ukraine and that this war must end as quickly as possible," he said.
Guterres also said that he and Putin reached an agreement "in principle" that would permit Ukrainians to evacuate a steel plant in Mariupol.
Russia and Ukraine have set up humanitarian corridors several times since the start of the war, and some of the efforts have successfully allowed thousands to evacuate, but Russia has also reportedly shelled some of the routes.
Newsweek reached out to Russia's Foreign Ministry and the United Nations for comment.