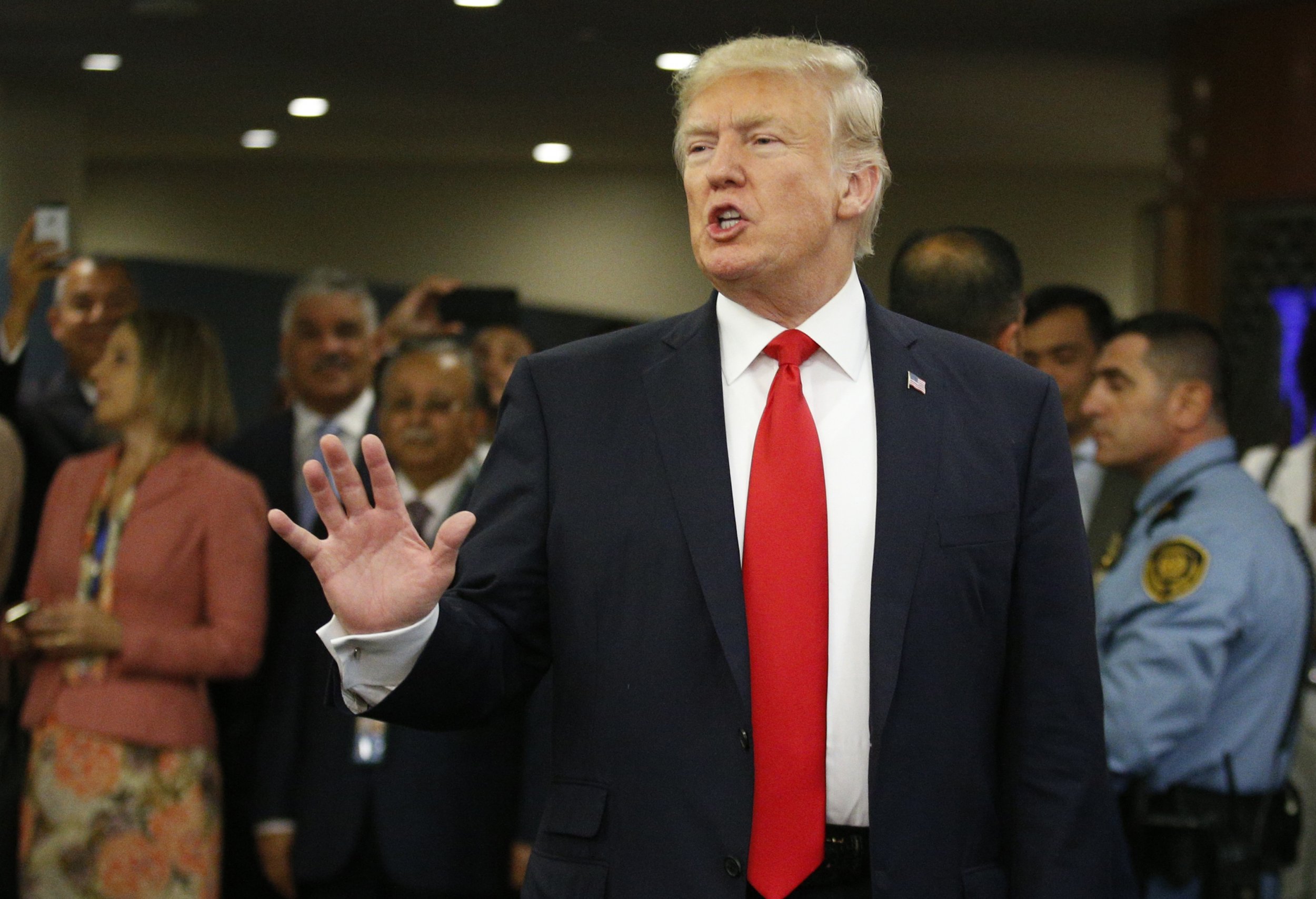 President Trump's "America First" foreign policy will be unveiled in full-force Tuesday as he makes his first speech to the United Nations' annual General Assembly, but he has a busy day planned for Monday.
Trump arrived at 9:30 a.m. for a day of meetings, beginning with the Israeli Prime Minister Benjamin Netanyahu and the President of France Emmanuel Macron.
Related: Trump Wall: Israeli company to make prototype for his Mexico border wall
But he started the day with welcoming remarks that called on the 73-year-old body to support his vision of reform, though he did not go into specifics.
The U.N., he said "has not reached its full potential because of bureaucracy and mismanagement."
He added that the group is overstaffed. "We are not seeing results in line with this investment," he said.
Trump has been a critic of the world body in the past. After his 2016 election win, he tweeted that the U.N. had great potential but was currently "just a club for people to get together, talk and have a good time."
But the international body has proved to be a help rather than a hindrance to Trump, particularly with regard to the threat posed by an increasingly volatile North Korea. Twice in five weeks, the 15-member Security Council has followed the U.S. lead and unanimously boosted sanctions on North Korea.
The United Nations is expected to be preoccupied with Pyongyang during much of the week. Meanwhile, Trump's first day will focus largely on Iran as the president meets the leaders of Israel and France at 1:15 p.m. and 3:15 p.m. respectively. Trump has called the 2015 nuclear agreement, struck with Iran, "the worst deal ever negotiated," to the delight of Israel's government, which views Tehran as its greatest regional threat. France, on the other hand, staunchly defends the deal.
Trump must decide in October whether to certify that Iran is complying with the agreement, known as the Joint Comprehensive Plan of Action. If he does not, Congress has 60 days to decide whether to reimpose sanctions waived under the deal.
In Argentina, before his arrival in the United States, Netanyahu said once again that the deal was poor one "Our position is straightforward. This is a bad deal. Either fix it or cancel it. This is Israel's position," he said last Tuesday.
Speaking ahead of today's meetings the French foreign minister said the deal on Iran's nuclear deal bore a direct relationship to the proliferation of weapons from North Korea. "It is essential to maintain it to avoid proliferation. In this period when we see the risks with North Korea, we must maintain this line," Jean-Yves Le Drian told reporters Monday.
Trump will wrap up his day with a working dinner with Latin American leaders at 6:30 p.m. There, according to Reuters, Venezuela's economic woes and growing unrest, will be on the agenda. The president will also be looking to push charm offensive in the light of acrimony between Mexico City and Washington, as he sits down with the leaders of Colombia, Peru and Brazil.