UPS Worker Shares Surprising Hourly Pay: 'Y'all Really Clueless'
A UPS worker went viral online after revealing he receives almost $40 an hour as a delivery driver.
The worker named Mykol Gummings, also known as @mykol_gummings, posted about his pay on TikTok where it received more than 4.6 million views and 6,400 comments. The video can be viewed here.
Average Hourly Pay
According to the U.S. Bureau of Labor Statistics (BLS), the average hourly pay for individuals in the private sector was $32.27 per hour as of July 2022.
The highest earning workers in July were private utility workers, earning $47.46 per hour.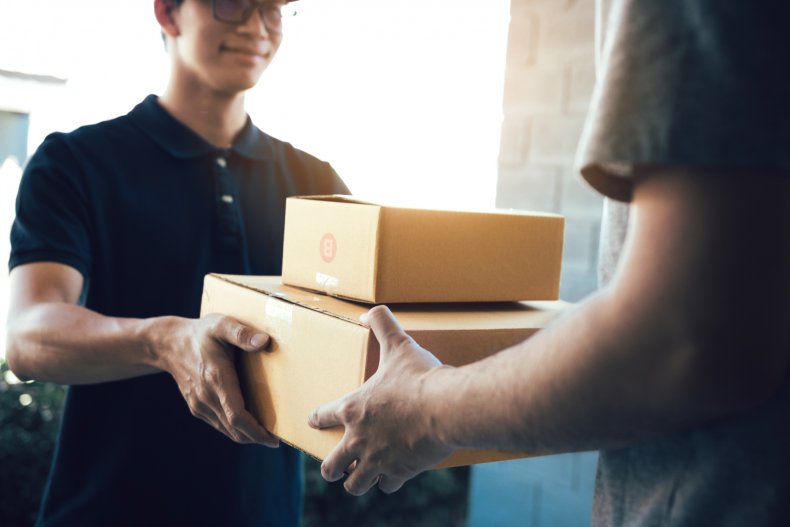 The living wage in the United States in 2019 was about $68,808 per year for a family of four—or $16.54 per hour.
The federal minimum wage is currently $7.25 an hour, though many states offer higher minimum wages, including $14 an hour in California and $13.20 in New York.
'$40 An Hour'
In the video captioned "Yall really clueless," Gummings filmed himself wearing a UPS uniform while inside the delivery truck.
"I went to the corner store to buy some water and this guy who works for some other delivery company saw my uniform," Gummings said.
He said the man told him that when he is done with UPS he should "holler" at him to "make some real money."
Gummings said he laughed at the man before informing him of his hourly pay.
"In my head I'm thinking 'I'm not gonna be modest,'" Gummings said. "So I'm all 'I don't know dog, $40 an hour sounds pretty good at UPS."
Gummings told Newsweek he is a driver at UPS who has been with the company for more than four years. He said his starting salary was $21 an hour but that by next year he will have reached $40 an hour.
"Any UPS employee receives their benefits and insurance after a year with the company," Gummings said.
He also said he took the job initially because of the potential to be making $40 an hour within his first five years.
'The Beauty of It'
In the TikTok, Gummings said the man's jaw dropped and he said he had no clue UPS drivers could make $40 an hour.
"Yeah nobody knows, that's the beauty of it," Gummings said.
He then said the man asked for his number and said that instead, he was going to "holler" at him.
"S**t was funny as hell bro," Gummings said with a laugh.
Viewer Reactions
More than 6,400 viewers commented on the TikTok, many wondering if the man was telling the truth.
"UPS management here. People don't know that kind of money we make!!" one user commented. "We work d**m hard for that money and it's not for everyone. We're different!"
"My husband is a UPS driver, I can vouch for this. He made me a housewife," another commented.
"When I was working at orange and purple I'd see the UPS guy and ask how his day was going and he'd always say '$10 an hour better than yours,'" another user wrote.
"Is that legit?" one user commented. "I be seeing y'all passing out in them trucks with no AC."
"And don't even start with the benefits!! amazing," another commented.
UPS in the News
In July, UPS addressed concerns after a Ring doorbell captured a UPS delivery driver fainting outside a person's front door.
"We appreciate the concern for our employee and can report that he is fine," a spokesperson told Newsweek in a statement.
The company stated that they do not encourage employees to continue working if it poses a health concern.
Earlier last month, photos allegedly taken inside various UPS trucks showed temperatures above 130 degrees Fahrenheit.
Newsweek reached out to UPS for comment.
Other Viral Posts
In another viral TikTok, an art teacher revealed her budget for the school year which prompted viewers to voice their disappointment.
In the video, the teacher said she was allotted $50 to buy art supplies for the upcoming school year.
On Reddit, a user was praised for rejecting a job because the offer was too low.