U.S. and China Militaries Begin Training Together, Even as Their Nations Fight Trade War
The U.S. and Chinese armed forces have begun a joint training mission, maintaining some degree of contact between their militaries even as the two nations engage in a trade war.
The Chinese People's Liberation Army Eastern Theater Command and U.S. Army Pacific launched Monday the eight-day U.S.-China Disaster Management Exchange 2018 in Nanjing, the capital of China's eastern Jiangsu province. The annual exercise gathers personnel from the two rival powers to participate in emergency relief exercises.
The official China Military Online wrote Tuesday that the "exchange involves over 200 military personnel" from both sides. It also "aims to share the experience of international humanitarian assistance and disaster relief of the two militaries and cultivate the willingness and capability of the two militaries to carry out disaster relief operations."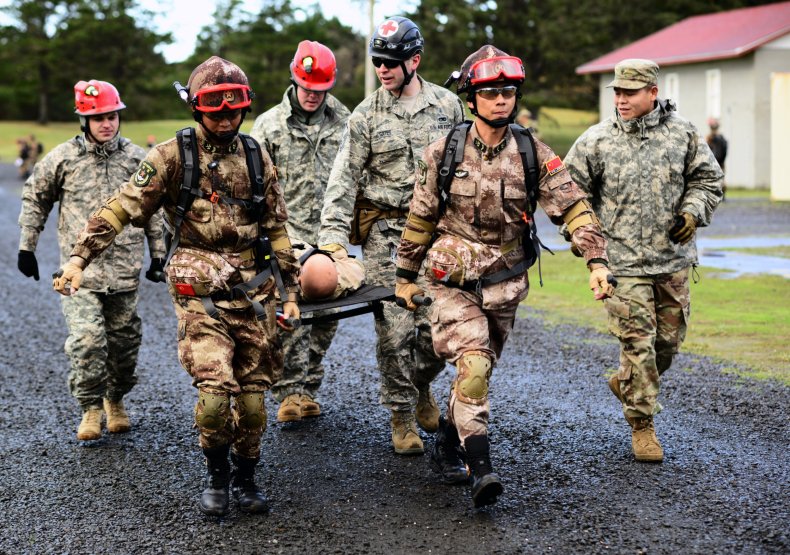 Last year's training included about 260 personnel and took place around this same time last year in Oregon. The U.S. Center for Excellence in Disaster Management and Humanitarian Assistance said at the time that the goal was "to promote strategic and substantive dialogue with the People's Liberation Army (PLA), promote mutual understanding and good relations, and serve as an area of practical cooperation between China and the United States."
This year's 14th annual exchange came at a time of particularly heightened tensions between Washington and Beijing, and there were no announcements made by the U.S. side ahead of the exercises. Though Defense Secretary James Mattis met last month with Chinese Defense Minister Wei Fenghe on the sidelines of an Association of Southeast Asian Nations meeting in Singapore in an effort to smooth over their strained defense ties, no comprehensive breakthroughs were announced.
President Donald Trump has accused Chinese President Xi Jinping of overseeing unfair trade practices such as currency manipulation and intellectual property, and enacted protective tariffs on steel and aluminum in a measure that he argued would protect U.S. jobs. The move angered China, Russia and U.S. allies alike, triggering retaliatory measures that have put the global economy under pressure.
As the world's leading economic powers, the U.S. and China have both vowed to not back down from their standoff. However, Chinese Foreign Ministry spokesperson said during a press conference Tuesday that "President Xi Jinping and President Trump had a telephone conversation, during which the two leaders agreed that the economic teams from the two countries should increase engagement and conduct consultations on issues of mutual concern so as to seek a solution that can be accepted by both sides on China-U.S. trade issues."
Trump and Xi are set to meet at the G-20 summit, to be hosted at the end of the month through the beginning of December in Buenos Aires, Argentina.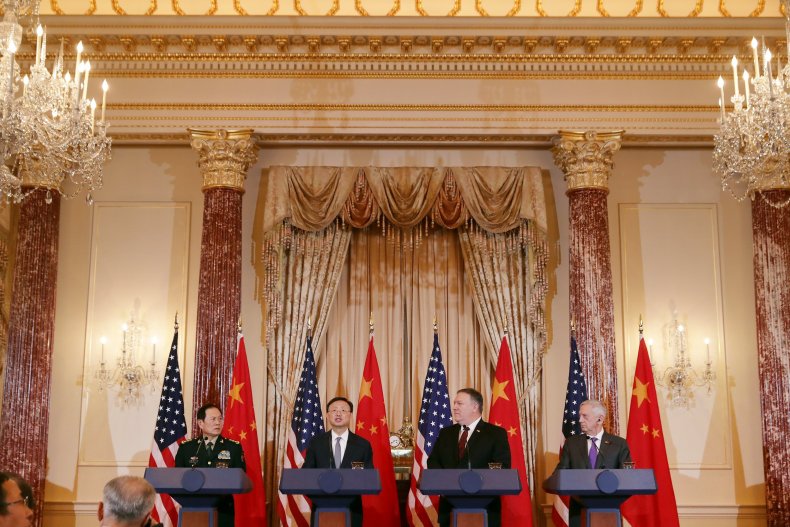 In addition to their financial feud, the U.S. and China have increasingly found themselves at odds over territorial disputes in the South China Sea. Beijing has claimed vast maritime borders across the region, angering the U.S. and other countries in the Asia-Pacific region. The Chinese government has claimed sovereignty over Taiwan, a self-ruling island led by nationalist forces defeated by communist guerrillas in the country's civil war.
Despite their differences in the South China Sea, the U.S. has sought China's assistance in advancing their mutual interests in northeast Asia, where even Xi has called for nuclear-armed North Korean supreme leader Kim Jong Un to give up his nuclear weapons. Though the White House accused China of violating international sanctions by continuing covert trade with its neighboring, longtime ally, Secretary of State Mike Pompeo stressed the need for Washington and Beijing to come together after a meeting Friday with senior Chinese officials.
"Even as our countries confront important differences, the bilateral relationship between the nations, our cooperation, remains essential on many, many central issues," Pompeo told reporters. "For example, I expressed in our meeting today the importance of remaining united in the pursuit of a final, fully verified denuclearization of North Korea, as agreed to by Chairman Kim in Singapore."