U.S. Embassy in Jerusalem Wins Bipartisan Senate Support in Near-Unanimous Vote
The U.S. embassy in Jerusalem won near-unanimous support in the Senate on Thursday night when all but three lawmakers voted to retain the diplomatic post in the city, following its move from Tel Aviv under the Trump administration.
During an all-nighter "vote-a-rama" session in the upper chamber, which saw hundreds of amendments proposed for the budget reconciliation resolution, Senators Jim Inhofe (R-OK) and Bill Hagerty (R-TN) put forward an amendment backing the U.S. embassy's establishment in Jerusalem.
The amendment passed in a 97-3 vote with only Senators Bernie Sanders (I-VT), Elizabeth Warren (D-MA) and Tom Carper (D-DE) opposing the motion. Newsweek has contacted the offices of Warren and Sanders for comment on their votes.
"Jerusalem is the capital of Israel and I am proud to introduce legislation to protect the U.S. Embassy from relocation or being downgraded," Inhofe said in a statement. "It was an honor to see the U.S. Embassy moved to its rightful location in Jerusalem in 2018 after over 20 years of bipartisan effort and Sen. Hagerty and I are clear in our efforts to ensure it stays there."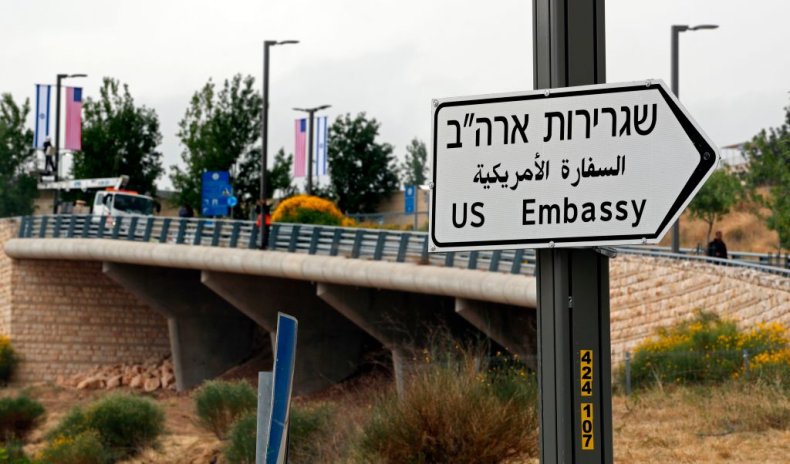 Sen. Hagerty told the Senate floor that the embassy in the disputed capital was "paving the way for peace throughout the region" as he called for it to be preserved. "Now, our allies there will know we stand with them," he added.
Former President Donald Trump officially recognized Jerusalem as the capital of Israel and announced his plans to move the U.S. embassy to the city in December, 2017—a move that was rejected by the United Nations.
The U.S. embassy in Jerusalem was opened five months later at an opening ceremony attended by then-Treasury Steven Mnuchin, members of Congress, administration officials and the Israeli Prime Minister Benjamin Netanyahu.
It is unlikely that the Biden administration will undo the move and put the U.S. embassy back in Tel Aviv, particularly given the support the decision has on Capitol Hill.
Anthony Blinken, the Secretary of State, confirmed that the new administration planned to keep the U.S. embassy in Jerusalem as Republicans pressed him at his confirmation hearing.
"Do you agree that Jerusalem is the capital of Israel and do you commit that the United States will keep our embassy in Jerusalem?" Senator Ted Cruz (R-TX) asked Blinken. "Yes and yes," he replied.
During a fundraiser call during the Democratic primary campaign, Biden also said he would not move the embassy, but called Trump's move "short-sighted and frivolous" as it came without any conditions.