U.S. Is Now Europe's Biggest Challenge, Says EU Leader
A top European Union official has identified President Donald Trump's administration as one of the greatest challenges facing leaders on a continent traditionally aligned with the U.S.
European Commision First Vice-President Frans Timmermans made the remarks Wednesday at the European Business Summit in Brussels. When asked about the leading issue facing the EU for the coming year, the Dutch social democrat said it was to assert Europe's role in world affairs as the U.S. adopted nationalist political and economic policies under Trump.
"In the very short term, I believe it is to have a clear and unified answer to the challenge posed by those who don't believe in free trade. The world is watching Europe now. They are wondering: 'Can they stay united?' The answer is going to decide if we are going to be the ones to shape the world or be shaped by others. It is going to determine if Europe is going to be strong or be a playing field for others," Timmermans said, according to U.K.-based pan-European outlet Euractiv.
Warning of a Cold War-like environment developing across Europe, Timmermans said that "some things in transatlantic relations that we never thought would change are being challenged, the issues of trade and security." He added, "This is the first administration that thinks it is in the American interest to have a divided Europe rather than a united one. This poses a real challenge for Europe."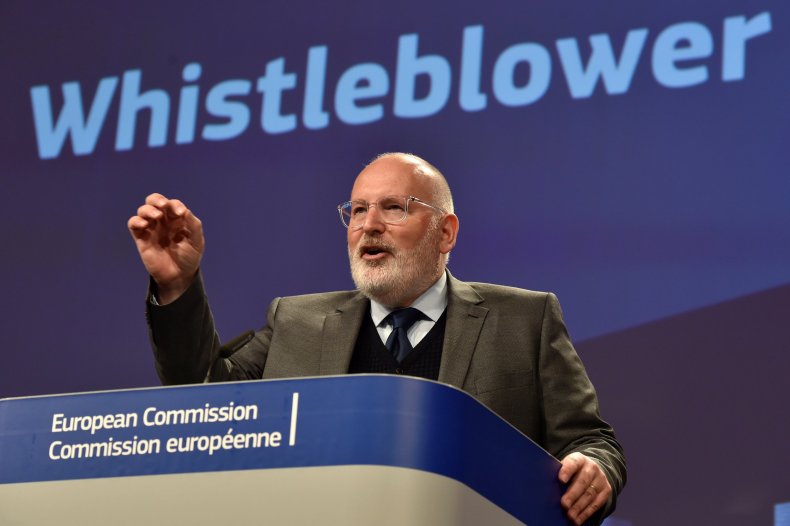 Timmermans said it was up to Europe to handle the aftermath of Trump's decisions to break with his traditional transatlantic allies on major issues. European leaders pled with Trump not to abandon multilateral agreements such as the Paris Climate Agreement, supported by every other nation in the world, and the Joint Comprehensive Plan of Action, the official name for the 2015 nuclear agreement with Iran, also signed by China, France, Germany, Russia and the U.K.
EU nations also overwhelmingly voted in support of a United Nations resolution condemning Trump's decision to move the U.S. embassy in Israel from Tel Aviv to Jerusalem, upending an international consensus on the holy city considered by both Israeli and Palestinians. Nearly every EU member voted in favor, with only several abstaining. The embassy's May 14 opening was the catalyst for Palestinian protests during which Israeli forces killed up to 60 demonstrators in Gaza.
Related: How Are Palestinians Celebrating Ramadan? In Gaza, It Is as if It 'Has Not Yet Come'
On the day before Trump announced his controversial Jerusalem stance in December, German Foreign Minister Sigmar Gabriel said that "even after Trump leaves the White House, relations with the U.S. will never be the same."
The following month, Trump moved to reassure worried European leaders at the Davos Economic Forum by saying "America First does not mean America alone" because "when the United States grows, so does the world." With Trump's withdrawal from the Iran deal, however, many European leaders continue to express skepticism and European Council President Donald Tusk responded by asking "with friends like that who needs enemies."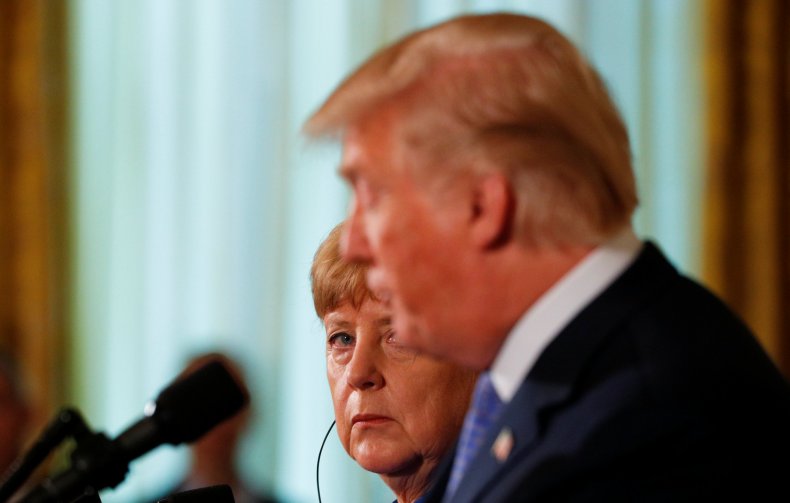 As the U.S. reinstates sanctions against Iran, the three EU signatories have joined China and Russia in trying to salvage the nuclear agreement. Iran has said it would only stay a party to the accord if its interests were preserved and has threatened to restart its nuclear program—which it has maintained was only for peaceful purposes—if the terms no longer benefited the country.
Europe remains heavily dependent on the U.S. for security, especially as the West's relationship with Russia grows increasingly strained. Trump, previously a self-proclaimed admirer of Russian President Vladimir Putin, once declared Western military alliance NATO to be "obsolete." He later reversed this position, but has called on European allies to contribute more to the U.S.-led defense coalition.