U.S. Aircraft Carriers Show Off 'Unparalleled Strength' in First Three-Way Joint Drills in the Pacific in a Decade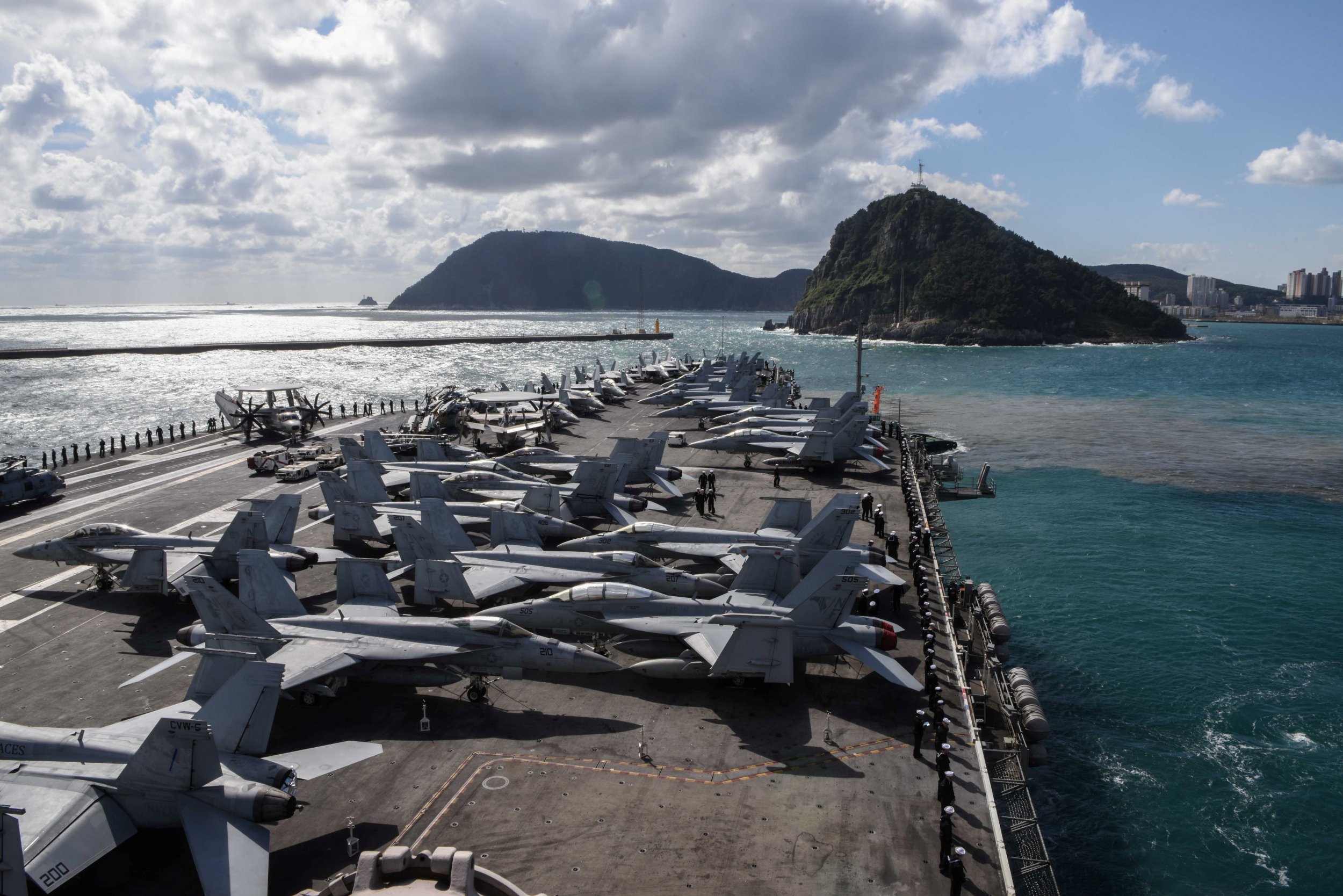 Three U.S. nuclear-powered aircraft carrier strike groups will conduct joint drills in the Pacific for the first time in a decade.
The 7th Fleet Command formally announced the drills in a statement on Wednesday. The largest U.S. warship in Asia, the USS Ronald Reagan, will join the USS Nimitz and the USS Theodore Roosevelt in the naval exercise on November 11-14.
The specific location of the drill remains unclear. The statement refers to it as the "Western Pacific," the vessels' area of deployment that includes the waters around the Korean peninsula and the South China Sea, the East China Sea and the Philippine Sea.
The last time such drills were held was during the Valiant Shield exercises in 2006 and 2007, which took place off the coast of the U.S. territory of Guam, which hosts two U.S. military bases, and aimed to develop the ability for the three strike groups to quickly work together should it become necessary.
"It is a rare opportunity to train with two aircraft carriers together, and even rarer to be able to train with three," said U.S. Pacific Fleet Commander, Admiral Scott Swift, in the statement.
"Multiple carrier strike force operations are very complex, and this exercise in the Western Pacific is a strong testament to the U.S. Pacific Fleet's unique ability and ironclad commitment to the continued security and stability of the region," he added.
The presence of three aircraft carrier strike groups in the area was also mentioned in President Donald Trump's speech in South Korea, the second leg of his five-nation tour of Asia that drew both supporters and anti-war protesters.
According to Trump, the deployment of U.S. strategic assets near the Korean Peninsula was a demonstration of American military might. "They understand we have unparalleled strength, there has never been strength like it," he said at a news conference this week when asked about ongoing tensions with North Korea.
"We sent three of the largest aircraft carriers in the world and they're now positioned, we have a nuclear submarine, we have many things happening that we hope—we hope to God we never have to use," the president added.
In Pyongyang, the presence of the aircraft carriers is championed as a reason for North Korea to pursue its development of a nuclear deterrent.
"The United States is threatening us with nuclear aircraft carriers and strategic bombers. They are challenging us with the most vicious and demeaning provocations, but we will counter those threats by bolstering the power of justice in order to take out the root cause of aggression and war," North Korean officials told CNN Wednesday after Trump personally demanded North Korean leader Kim Jong Un gave up the country's nuclear weapons in a speech at the South Korean parliament.