The U.S. is pushing a deal for Poland to send fighter jets to Ukraine, despite Moscow warning that countries that host warplanes for Kyiv could be drawn into the conflict.
It comes after President Volodymyr Zelensky of Ukraine issued an impassioned plea to U.S. lawmakers at the weekend to help his country get more jets to fight Russia's invasion.
The deal would involve Poland transferring its Soviet-era MiG-29 planes, which Ukrainian pilots are trained to fly, to Ukraine, while the U.S. is in discussions to backfill Poland's fleet with American-made F-16s.
The plan is fraught with risk, however, as the Kremlin has warned neighboring countries that hosting Ukraine's warplanes could be considered their "engagement in the military conflict."
U.S. Secretary of State Antony Blinken was asked on Sunday if Poland, a NATO member, sending fighter jets to Ukraine could escalate tensions, during an interview on CBS' Face the Nation. Blinken replied: "No, that gets a green light.
"In fact, we're talking with our Polish friends right now about what we might be able to do to backfill their needs, if, in fact, they choose to provide these fighter jets to the Ukrainians… We're in very active discussions with them about that."
Poland's response, at least in public, has been restrained, however.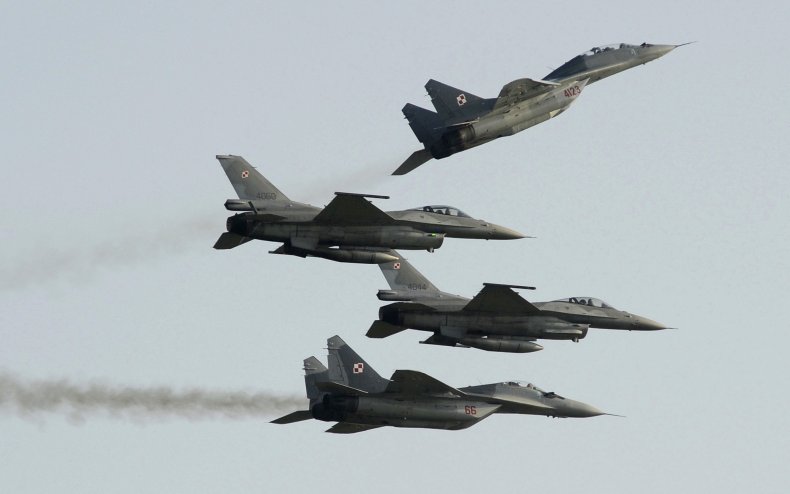 "As far as sending planes, I can only repeat that no decisions have been taken on the subject," said government spokesman Piotr Mueller.
On Sunday, the chancellery of the Polish prime minister, Mateusz Morawiecki, dismissed reports that it would transfer the jets. "Poland won't send its fighter jets to #Ukraine as well as allow to use its airports," the chancellery's official account tweeted. "We significantly help in many other areas."
According to Politico, Eastern European countries including Poland, Bulgaria and Slovakia retain dozens of Russian-made aircraft, but have been reluctant to give up the jets without reassurance from the U.S. that they would be replaced.
On Sunday, the spokesman for Russia's Defense Ministry, Igor Konashenkov, claimed that some Ukrainian combat planes had redeployed to Romania and other neighboring countries.
Konashenkov warned that if those warplanes attacked Russian forces from the territory of those nations, this "could be considered as those countries' engagement in the military conflict."
Mueller, the Polish government spokesman, denied allegations that Warsaw could be making its airfields available to Ukrainian warplanes.
On a call with more than 300 members of Congress on Saturday, President Zelensky stressed Ukraine's need to secure its skies, either through a no-fly zone enforced by NATO or through the provision of more warplanes.
NATO has refused to impose a no-fly zone, fearing it could provoke a widespread war with Russia.
On Saturday, President Vladimir Putin of Russia warned that he would view any country that declares a no-fly zone over Ukraine as a participant in the "armed conflict."
Newsweek has contacted the White House for comment.