Is U.S. Safe From North Korea? Donald Trump Extends 10 Years of National Emergency Over Nuclear Weapons Threat
President Donald Trump has extended a decade-long state of national emergency over the threat posed to the United States by North Korea's nuclear weapons program.
The White House on Friday released a notice detailing Trump's extension of a measure first declared by former President George W. Bush's signing of an executive order on June 26, 2008. The state of national emergency was expanded four times under former President Barack Obama and once before in September by Trump, who, despite current peace efforts, has deemed North Korea's nuclear arsenal a continued threat to U.S. national security.
"The existence and risk of proliferation of weapons-usable fissile material on the Korean Peninsula and the actions and policies of the Government of North Korea continue to pose an unusual and extraordinary threat to the national security, foreign policy, and economy of the United States," the statement read, noting that the previous state of emergency would expire on June 26, 2018.
Addressing six previous presidential actions on the issue, Trump said: "I am continuing for one year the national emergency with respect to North Korea declared in Executive Order 13466."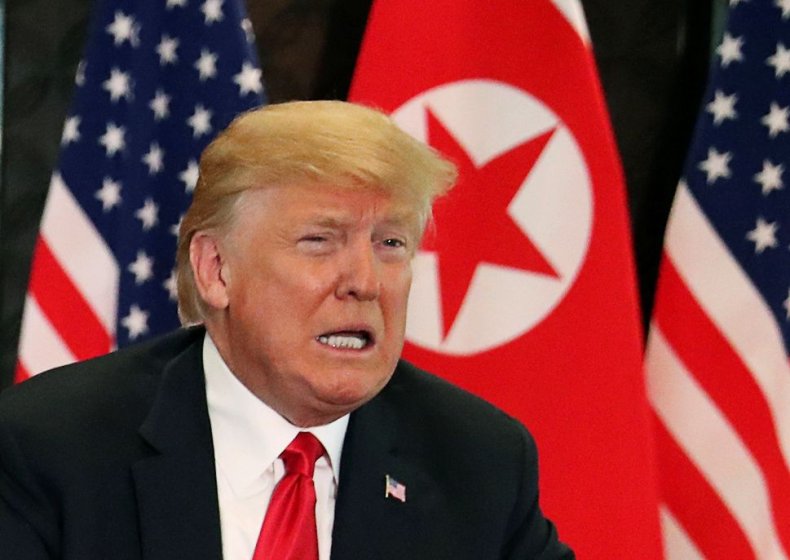 North Korea has developed nuclear weapons and intercontinental ballistic missiles capable of delivering them across the world in response to what it has said is the impending threat of U.S. military action. The hostility stems from the 1950s war fought between communist-backed North Korea and U.S.-backed South Korea, and has persisted throughout successive U.S. administrations.
Trump has often criticized his predecessors' handling of U.S. foreign policy, including the nuclear crisis with North Korea. After Trump's first year in office produced a heated rhetorical battle between the president and North Korean supreme leader Kim Jong Un, historic advances in North Korea military technology and harsher U.S. sanctions, the two men managed to forge an unlikely detente as Kim set out to improve his diplomatic standing with his neighboring rival, South Korea, and traditional ally, China.
Related: Trump Says North Korea Already Destroyed 'Four of Their Big Test Sites'
Shortly after returning from his trip to meet Kim in Singapore earlier this month, Trump tweeted: "There is no longer a Nuclear Threat from North Korea" and the president has remained adamant that he is pushing for a "total denuclearization" of the Korean Peninsula. He told reporters at the White House on Thursday that North Korea was blowing up its engine site and already destroyed "four of their big test sites."
While North Korea razed both its only known nuclear testing site in Punggye-ri and the Iha-ri Driver Training and Test Facility in May, leading monitor 38 North noted on Thursday that "commercial satellite imagery of North Korea's Sohae Satellite Launching Station from June 12 shows no apparent activity related to dismantlement of its rocket engine test stand" and said last week that it "has not yet identified any activity associated with the dismantlement of facilities at Sohae or any other test sites in North Korea."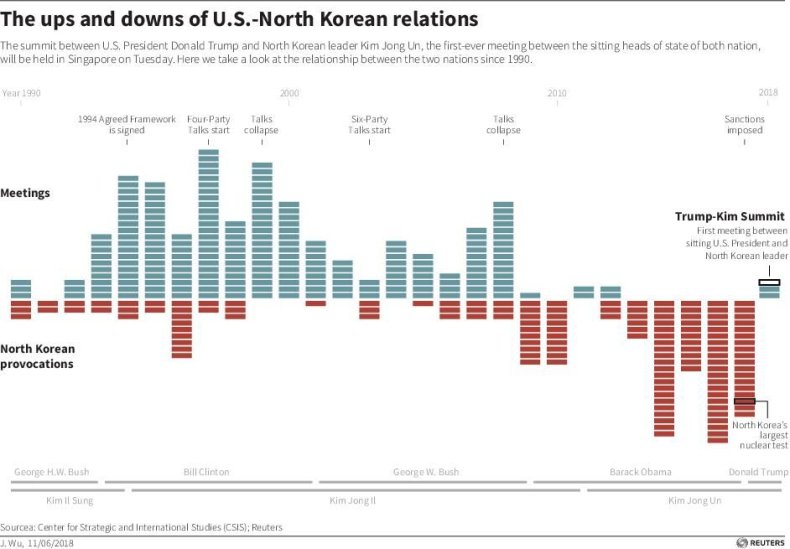 The National Emergencies Act was passed by Congress in 1976 and, as of early December, the U.S. is in a state of 28 ongoing national emergencies, according to Lawfare. Those include the first-ever emergency declared under the act, a 1979 executive order signed by former President Jimmy Carter in response to the Iran Hostage Crisis—a measure renewed by Trump in December.
Trump declared his first new national emergency later that month, signing an "executive order blocking the property of persons involved in serious human rights abuse or corruption." In August, he declared an opioid crisis to be a "public health emergency," but fell short of branding it a national emergency.