U.S. Sen. Marsha Blackburn Leads Delegation to Taiwan: Report
President Tsai Ing-wen of Taiwan will receive her third congressional delegation from the United States this month when a Senate-led group lands in Taipei late on Thursday local time, according to reports.
The delegation, or CODEL, is flying in on a U.S. military aircraft and was due at Songshan Airport, where House Speaker Nancy Pelosi landed for her own high-profile visit in the first week of August, Taiwan's semi-official Central News Agency (CNA) said.
Local television station TVBS reported Sen. Marsha Blackburn was leading the group. Earlier this week the Tennessee Republican met Prime Minister James Marape of Papua New Guinea and PM Manasseh Sogavare of the Solomon Islands.
The CNA report said the group was scheduled to meet Tsai and other members of Taiwan's senior leadership on Friday morning local time. Taiwan's Foreign Ministry, meanwhile, didn't say whether Taipei was expecting any visitors.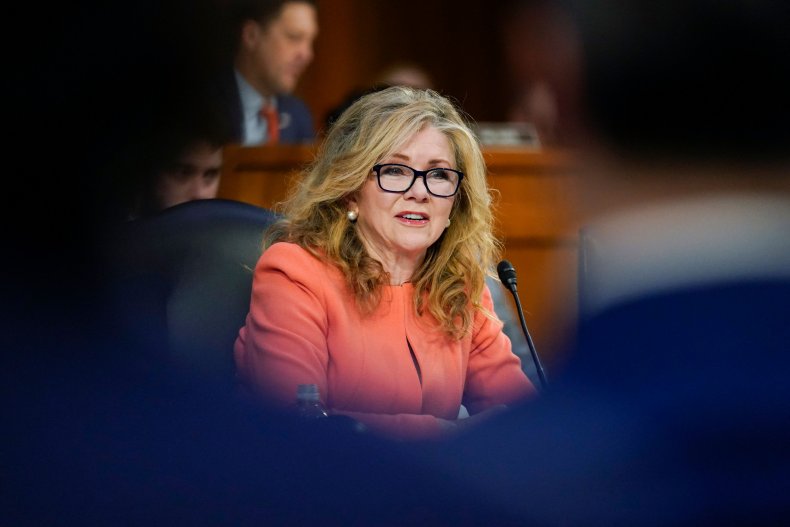 A Financial Times report over the weekend said a third CODEL was due this week, although it was unclear which other U.S. lawmakers, if any, are in Blackburn's delegation. Other details of the senator's schedule are also unknown.
TVBS said the group would be arriving on a U.S. Army UC-35A passenger jet.
Blackburn's arrival follows a CODEL visit led by Massachusetts Democrat Sen. Ed Markey on August 14, who followed shortly after Pelosi's trip between August 2 and 3.
The visit by Pelosi, who is second in the presidential line of succession, drew strong protests from China, which claims Taiwan as part of its own territory. Chinese officials, rejecting the notion of a separation of powers in the United States, said the Biden administration should have blocked the speaker's trip. The White House—and Pelosi—argued otherwise.
Beijing responded by announcing military drills that simulated a quasi-blockade of major Taiwanese ports, and its rocket forces fired 11 ballistic missiles into the waters around the island, raising tensions to their highest level since the mid-1990s.
The Chinese government had used Pelosi's trip as a pretext to shift the Taiwan Strait status quo in its favor, White House officials said. Observers believe Beijing's objective was to head off similar visits from foreign lawmakers in the future, but it has been unsuccessful thus far.
Tsai's Cabinet on Thursday proposed an ambitious double-digit increase to the island nation's defense spending in 2023. The new budget, which will require parliamentary approval, is set at $19.41 billion, a 13.9 percent year-on-year rise from 2022.