China Fires Warning Shot at Next U.K. PM About Taiwan 'Red Line'
China's top envoy to the United Kingdom has told the country's two prime minister hopefuls, Liz Truss and Rishi Sunak, not to follow in the footsteps of the United States, which he said has neglected Beijing's warnings against developing closer ties with Taiwan.
In an op-ed published in The Guardian on Tuesday, Chinese Ambassador Zheng Zeguang called Taiwan a "touchstone issue" for all parties involved.
Britain would face similarly "serious consequences" if, like its transatlantic ally, it chose to raise its level of support for the island, he said.
China claims democratic Taiwan as its own, but the island nation's 23.5 million people, who elect their own president and lawmakers, see themselves as citizens of a functionally independent state. Political differences across the Taiwan Strait have lasted decades; China refuses to rule out the use of force to "unify" Taiwan with the mainland.
Beijing has upped the ante in recent years thanks to its rapidly expanding arms forces and an economy that has dominated Asia since the turn of the century.
Truss—the U.K. foreign secretary and a current favorite to replace Boris Johnson as prime minister in September—summoned Zheng last week after the Chinese military simulated a blockade of Taiwan's major ports and fired nearly a dozen ballistic missiles into its surrounding waters, in what was the largest show of force across the strait in nearly three decades.
"We have seen increasingly aggressive behavior and rhetoric from Beijing in recent months, which threaten peace and stability in the region," Truss said at the time.
China said it was responding to U.S. Congresswoman Nancy Pelosi's "provocative visit" to Taipei in the beginning of August, a historic move that made her the first serving House Speaker to travel there in 25 years. The White House rejects the Chinese claim that Pelosi's visit somehow endorsed Taiwan's de jure independence, which U.S. policy doesn't support.
"The Taiwan question is a major issue of principle. There is no reason for the U.K. to disregard that fact and follow in the footsteps of the U.S.," wrote Zheng, 58, in his Guardian op-ed.
"Calls to 'help Taiwan defend itself' and the like are extremely irresponsible and detrimental," added Zheng, who was quoting Truss without naming London's top diplomat.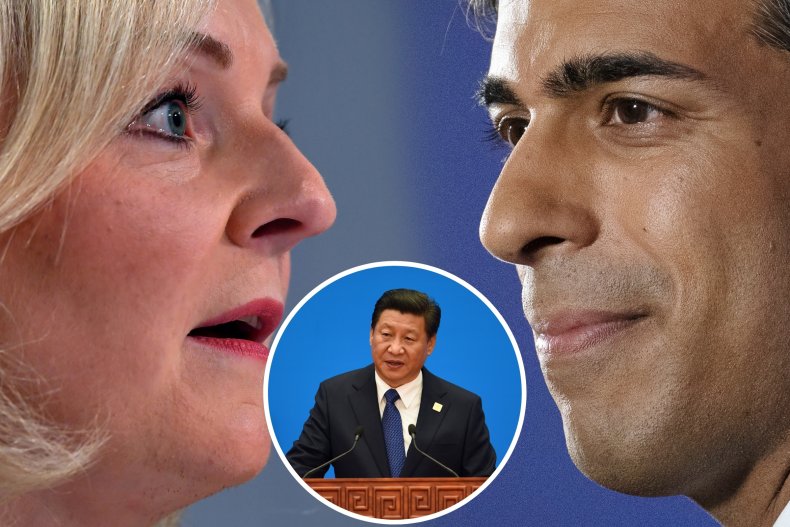 Since February, the U.K.'s foreign secretary has been in lockstep with her American counterparts in the Biden administration when it comes to backing Ukraine against Russia's invasion. And like officials in Washington, she has suggested the West should collectively deter Beijing from a similar military adventure against Taipei, including potentially through the provision of arms.
China's force buildup under President Xi Jinping is guided in part by the assumption that the U.S. would intervene if it chose to take Taiwan by force. The U.K. is unlikely to be involved in such a crisis, but Zheng said any move by London that "crosses the red line of the Chinese side ... will bring serious consequences to bilateral relations. There should not be any miscalculation on this."
"The Chinese people will firmly safeguard, at any cost, their national sovereignty and territorial integrity," he said. "'Taiwan independence' means war and will lead to a dead end."
Zheng's op-ed is part of Beijing's attempt to shape international discourse on Taiwan. His counterpart in Washington, Qin Gang, pursues a similar aim.
Like the U.S., the U.K. has no formal diplomatic ties with Taiwan and maintains its own "one China" policy. In 1972, when official British representation was withdrawn from Taipei, London recognized Beijing as the "sole legal government of China," and acknowledged its position that Taiwan is a Chinese province.
"We do not deal with the Taiwan authorities on a government to government basis, and we avoid any act which could be taken to imply recognition," said a U.K. Foreign Office memo published in October 2000.
While Britain retains cultural and commercial ties with Taiwan, U.S. relations go a step further to include a security partnership, which under the Taiwan Relations Act requires Washington to sell defensive articles to Taipei in order to maintain its credible self-defense. Truss appeared to suggest that London should pursue similar legislation.
Like the U.K., the U.S.'s own one China policy recognizes Beijing as the sole legal government of China, but only acknowledges its claim to Taiwan. Officially, the U.S. considers the island's postwar status undetermined.
Both British and American positions differ in meaningful ways from Beijing's one China principle—affirmation of which would amount to an unambiguous recognition of Taiwan as a Chinese province.
A Hard-Line Contest
Truss, 47, and Britain's former finance minister Sunak, 42, are the two remaining candidates in the race to become leader of the Conservative Party and prime minister next month, this following Johnson's July resignation on the back of a series of political scandals.
The Tory leadership race—decided by the votes of roughly 150,000 to 200,000 party members—has come down to moderate social reforms, conservative immigration rules, and hard-line foreign policy positions vis-à-vis Moscow and Beijing.
During her campaign to be Conservative leader, frontrunner Truss has committed to recognizing China's policies against Uyghurs in Xinjiang as a genocide. Her backers say only she can take a tougher stance on Beijing.
Sunak, meanwhile, has sought to improve his national security credentials by describing China as the "biggest long-term threat to Britain" last month. He accuses Beijing of "stealing our technology and infiltrating our universities" at home.
"Abroad, they are propping up Putin's fascist invasion of Ukraine by buying his oil and attempting to bully their neighbours, including Taiwan," he said.
"They torture, detain and indoctrinate their own people, including in Xinjiang and Hong Kong, in contravention of their human rights," Sunak said.
The Global Times, a hawkish state-owned tabloid published by the Chinese Communist Party, had previously described Sunak as holding a "pragmatic view of developing balanced ties with China."
Truss and Sunak will continue their respective campaigns this month until the ballot closes on September 2. The winner will be announced on September 5.
"The Conservative party will soon elect a new leader and the country will have a new prime minister. The trajectory of Britain's policy on China is being followed closely from all quarters," China's ambassador Zheng wrote.