US, South Korea Stage Joint Naval Drills as North Korea Plans Nuclear Test
The U.S. and South Korea have conducted joint naval drills in the past three days, amid concerns that North Korea may soon carry out the first test of a nuclear bomb since 2017.
The exercises took place in international waters off the coast of the Japanese island of Okinawa, and were the first combined military drills involving a U.S. aircraft carrier in four years.
The drills ended on Saturday.
The USS Ronald Reagan, a 100,000-ton aircraft carrier that's nuclear powered, participated in the exercise, as well as the guided missile cruiser USS Antietam and the destroyer USS Benfold, which is equipped with the Aegis missile system.
"The exercise consolidated the two countries' determination to sternly respond to any North Korean provocations, while demonstrating the U.S. commitment to provide extended deterrence," South Korea's Joint Chiefs of Staff (JCS) said in a statement on Saturday.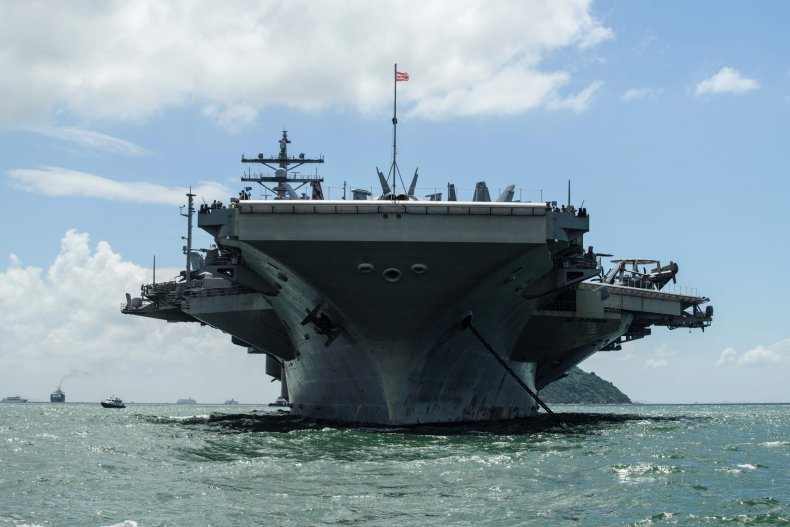 JCS reported that the exercises involved air defense, anti-ship, anti-submarine, and maritime interdiction operations.
The drills come as the U.S. and its allies have expressed concern that North Korea could be about to perform its first nuclear test in five years, and its seventh nuclear test since 2006.
Sung Kim, the U.S. special representative for North Korea, said on Friday that the U.S. was "preparing for all contingencies" and coordinating with South Korea and Japan on a potential North Korean nuclear test.
North Korea, which is officially known as the Democratic People's Republic of Korea (DPRK), last carried out a nuclear test in 2017 when the government said it had detonated a thermonuclear bomb designed for its intercontinental ballistic missiles (ICBMs).
"The U.S. assesses that the DPRK is preparing at its Punggye-ri test site for what would be its seventh nuclear test. This assessment is consistent with the DPRK's own recent public statements," Kim said on Friday.
North Korea has performed 17 missile tests this year, one of which was the first ICBM test in nearly five years. The country is currently suffering from a major outbreak of COVID-19, with dictator Kim Jong Un appearing in public wearing a face mask.
The U.S. and South Korea will soon participate in another major naval exercise when the Rim of the Pacific (RIMPAC) exercises take place between June 29 and August 4.
Taking the form of naval war games, 26 countries will take part in RIMPAC and the exercises will be based in San Diego, California and Honolulu, Hawaii.
Some 25,000 personnel are expected to be involved along with 38 surface ships, four submarines and 170 aircraft. RIMPAC may be seen as a signal to China as five countries on the South China Sea will participate.
During his visit to South Korea last month, President Joe Biden said the U.S. would "enhance" deterrence aimed at North Korea. His remarks came after the North Korean leader vowed to step up his country's nuclear weapons program.
"We will continue to take steps to strengthen and develop our nation's nuclear capabilities at the fastest pace," the dictator said at a military parade on April 25.