U.S. Mulls Hitting China With Sanctions if It Invades Taiwan—Report
The United States is considering a package of economic sanctions that it hopes might deter China from invading Taiwan, Reuters reported on Tuesday.
Beijing claims the island as its own and is rapidly developing the military means to one day seize it, even if the U.S. comes to Taiwan's defense. President Xi Jinping of China, who many believe will secure an unprecedented third term as leader next month, exudes a confidence that Washington fears could lead him to miscalculate in the near future.
The U.S. discussions, which were said to be in their early stages, began after Russia invaded Ukraine and took on renewed urgency after China conducted a week of intense war games around Taiwan in response to House Speaker Nancy Pelosi's high-profile trip to Taipei in early August, the report said.
The idea would be to draw up a package of sanctions that would be imposed in the event that China invades Taiwan.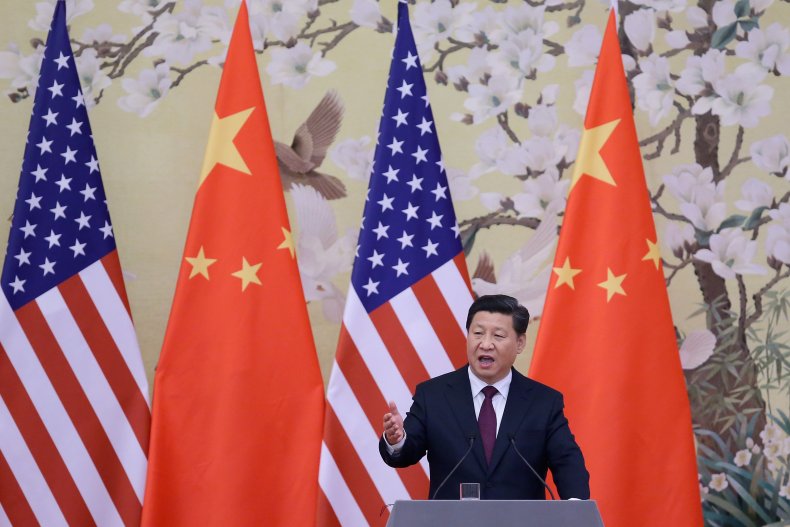 U.S. officials hope the prospect of punitive sanctions will force Xi to reconsider the use of force against democratic Taiwan, which the Chinese Communist Party hopes to bring under its control by an indeterminate date.
However, the deeply intertwined U.S.-China economic relationship—they are each other's largest trading partner—has raised questions about feasibility, Reuters said. The threat of economic sanctions also didn't deter President Vladimir Putin of Russia from attacking Ukraine in February.
The report said the sanctions being weighed in Washington would go beyond the ongoing decoupling in high technology. The U.S. has already limited market access to Chinese telecoms equipment and restricted semiconductor exports to China.
Mao Ning, China's Foreign Ministry spokesperson, told reporters in response to the report on Wednesday that "no foreign country" had the right to interfere in Taiwan, which Beijing views as an internal affair.
Taiwan, whose public shows little interest in being ruled from Beijing, is also pressuring the European Union to make similar preparations before China decides to employ military force against the island, according to Reuters.
The European bloc, which would be hit with severe trade disruptions in the event of a conflict, has raised concerns about tensions in the Taiwan Strait. Josep Borrell, the EU's top diplomat, has suggested Brussels could become a moderator. Taipei, meanwhile, has asked the EU to warn Beijing of the consequences of an invasion, Reuters was told.
The deliberations in Washington appear to be running parallel to Senate legislation that calls for the establishment of a sanctions regime against Beijing's top officials, to be enacted by the White House in the event of "hostile action" by China against Taiwan, to include "undermining, overthrowing, or dismantling the governing institutions in Taiwan," "occupying the territory of Taiwan," or "interfering with the territorial integrity of Taiwan."
It is among the provisions of the Taiwan Policy Act, a bill that, if passed in its current form, would overhaul more than 40 years of U.S. policy toward Taiwan. The Senate Foreign Relations Committee was scheduled to vote on it Wednesday. To become law, the TPA will need to pass the full Senate, the House, and President Joe Biden's desk.
The White House, however, said it had concerns about certain elements of the bill that might be considered too provocative to Beijing.
On Tuesday, Sen. Bob Menendez, the New Jersey Democrat who authored the bill with South Carolina Republican Sen. Lindsey Graham, predicted "a strong bipartisan vote" on the TPA.
He and other congressional leaders had held "various conversations with the [Biden] administration," he told reporters. "We think we are landing in a good spot that can meet some of their concerns and at the same time have a very strong bill, and expresses the Senate's intent of strengthening our relationship with Taiwan, of assisting Taiwan in its abilities to preserve its territorial integrity."