U.S. Unlikely to Join Other Nations in Banning Bitcoin
Although some countries, including India, are considering banning Bitcoin, an outright ban in the United States is unlikely. Wall Street has embraced Bitcoin as an asset class, and derivatives are traded on the Chicago Mercantile Exchange.
Any clampdown is likely to be wrapped in lofty language about protecting the public from scams as well as criminal and terrorist activity, and it would likely have to be accomplished by making it difficult to convert Bitcoin and other cryptocurrencies to dollars.
But faced with such trading barriers, it is likely that the cryptocurrency market would simply shift to more welcoming nations. This, analysts believe, would give China a distinct advantage, especially as it tests a digital version of the yuan.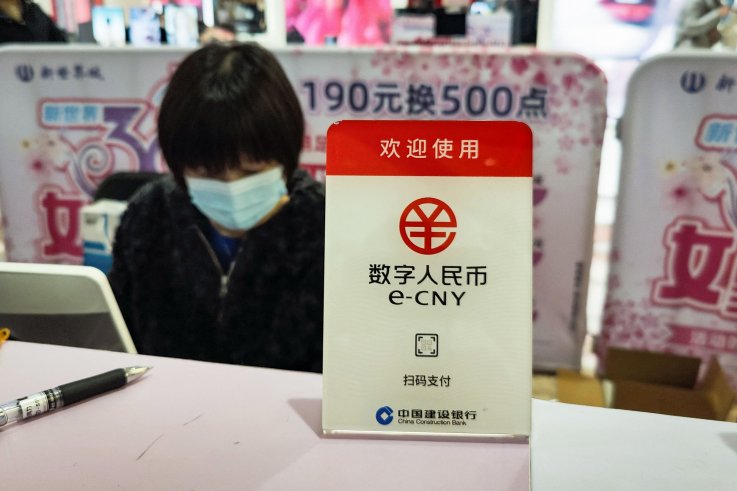 A sign for China's new digital currency, electronic Chinese yuan (e-CNY) is displayed at a shopping mall in Shanghai on March 8, 2021.
STR / AFP/Getty Images
An attempt to curb Bitcoin's growth might also slow economic growth in the U.S., and could threaten the status of the dollar as the world's reserve currency.
"Imagine if the U.S. banned adoption of the Internet in the 1990s, citing the ease of terrorist communication, protection of intellectual property or confusion over financial transactions," Jason Deane, Bitcoin Analyst, Quantum Economics in London told Newsweek.
"The U.S. would have fallen behind in almost every area of innovation, and those innovators would have moved elsewhere to develop their services," Deane said.
Carlos Betancourt, co-founder of BKCoin Capital in Miami, said well-written regulations can provide "clarity" and enhance the development of Bitcoin.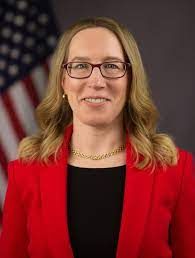 Hester M. Peirce, SEC Commissioner
sec.gov
"[SEC Commissioner] Hester M. Peirce has led the way with the Token Safe Harbor Proposal," he told Newsweek. "It would allow entrepreneurs—mostly engineers and developers—to have a three-year grace period, under certain conditions, to develop functional or decentralized networks and be exempt from registration under federal securities laws. The proposed changes under the Token Safe Harbor Proposal will also allow regulators to gain a better understanding of blockchain technologies and cryptocurrencies."
Raising taxes on Bitcoin investments and trading activity could be used as a backhanded way to regulate the cryptocurrency, but such action could drive transactions out of the U.S. and into a friendlier jurisdiction, and might negatively impact employment and tax revenue.
Many see Bitcoin as an inflation hedge—in short, a vote of "no confidence" in the Federal Reserve's policy of quantitative easing, the injection of new money into the economy, and massive deficit spending.
The solution is theoretically simple, but may be politically difficult.
"The only way a government can realistically drive down the adoption and use of decentralized, non-sovereign currencies like Bitcoin is, ironically, by delivering sound monetary policy thereby reducing the desire by people to use the alternative in the first place," Deane said.
For many, Bitcoin's independence is part of what makes it attractive to investors.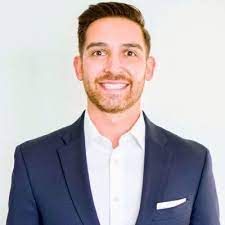 Carlos Betancourt, Founding principal, BKCoin Capital LP, Miami, Florida.
twitter.com
"The allure of Bitcoin is that nobody can change the rules of the game," Betancourt said. "The government can't manipulate Bitcoin. This is extremely powerful because people feel empowered and politicians won't be able to make poor decisions—wasting money on projects or printing dollars out of thin air and causing inflation."
Officials in the U.S. and the European Union have said Bitcoin can be used to fund illicit activities, including terrorism, and therefore tighter regulations are needed.
But the blockchain, an unbreakable public ledger of transactions, is available to all. In any case, the U.S. dollar —physical U.S. currency— is commonly used in criminal activity.
"In 2019, illicit activity represented 2.1% of all cryptocurrency transaction volume or roughly $21.4 billion worth of transfers," Chainalysis, a New York-based blockchain analysis company, said in a research report. "In 2020, the illicit share of all cryptocurrency activity fell to just 0.34%, or $10.0 billion in transaction volume. One reason the percentage of illicit activity fell is because overall economic activity nearly tripled between 2019 and 2020."
Illicit use of crypto includes ransomware, scams, stolen funds, child pornography, purchases on darknet markets as well as terrorism and domestic extremism, the report said.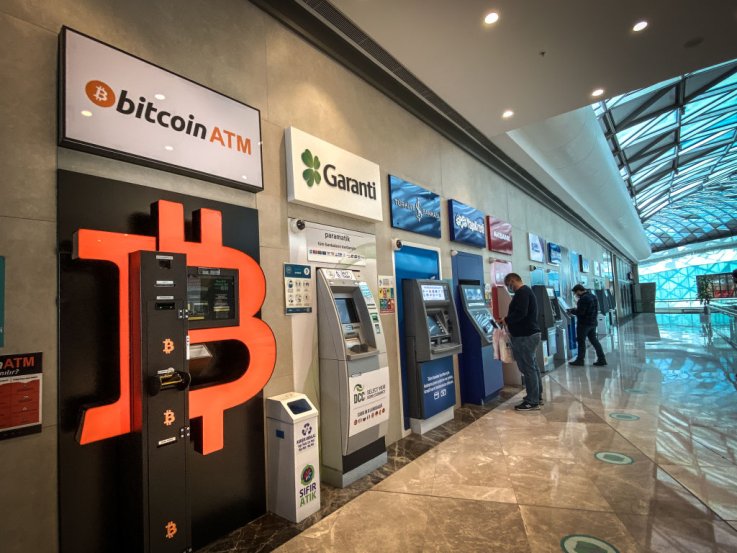 People use bank ATM"s next to a Bitcoin ATM machine at a shopping mall on April 16, 2021 in Istanbul, Turkey. Turkey's Central Bank announced a ban on the use of cryptocurrencies and crypto assets for purchases, directly or indirectly to pay for goods or services.
Chris McGrath/Getty Images
Scams totaling about $2.6 billion accounted for 54% of all cryptocurrency-related crime, Chainalysis said.
Bitcoin's growing mainstream acceptance will create tougher standards and increased vigilance without government regulation, analysts believe.
"That means they won't be taking compliance policies at face value,"Chainalysis said. "Instead, they'll insist on taking advantage of cryptocurrency's inherent transparency."
SEC Chairman Gary Gensler taught a course in blockchain technology and Bitcoin at MIT's Sloan School of Management, raising expectations that future regulations will be clear, concise and won't impede the development of cryptocurrencies.
The Internal Revenue Service classifies Bitcoin as property, the Commodity Futures Trading Commission says it's a commodity, the U.S. Treasury Department regards it as money and the U.S. Securities and Exchange Commission says it's not a security like stocks or bonds, while the Federal Reserve has compared it to gold. Regardless of what you call it, capital gains derived from Bitcoin are taxable.
The apparent confusion may suggest that regulators don't fully understand Bitcoin, despite the fact that it was created in 2009.
"The government doesn't pose a threat to Bitcoin," BKCoin's Betancourt said. "It will be around whether the government likes it or not as long as we have the Internet. The government likely feels threatened due to the quickness in mass adoption and popularity of cryptocurrencies, particularly Bitcoin which they don't control."
The issue shouldn't be control, but adapting to the new technology, Quantum's Deane believes.
"The global decentralized system simply cannot be stopped from encroaching the borders of any sovereign state," he said, "and the ultimate winners will be those countries that embrace and find ways to work with it."
In mid-day trading Tuesday, Bitcoin fetched $55,065.88, up 3.44% in the last 24 hours and up 89.19% for the year. The market cap is now $1.03 trillion. The record high is $64,829.14, CoinDesk reported.
.Market Pulse
Sales at restaurants and bars increased 13.4% in March compared with February, as COVID-19 lockdowns eased and the economy reopened, the U.S. Commerce Department reported.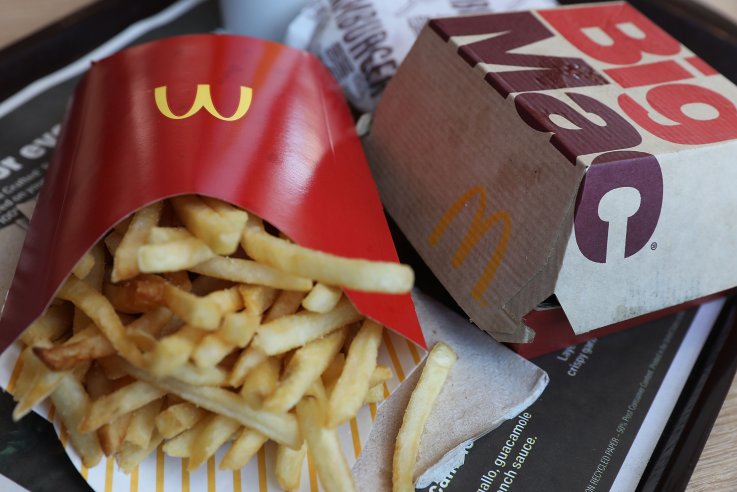 Restaurants like McDonald's tell investors that a minimum-wage hike to $15 won't be a problem. So why is their industry lobbying group fighting it?
Joe Raedle/Getty Images
Ringing cash registers from higher sales are good news for owners, but have created a new problem: a labor shortage.
Cooks, waiters and hosts aren't flocking back to work. The reasons are unclear.
Despite growing numbers of people being inoculated against the coronavirus, some former restaurant workers may fear infection and therefore avoid interacting with the public while seeking other types of employment.
Or, supplemental federal unemployment benefits of $300 a week when combined with state unemployment benefits may exceed the weekly pay of those working 40 hours a week at $15 an hour, creating a disincentive to return to work.
Retail sales are strong and many stores are hiring, providing new opportunities.
The current unemployment rate is 6%, down from 14.7% in April 2020 at the height of the pandemic, but still above the 3.5% rate in February 2020 before the lockdown. New York investment bank Goldman Sachs expects the unemployment rate to drop to 4.1% by the end of the year.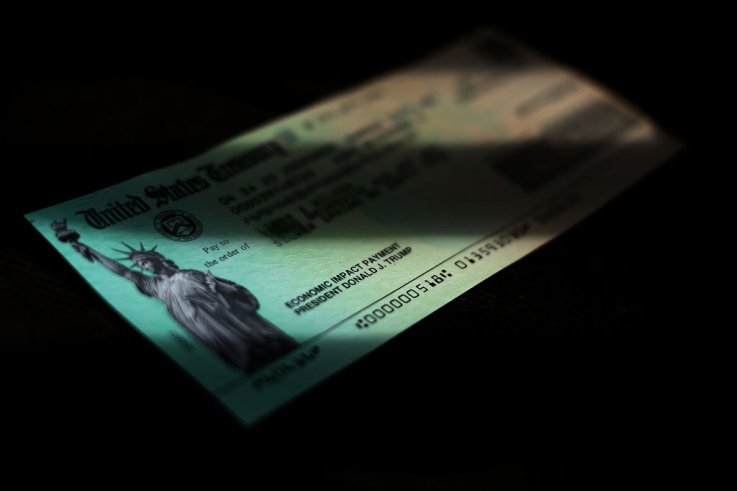 This image shows a direct stimulus check from the U.S. government amid the COVID-19 pandemic on April 29, 2020. The first round of payments were approved by Congress at the end of March 2020, as lockdowns across the country caused historic unemployment.
Chip Somodevilla/Getty Images
This means the labor shortage in the restaurant industry is likely to persist, forcing employers to increase wages in the scramble to find and retain workers while passing the cost on to customers.
Fast food prices rose 6.5% compared with a year ago, the U.S. Labor Department said.
Taco Bell, a division of Yum Brands, held outdoor job fairs at about 2,000 restaurants to fill about 5,000 jobs nationwide.
Chipotle, Starbucks and Darden Restaurants, owner of a range of brands, including Olive Garden, Longhorn Steakhouse, Cheddar's Scratch Kitchen, the Capital Grille, plan to expand this year and add new staff.
The National Restaurant Association, a Washington-based trade group, said employment in the sector increased in 49 states and the District of Columbia in March.
Texas led the nation with a net gain of 31,200 jobs in bars and restaurants, followed by California (27,100), New York (20,600), Illinois (19,300) and Florida (18,100).
Only Alabama reported job losses in the sector.