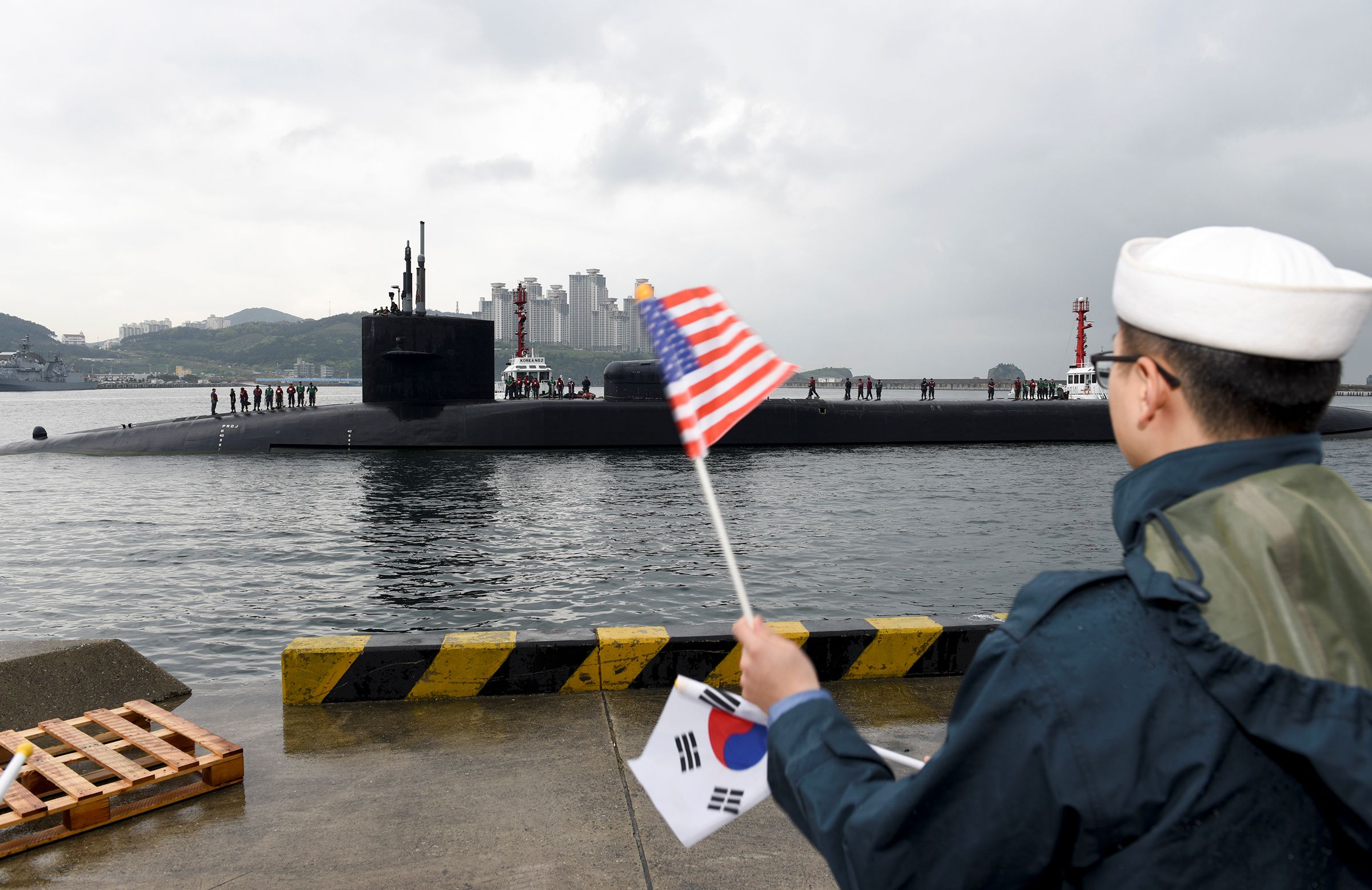 Two warships of a major U.S. Navy formation joined Washington allies South Korea and Japan for simultaneous, bilateral military exercises Tuesday as tensions flared in the Asia-Pacific region. Miles in between the two war drills, North Korea held its own military tests in defiance of threats suggesting potential military action against the government of Kim Jong Un by President Donald Trump and his administration.
The Navy's Arleigh Burke-class guided-missile destroyer Wayne E. Meyer conducted maritime military drills with South Korea's Chungmugong Yi Sun-sin-class multirole guided-missile destroyer Wang Geon in the waters west of the Korean Peninsula, according to a statement released Tuesday by the Navy's Seventh Fleet. At the same time, a second Arleigh Burke-class guided-missile destroyer, Fitzgerald, began naval exercises with Japan's Kongo-class guided-missile destroyer Chokai in the sea west of Japan. Both Navy ships were part of the Carl Vinson Carrier Strike group recently dispatched to the Western Pacific amid reports that North Korea may perform its sixth nuclear weapons test, something that the White House has vowed to prevent from happening.
Related: Senators Summoned to White House for North Korea Strategy Briefing
The nuclear test was first anticipated earlier this month on the 105th birthday of North Korea's founder and current leader Kim Jong Un's grandfather, Kim Il Sung. The test never occurred, but the day was instead marked by a massive military parade and the failed launch of a ballistic missile, which was unilaterally condemned by the U.N. Security Council. Nuclear speculation once again rose ahead of Tuesday's celebration of the founding of the Korean People's Army, however, Pyongyang opted to conduct a large-scale, live-fire artillery drill along its east coast near the port city of Wonsan, according to South Korea's official Yonhap News Agency.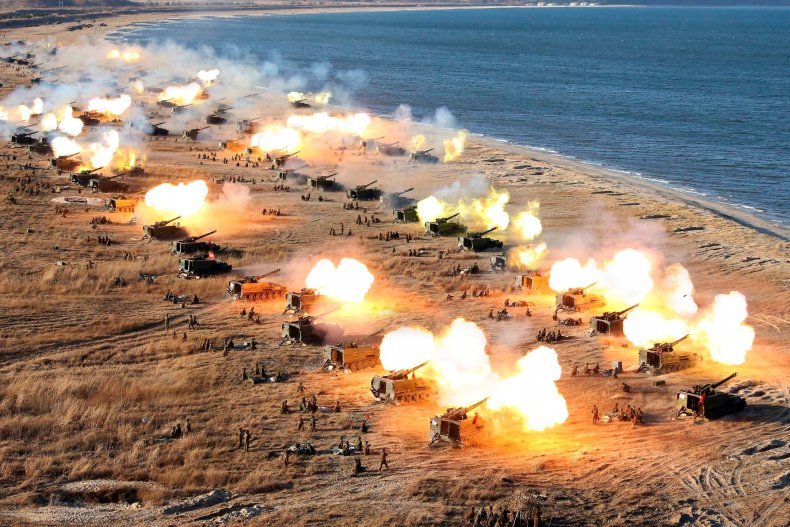 North Korea's drills were accompanied by heated rhetoric from officials and proliferated through its state-run media outlets. "It is the will of the service personnel and people of the DPRK to stage a death-defying resistance to wipe out the aggressors and provocateurs by reacting to their total war with an all-out war and their nuclear war with Korean-style nuclear strikes of annihilation. It is also their resolution to surely win a victory," a statement attributed to the spokesperson of North Korea's Agricultural Workers Union read, according to Pyongyang's official Korean Central News Agency.
"If the enemies dare opt for the military adventure despite our repeated warnings, our armed forces will wipe the strongholds of aggression off the surface of the earth through powerful preemptive nuclear attacks," North Korea's Defense Minister Pak Yong Sik said in a televised address to the nation's political and military elite, according to The Washington Post.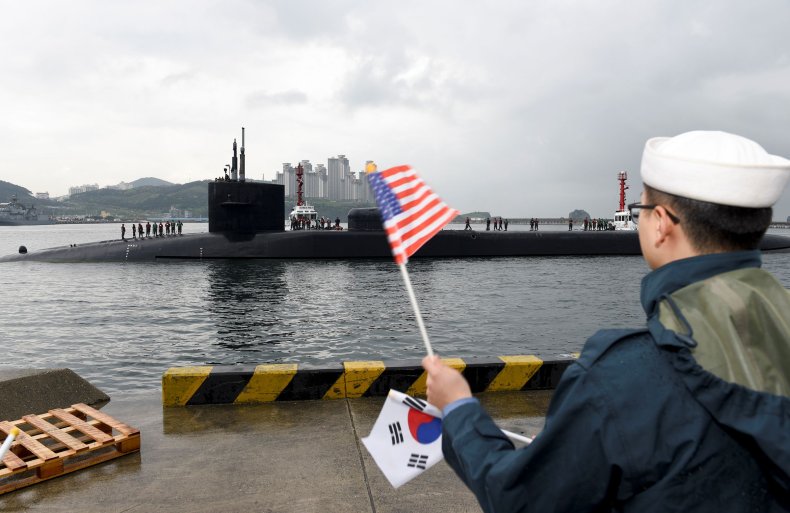 A day before both sides brandished the maneuverability of their armed forces, the Navy's Ohio-class guided-missile submarine Michigan docked in the South Korean port city of Busan. The nuclear-powered sub, armed with 154 Tomahawk cruise missiles, arrived Monday in preparation for the appearance of the entire Carl Vinson Carrier Strike Group, which North Korea has called a provocation in increasingly acrimonious terms. Pyongyang has vowed to use its entire arsenal, estimated at about 1,000 ballistic missiles and between 10 and 20 nuclear warheads, in response to any military action by the U.S. or its allies.
The White House announced Monday it would summon all 100 U.S. senators to the White House Wednesday in a rare briefing hosted by Secretary of State Rex Tillerson, Secretary of Defense James Mattis, Director of National Intelligence Dan Coast and Joseph Dunford, chairman of the Joint Chiefs of Staff, on North Korea. The upcoming meeting has drawn much speculation as to what the Trump administration had in store for lawmakers in regard to U.S. policy in North Korea amid the ongoing crisis in the region.