USS John S. McCain: Deadly Collision Caused By 'Series of Missteps,' Investigation Finds
The August 2017 collision between the USS John S. McCain and an oil tanker that killed 10 U.S. sailors was caused by a "sudden turn" following a "series of missteps," a Singapore government investigation has found.
"The collision between the USS John S. McCain (JSM) and Alnic MC (AM) as they were transiting through the Singapore Strait happened because of a sudden turn to Port by JSM, which caused it to head into the path of AM," according to the report cited by Reuters.
The series of missteps described by the report increased the rate of the USS John McCain's turn, which resulted in the crash.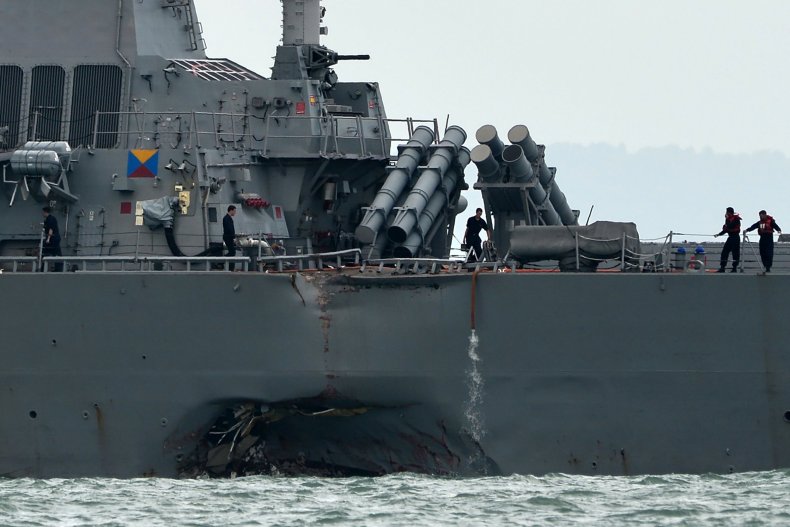 The destroyer was named after the father and grandfather of Arizona's GOP Senator John S. McCain, both of whom were U.S. Navy admirals. The ship sustained major damage in the collision with the 600-foot tanker. The 10 sailors died when compartments below the water line flooded as water rushed through the breached hull.
The agency noted that the report "should not be used to assign blame or determine liability," but its findings do nothing to vindicate the commanders of the U.S. Navy's Seventh Fleet.
The crash was one of two deadly events involving the fleet last year. Two months before, the USS John S. McCain's sister ship—the USS Fitzgerald—almost sank after a collision with a Philippine container ship off the coast of Japan. Seven sailors were killed in this crash.
Two days after the USS John S. McCain collision, Vice Admiral Joseph Aucoin was dismissed from his post as fleet commander.
The commanding officers of both destroyers are now facing criminal charges, VOA News reported. They include negligent homicide, dereliction of duty and endangerment of a ship.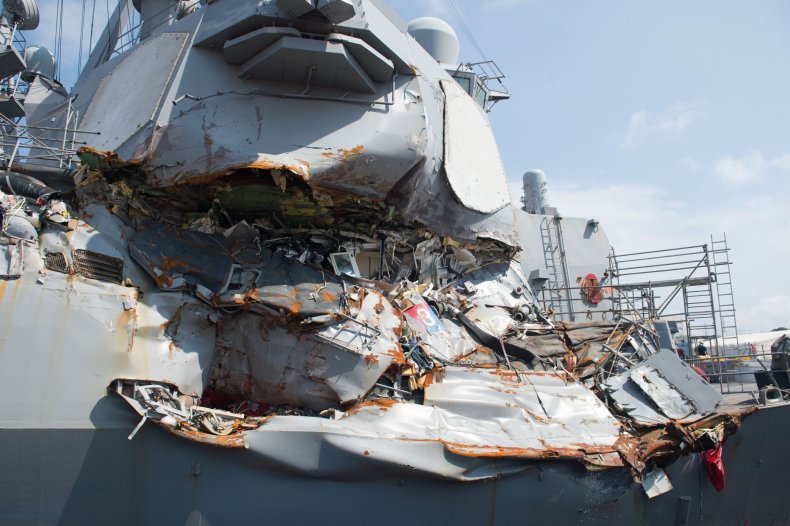 A report on both incidents was written by Admiral John Richardson, the chief of naval operations, and published in November 2017. It found that both collisions were "avoidable" and happened because of a lack of adherence to standard practice, poor preparation and complacency.
Richardson said that the crew aboard the USS John S. McCain had a "sub-standard level of knowledge regarding the operation of the ship control console," and noted that "McCain's commanding officer disregarded recommendations from his executive officer, navigator and senior watch officer to set sea and anchor watch teams in a timely fashion to ensure the safe and effective operation of the ship."
Following the collisions, the Navy announced a series of reforms aimed at restoring basic naval skills and alertness at sea. A further investigation also said that sailors in the Asia-Pacific region were undertrained and overworked.