Uvalde Schools Police Chief Dodges Question on DPS 'Wrong Decision' Remark
School district police chief Pete Arredondo dodged a question Wednesday about the Texas Department of Public Safety (DPS) director's remark that he made the "wrong decision" in reportedly preventing officers from forcing their way into a classroom during last week's school shooting in Uvalde.
Arredondo, who has come under scrutiny for his actions during the shooting, in which 19 students and two teachers died, was confronted by a CNN correspondent who asked about the comment by the DPS's Steven McCraw.
Arredondo responded that authorities were going to be "respectful" to the families affected by the shooting, adding that they were going to "eventually" explain their decisions during the incident. McCraw did not mention Arredondo by name in his statement but still faulted the incident commander's decision.
After an outpouring of criticism and anger over the officers' actions during the shooting, the U.S. Justice Department said it would look into law enforcement's response. Arredondo was reportedly responsible for the officers' delayed reactions during the active shooter incident. The gunman was shot about 80 minutes after police were informed of his presence at the school, and officers were reportedly told to wait before entering the classroom where they thought he was barricaded.
Arredondo has not commented since giving two brief press statements on the day of the shooting, according to CNN.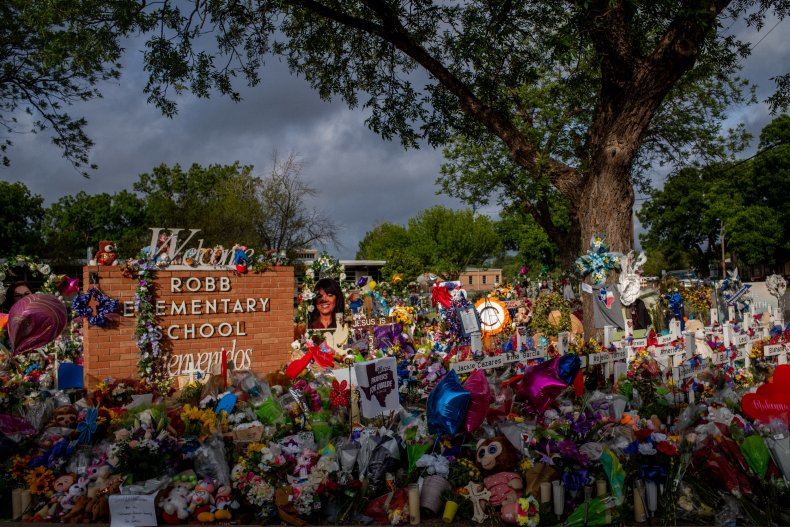 His brief encounter with the CNN correspondent came the day after the DPS said Arredondo was not responding to requests made days before for a follow-up interview with the department's Texas Rangers. But Arredondo disputed that statement to CNN, saying he was in contact with DPS "every day."
Newsweek reached out to Arredondo for clarification and further comment.
While Arredondo has largely remained out of public view since the shooting, he was quietly sworn in as a Uvalde city councilman on Tuesday evening, according to a statement from Uvalde Mayor Don McLaughlin. Arredondo, who was elected weeks before the shooting, secured nearly 70 percent of the vote, the Uvalde-Leader News reported.
"Uvalde City Council members were sworn in today as per the City Charter," McLaughlin said in the statement. "Out of respect for the families who buried their children today, and who are planning to bury their children in the next few days, no ceremony was held. Our parents deserve answers and I trust the Texas Department of Public Safety/Texas Rangers will leave no stone unturned."
McLaughlin said in an earlier statement released Monday that the swearing in would not take place as scheduled and that the city's focus on Tuesday would be on "families who lost loved ones" as the funerals began.
He added that Arredondo had been "duly elected" to the council and that there was nothing that legally barred him from taking the oath of office.
"To our knowledge, we are currently not aware of any investigation of Mr. Arredondo," McLaughlin said.
Update 06/01/22, 1:25 p.m. ET: This story was updated with additional information and background.