Venezuelan Man Accused of Rigging 2020 Election Sues Fox News, Sidney Powell for $250M
A Venezuelan businessman has filed a $25 million defamation lawsuit against Fox News, former Fox Business Network host Lou Dobbs, and Sidney Powell, a former attorney for the re-election campaign of former President Donald Trump.
Majed Khalil's lawsuit alleges that Powell and Dobbs falsely accused him of rigging the 2020 U.S. presidential election against then-President Trump, in favor of now-President Joe Biden.
Powell and Dobbs accused Khalil of allegedly being the "chief operating officer" of a scheme to rig the election by switching votes in voting machines manufactured by Smartmatic and Dominion Voting Systems. Khalil said that neither Powell nor Dobbs contacted him before publicly making their claims.
Dobbs described Khalil as a "liaison with Hezbollah," an Islamist militant group while accusing him of election rigging, the lawsuit states. Powell continued to push the conspiracy theory in a November 8, 2020 installment of the Fox Business Network show Lou Dobbs Tonight.
Smartmatic is pursuing a $2.7 billion defamation lawsuit against Fox News for its alleged claims that Smartmatic's voting machines helped rig the 2020 election. The lawsuit named Powell as one of the Fox News guests who made such claims.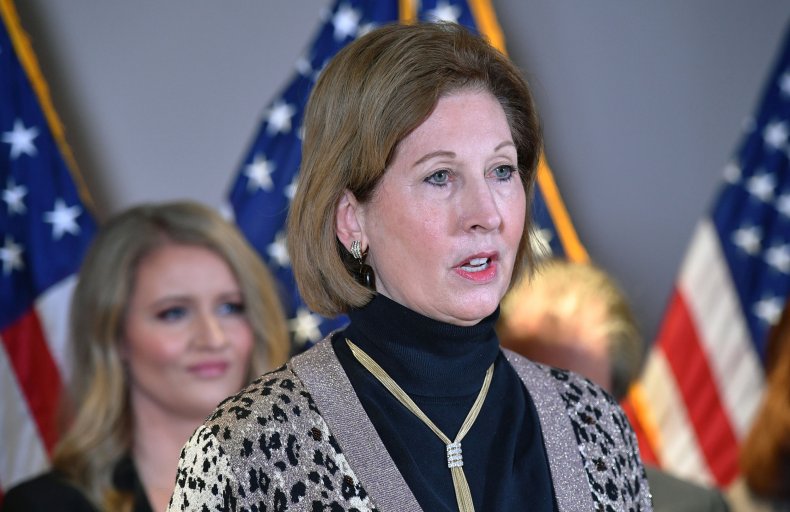 Dominion Voting Systems filed a $1.3 billion defamation lawsuit against Powell for making similar claims. The company also filed a $1.6 billion lawsuit against Fox News for allegedly helping to promote such claims.
In a March court filing seeking to dismiss the Dominion lawsuit, Powell's attorneys argued that "no reasonable person would conclude" that her claims were "truly statements of fact." In a similar February filing, the attorneys wrote that "reasonable people" would interpret her claims with "an appropriate amount of skepticism."
While serving as an attorney for Trump's re-election campaign, Powell claimed in a November 19 press conference that "massive influence of communist money through Venezuela, Cuba and likely China" had compelled Republican and Democratic lawmakers to rig the election.
According to Powell, Democratic and Republican candidates allegedly paid foreign governments to alter voting machines to switch Trump votes into Biden votes and to switch enough other votes to help other individual candidates to win their election races.
"We have no idea how many Republican or Democratic candidates in any state across the country, paid to have the system rigged to work for them," Powell said. She did not present any evidence to back up her claims.
On November 21, 2020, Powell appeared on the right-wing conservative network Newsmax, claiming she had evidence that seven million votes were fraudulently cast for Biden's benefit.
The next day, Trump's re-election campaign said that Powell no longer had a formal role as a campaign attorney.
Newsweek contacted Fox News for comment.