Vicky and Casey White May Have Ditched Getaway Car When it Broke: Sheriff
Corrections officer Vicky White and escaped inmate Casey White may have abandoned their getaway car after it possibly broke down, police said.
On Monday, Lauderdale County Sheriff Rick Singleton was asked about the getaway car that Vicky White purchased before making their escape. The car was found abandoned last week just two hours from the jail that Vicky and Casey White escaped from.
"Any scenario is possible," Singleton said. "The vehicle was 15 years old, I don't know how many miles were on the vehicle, but it obviously was not a new car, so it's certainly prone to break down."
He added that because of where it was found, there seemed to be no indication that Vicky and Casey White attempted to hide it from police.
When asked if he believed the two Whites, who are not related, ditched the car on purpose, Singleton said, "Personally, I don't think it was deliberate abandonment of the vehicle, I think it broke down on them somehow and they abandoned it."
The vehicle, which the U.S. Marshals Service had identified before its discovery, is a 2007 orange Ford Edge. The car was found and identified late last week in Bethesda, Tennessee, near Nashville, and it had been partially spray-painted, as though the pair had attempted to disguise the car.
"We don't know how they left that area," Singleton continued on Monday. "Assuming they left."
Singleton said that police canvassed the immediate area around where the car was found, but believe that the duo has continued moving. "They could be anywhere in the country, they could be out of the country," Singleton said.
Casey White was serving time in Lauderdale County Jail as a capital murder suspect before breaking out. A former attorney of his said Vicky White is most likely the mastermind behind the pair's movements.
"None of his crimes were planned," Attorney Dale Bryant told Newsweek in a previous report. "They are all short-sighted, in-the-moment crimes."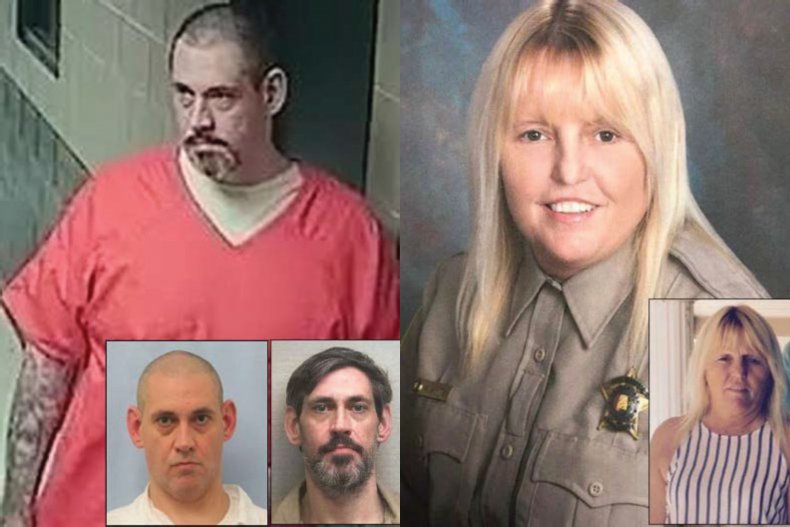 Monday marked day 11 of the manhunt for Vicky and Casey White. In addition to local authorities, the U.S. Marshals Service has offered rewards up to $10,000 for information regarding Casey White and $5,000 for Vicky White.
Police stated that a tip from someone who spots them will help bring the two back into custody.
"This is a nationwide manhunt," Singleton said. He added that with the media's help in making Vicky and Casey White's photos public, "It's going to be a citizen somewhere that calls in a tip, and it's going to be the tip. And we're going to find them. That's what I'm counting on."
The U.S. Marshals Service said "Casey White stands 6 feet 9 inches and weighs approximately 330 pounds. He has brown hair and hazel eyes. He should be considered armed and extremely dangerous."
They added, "Vicky White is 5 feet 5 inches and weighs approximately 145 pounds. She has blond hair (but may have tinted it a darker shade) and brown eyes and reportedly has a waddling gait."