Vicky White and Casey White Tried to Disguise Getaway Car With Spray Paint
Authorities announced Friday that Vicky White and Casey White attempted to spray paint their getaway car, which police discovered in Tennessee only two hours from the jail the pair escaped from.
Murder suspect Casey White and corrections officer Vicky White were last seen leaving the Lauderdale County Jail in Alabama together last week, and a manhunt with the help of the U.S. Marshals Service is underway.
Casey White and Vicky White's car, a 2007 orange Ford Edge that Vicky White purchased prior to their escape, was found last week and identified Thursday night. The Williamson County Sheriff's Office in Franklin, Tennessee announced on Twitter, "The vehicle used by escaped Alabama inmate Casey White and former Correctional Officer Vicky White has been located in Williamson Co in Bethesda."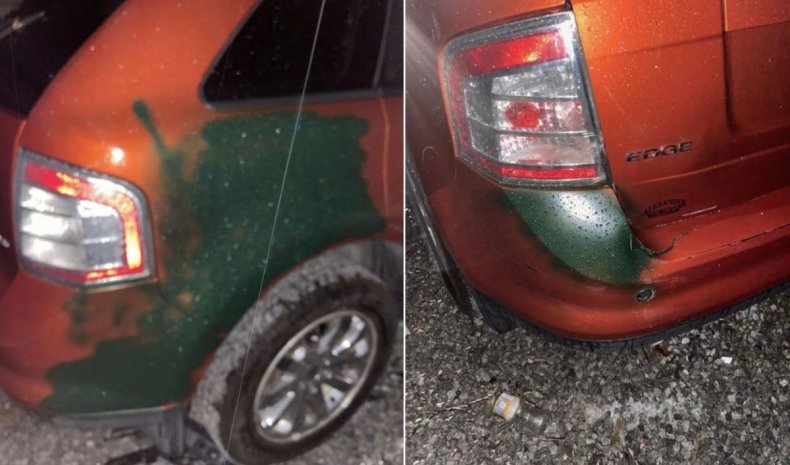 Later on Friday, authorities shared photos of the orange car that shows several large, spray-painted blotches on its exterior.
The car was found in Bethesda, Tennessee, roughly two hours away from the Lauderdale County Jail in Florence, Alabama, where Casey White and Vicky White were last seen.
The Williamson County Sheriff's Office in Tennessee said that "There is NO sign the two are still in our area" after abandoning the car.
During a press conference Friday, Lauderdale County Sheriff Rick Singleton said that Vicky White is suspected of using several different aliases while on the run.
"She used the alias to purchase the car," Singleton said. "So we know she has used those aliases."
Lauderdale County District Attorney Chris Connolly also revealed on Friday that investigators believe Vicky White withdrew $90,000 from several local banks in the county and sold her house for roughly $95,000 just days before allegedly assisting Casey White escape from jail.
The U.S. Marshals Service is assisting the Lauderdale County Sheriff's Office in the manhunt, initially offering up a $10,000 reward for information on Casey White and $5,000 for information on Vicky White. However, on Friday, Alabama Governor Kay Ivey announced that her office was adding an additional reward of $15,000 and $10,000 for information leading to the arrest of either Casey White or Vicky White.
With the discovery of the car, Sheriff Singleton said, "Right now we are trying to canvas the area for any witnesses. Also trying to research and see if any stolen vehicles have been reported in that area during that time."
Singleton continued, "We're sort of back to square one as far as the vehicle description right now."
The U.S. Marshals Service said in a recent update, "Casey White stands 6 feet 9 inches and weighs approximately 330 pounds. He has brown hair and hazel eyes. He should be considered armed and extremely dangerous."
They also offered a description of Vicky White, saying she is "5 feet 5 inches and weighs approximately 145 pounds. She has blond hair (but may have tinted it a darker shade) and brown eyes and reportedly has a waddling gait."