Vicky White Used Alias to Purchase Getaway Car, Charged With Identity Theft
A new warrant for the arrest of former corrections officer Vicky White was filed on Monday, along with two new charges against her, including identity theft, police said.
White, who was charged with permitting or facilitating escape in the first degree after she and capital murder suspect Casey White escaped from Lauderdale County Jail in Alabama on April 29, used an alias to purchase the pair's first getaway car.
The two new charges stem from her use of the alias, and police have filed charges of forgery in the second degree and identity theft against her.
It is unclear what Vicky White's alias had been, although the U.S. Marshals Service previously issued an alert that included two aliases she may have used, which were leaked to the public. Newsweek is not publishing the aliases per a request from the U.S. Marshals Service.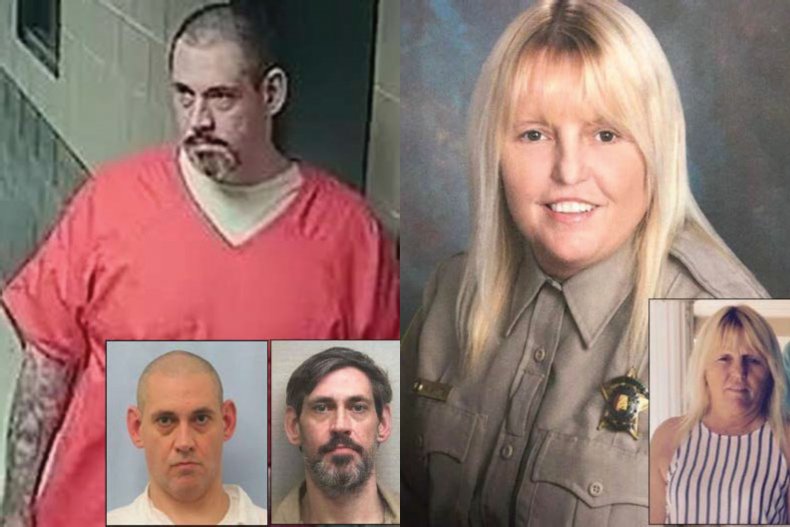 It is known, however, that she used the alias to purchase the pair's getaway car, a 2007 orange Ford Edge that was found last week abandoned outside of Nashville, Tennessee. The car was discovered only two hours from the jail where they had last been seen, and police shared photos that showed the two had attempted to spray-paint the car before abandoning it.
Lauderdale County Sheriff Rick Singleton said on Monday that he believed the pair may have ditched the car after it had possibly broken down as they made their getaway.
A representative for the U.S. Marshals Service confirmed to Newsweek that another car was recently discovered in Evansville, Indiana, which might be connected to the two Whites, who are not related. The vehicle has been described as a 2006 Ford F-150, and U.S. Marshals are now investigating whether or not the vehicle had been stolen from an area near Nashville.
The fugitives have been on the run for 11 days now, and Singleton said, "It's going to be a citizen somewhere that calls in a tip, and it's going to be the tip. And we're going to find them. That's what I'm counting on."
According to Lauderdale County District Attorney Chris Connolly, Vicky White sold her home for roughly $95,000 and withdrew almost $90,000 from several local banks just days before helping Casey White escape.
Last week, it was also reported that the pair had a "special relationship" for at least two years before they disappeared, which included prison visits and phone calls. Casey White was held in jail ahead of a court date on capital murder charges.
He is accused of fatally stabbing 58-year-old Connie Ridgeway in September 2020 and has confessed to the killing, but now also faces a first-degree felony charge of escaping from jail.
Newsweek reached out to Lauderdale County Sheriff's Department for comment.