Video of David Hogg Blasting Committee on Guns Viewed More Than 1M Times
A video showing gun control activist David Hogg being escorted out of a House Judiciary Committee hearing following an outburst quickly received over 1 million views on Twitter.
Hogg, a survivor of the deadly 2018 mass shooting at Marjory Stoneman Douglas High School in Parkland, Florida, erupted at Republican Representative Andy Biggs of Arizona during the hearing on Wednesday after the congressman began speaking about an "invasion" of "illegal immigrants" coming across the U.S.-Mexico border.
"[You are] reiterating at the points of mass shooters in your manifesto," Hogg shouted at Biggs in the video. "The shooter at my high school—antisemitic, anti-Black and racist. The shooter in El Paso described it as an invasion. Guess what? Those guns are coming from the United States of America. They aren't coming from Mexico!"
"You are reiterating the points of a mass shooter, sir," he continued while gesturing toward Biggs as a Capitol Police officer escorted him toward the exit. "Sir, you are perpetuating violence... It's not about a Democrat or a Republican, stop these things now."
The outburst came as lawmakers were debating a bill to ban semi-automatic assault rifles. President Joe Biden signed into law last month the first major gun safety legislation to be passed by Congress in 30 years.
Another person attending the hearing could be heard shouting "Go David" as Hogg lashed out at Biggs. The video had amassed more than 1.3 million views on Twitter as of Wednesday evening, in addition to over 70,000 views on Hogg's Instagram account.
In the official stream of the hearing, a House member could be heard asking Democratic Judiciary Committee Chairman Jerrold Nadler of New York whether Hogg had interrupted "an official proceeding" after he was removed from the chamber.
Biggs then suggested that Hogg would be guilty of "an insurrection, under your definition," likely attempting to tie the incident to the rioters who violently stormed the Capitol on January 6, 2021, in an ill-fated attempt to overturn Biden's 2020 election victory.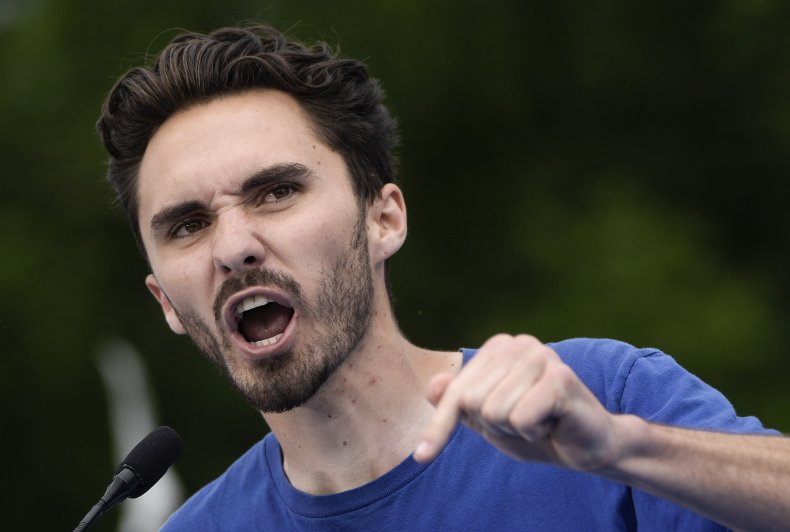 When asked for comment on the incident, a spokesperson for Biggs told Newsweek that the congressman would be addressing the incident during an appearance on popular Fox News opinion show Tucker Carlson Tonight.
During his appearance, Biggs told host Tucker Carlson that Hogg had the outburst because he "wants to get on TV" and "advocate for a nutty position." He also said that Hogg should "probably be brought up and charged" with insurrection for interrupting the hearing.
A spokesperson for the Capitol Police told Newsweek that Hogg "was told to be quiet or leave. He left."
Hogg offered to "clarify" the incident in a subsequent video that he shared to his social media accounts.
"Before that video was recorded, there was a Republican that was repeatedly saying that there was a Mexican invasion, a Hispanic invasion, over and over and over again," said Hogg. "And look, I understand we're going to have policy disagreements. So be it."
"But the reality is, if you're saying something that mass shooters are also agreeing with, maybe you shouldn't be saying that same thing at the same time," he continued. "Stop saying these talking points that these mass shooters are using, stop reiterating them."
Hogg is the co-founder of the March for Our Lives movement, which organized a mass protest against gun violence on March 24, 2018, that drew millions of participants.
Update 07/21/22, 4:13 p.m. ET: This article was updated with additional information and background.