Video of Johnny Depp Trial Judge Looking 'Over It' Goes Viral
A video clip of the judge overseeing Johnny Depp and Amber Heard's defamation trial pulling an exasperated expression has gone viral on social media.
Depp, 58, is currently battling it out in court with ex-wife Heard, 36, after filing a $50 million lawsuit against her in response to a 2018 op-ed published by The Washington Post, in which she said she had been the victim of domestic abuse.
Heard did not name Depp in the article, but his lawyers have argued that it was clear she was referring to the actor.
Heard has counter-sued for $100 million for nuisance, with her attorneys arguing that the op-ed was a matter of public interest.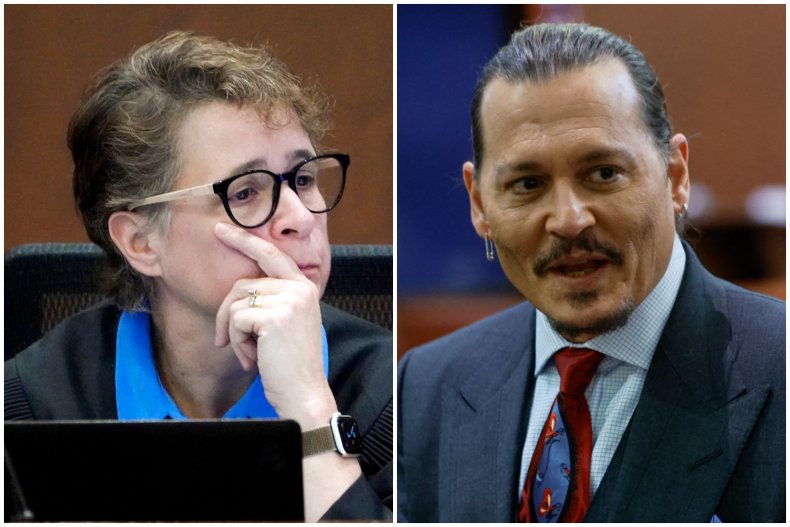 As Day 10 of proceedings in Fairfax, Virginia, was televised on Wednesday, one viewer took footage of Judge Penney Azcarate removing her spectacles and appearing to let out a sigh as she looked down and lightly shook her head.
A clip of the moment was shared on the TikTok account @mayrarodriguez810, where a person could be heard laughing while commenting: "The judge's face—she's over it as well... Oh God, they're so happy it's lunchtime."
After briefly capturing Judge Azcarate in the brief footage, the camera switched to Depp, who was seen smiling and speaking with another person in the courtroom as the 15-second clip came to an end. The video clocked up over one million views in 13 hours.
Such is public interest in the ongoing trial that a number of minor moments have spawned viral videos, including footage of Depp doodling while in court.
On Monday, Judge Azcarate warned attendees in the courtroom that they would be thrown out, following an eruption of laughter in reaction to Depp struggling to recall the movies he has starred in.
When asked to name other movie franchises he has appeared in, Depp named Alice in Wonderland, before stating with a smile, per People: "I'm so pathetic when it comes to knowing what movies I've done. I'm sorry. I just, I don't watch them. I feel better not watching them. What was the question again?"
After the moment sparked loud laughter in the courtroom, Judge Azcarate said: "Order in the court or I will have you removed. Understood? Thank you."
Depp's court battle with Heard comes less than two years after he lost a 2020 libel case against British tabloid The Sun, which had labeled the actor a "wife-beater" in reference to Heard's allegations of domestic abuse.
Heard accused Depp of domestic abuse during their divorce proceedings in 2016. The stars, who wed in 2015, had their union officially dissolved in January 2017, months after Heard filed for divorce.
While Depp had repeatedly denied ever having been violent to Heard during the three-week trial in London, the overseeing judge found that the U.K. publication's claims that the actor was abusive to Heard were "substantially true."
Amid the subsequent fallout, Depp was "asked to resign" from Fantastic Beasts 3, in which he was set to reprise his role as Gellert Grindelwald. He was replaced by Mads Mikkelsen.