The automotive industry is a tight knit group. It rarely lets anyone join the game, though new automakers like Tesla and Rivian squeeze through periodically. Most of the time the market gets something like Polestar, an EV brand that has roots at an established automaker. Italian and Chinese automakers haven't been able to get audience buy-in.
Vietnamese automaker VinFast is trying to be one of the few to make it.
The company was created in 2017 by VinGroup, which was founded by Vietnamese businessman Phạm Nhật Vuong in 1993. VinGroup started out selling dried foods in Ukraine, before moving to Vietnam permanently in 2000 and expanding its professional horizons.
Besides cars with VinFast, the VinGroup deals in smartphones with its VinSmart brand, it has the biggest semi-wild animal conservation park in Southeast Asia that is home to more than 4,000 animals under the VinPearl name, billion-dollar amusement parks like Vu Yen under its VinWonders brand, VinFa, a pharmacy company and many others.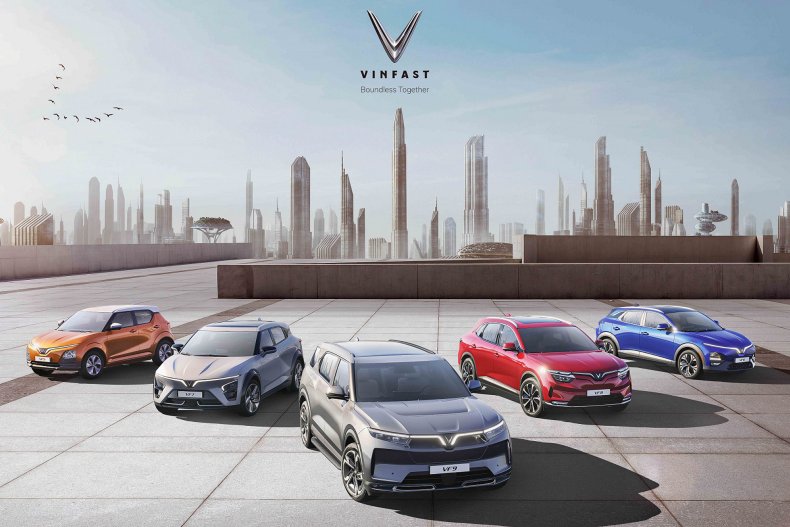 "There are really three things going on. First, VinFast sees an opening in one of the most difficult auto markets in the world," global EV consultancy ZoZo Go CEO Mike Dunn told Newsweek. "We're just in the first innings of people waking up to EVs. The market is young."
"Secondly, VinFast is a hero within Vietnam, there's a national pride there. They also enjoy the full support of the leadership in Hanoi. And finally it's an opportunity to get the full support of the U.S. government too, as opposed to what China gets," Dunn said.
The VinFast name is an amalgamation of several Vietnamese words explaining the brands focus including Việt Nam (Vietnam), phong cách (Style, Ph=F), an toàn (Safety), sáng tạo (Creativeness) and tiên phong, which means pioneer.
The company's first step into the U.S. was the at Los Angeles Auto Show in 2021 where it showed off its smaller midsize, two-row VF8 SUV (priced starting at $41,000) and the VF9, a bigger-yet-still-midsize three-row SUV that starts around $56,000.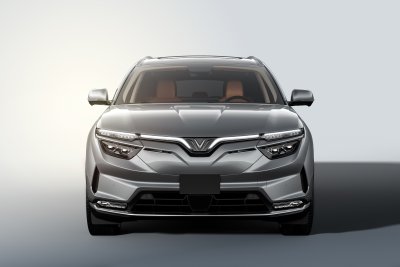 "We're continuing to see more electric vehicles from newcomers trickle into the U.S. market and VinFast has a lot of momentum fueling their arrival. While some fresh startups are often shy on funding, lack an assembly plant and R&D center, or only have one model in the cards, VinFast is different," Robby DeGraff, AutoPacfic analyst, told Newsweek.
"While they may be new to us, for a few years now VinFast has already made quite an impact in its homeland. Vietnam is very much a predominantly scooter and motorbike-heavy nation with millions upon millions of them dotting the roads from the Mekong Delta in the south to the northern reaches of Hanoi where VinFast's sprawling assembly plant has already churned out three of the country's best-selling vehicles. VinGroup, VinFast's parent company, is rich in cash and wants to do everything it can to have a strong presence here on our shores," he said.
In January 2022 at CES in Las Vegas the company introduced three more electric crossovers (VF5, VF6, VF7), a new reservation program that included a trip to Vietnam and said that it was shutting down its gasoline vehicle operation.
"Originally, the VF 8 and VF 9, which share many components, were developed in both internal combustion engine and electric vehicle versions. When VinFast decided to be a 100 percent electric vehicle brand, the development of the internal combustion engine versions ended. The VF 5, 6 and 7 were developed as pure electric vehicles from the beginning of their development and the VF 6 and VF 7 share the same platform," Craig Westbrook, Chief Service Officer VinFast US told Newsweek.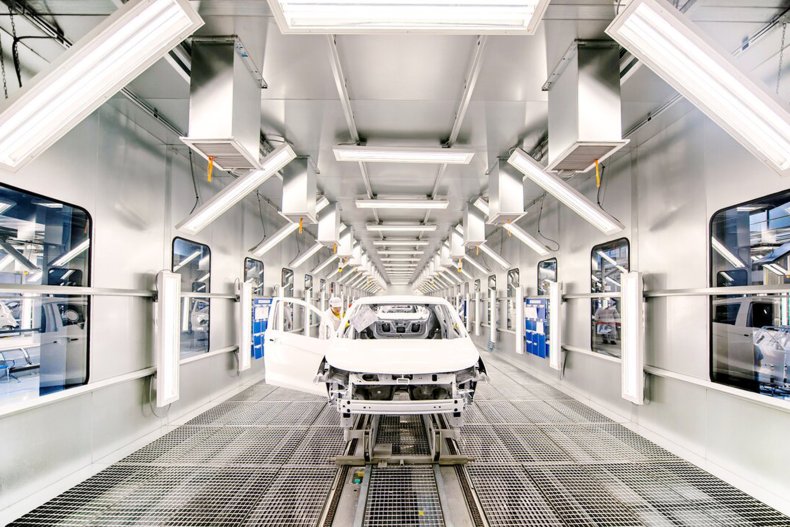 At the New York auto show in April, it displayed VF8 and VF9 again, building more brand awareness. The company is already taking reservations for the models.
"We are taking $200 fully refundable pre-orders now for our VF 8 and VF 9 five- and seven-passenger electric SUVs and they will be delivered to customers by the end of this year. The VF 6 and VF 7 will be available next year," a VinFast spokesperson told Newsweek.
While VinFast's EV pricing is slightly below the average compared to its main competitors, it will have a unique approach to battery life. Instead of selling the lithium-ion batteries with the vehicle, VinFast will force owners to lease them, which will be reflected in the monthly payment.
The Flexible Plan is designed for customers who travel less, and has a monthly battery subscription fee of $35 for VF 8 and $44 for VF 9, which includes 310 miles of travel per month. From the 311th mile, the battery subscription fee per mile is about 11 cents for VF 8 and 15 cents for VF 9.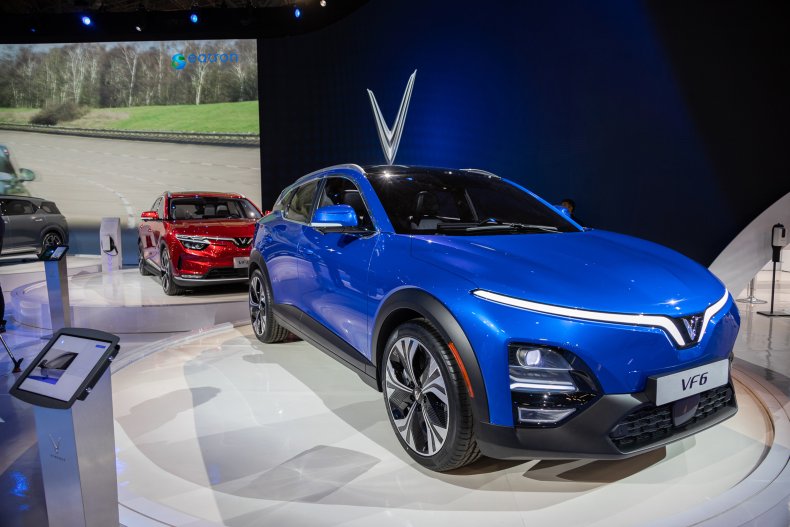 According to the U.S. Department of Transportation, the average American drives 39 miles a day. That would put the monthly range at about 390 miles, slightly over the 310 miles allowed. That would only come out to $9.90 extra per month on the VF 8 and $13.50 for the VF 9. That would bring the monthly totals to $44.90 and $57.50, respectively.
The Fixed Plans, which allows unlimited range, are $110 for the VF 8 and $160 for the VF 9. This policy automatically transfers to a new owner if the vehicle is sold.
"We offer the same battery subscription policy across the markets with Fixed and Flexible plans to meet various needs of our customers. This is one of VinFast's preeminent sales policies, applied to all EVs sold until the end of 2023 to our early reservation holders," Westbrook said.
VinFast is currently working on lending partners and lease terms and agreements, and says more details will be announced soon.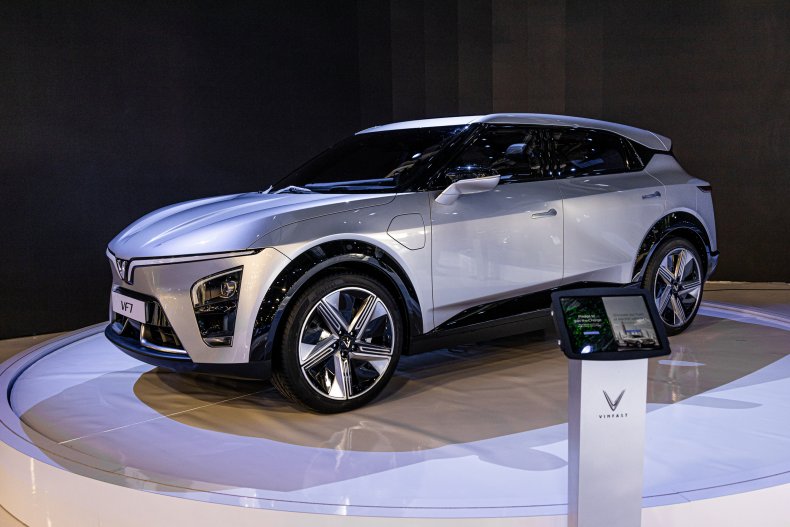 Westbrook says that the policy is designed to make the vehicles more affordable. It reduces the initial cost and gives peace of mind to drivers nervous about the long-term health of their battery. VinFast has a lifetime warranty on its batteries, which get replaced when the capacity drops below 70 percent. Additionally, as battery technology changes, buyers get the most up-to-date tech.
Traditional automakers like Ford and Hyundai also offer battery warranties. Ford's warranty says 8 years or 100,000 miles for repairs, replacements and adjustments, while also keeping 70 percent of its capacity. Hyundai does 10 years, 100,000 miles for the powertrain, including the battery.
"As a new company they're going to have to differentiate themselves," said Dunn. "And to be different from Kia and VW and the rest, they're offering the battery (one of the first things drivers worry about) risk free. It also helps that the company is headquartered in the region where 90 percent of the global batteries come from, and has long-standing relationships with them."
VinFast is also looking to eliminate hazardous battery waste with programs to reuse or recycle used power units. Volkswagen is doing the same thing at its new battery recycling plant in Salzgitter, Germany. Westbrook noted that customers who put down a deposit with the Fixed plan will get the lifetime subscription free. It also transfers to a new owner when the vehicle is sold.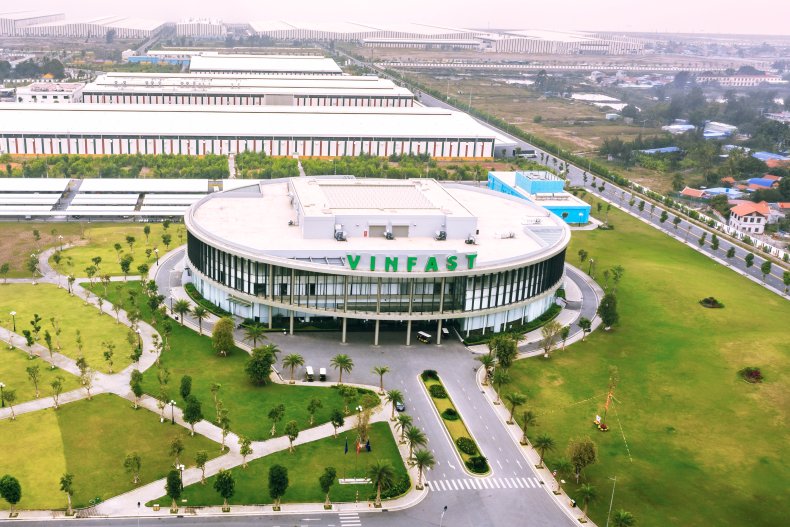 Like Ford does now, VinFast intends to sell SUVs in a variety of sizes. In the U.S., Ford sells the EcoSport, Escape, Edge, Explorer and Expedition, each larger than the last. VinFast will similarly sell the VF7, VF8 and VF9.
The VinFast VF8 will be competing with the internal combustion engined Edge and plug-in hybrid Jeep Grand Cherokee 4xe, the upcoming battery electric Chevrolet Equinox EV and existing all-electric Ford Mustang Mach-E. The VinFast crossover features two electric motors that deliver all-wheel drive capability.
Total output for the VF8 Eco trim level is rated at 348 horsepower and 368 pound-feet (lb-ft) of torque and delivers an estimate of either 260 miles of range or 292 miles on the European cycle, which tends to have higher range estimates than Environmental Protection Agency estimates. The Plus trim makes 402 horsepower and 457 pound-feet and gets a range of either 248 or 277 miles. It starts at $40,700.
The base Ford Mustang Mach-E delivers 266 horsepower and 317 pound-feet of torque and has a range of 247 miles starting at $42,895 before tax credits.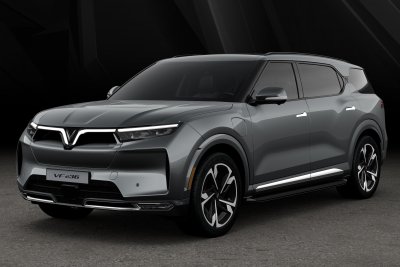 The VF9 is a bigger three-row SUV with all-wheel drive, courtesy of two motors. Both the Eco and Plus trim both deliver 402 horsepower and 457 pound-feet of torque. The enhanced range versions do 369 and 360 miles for the Eco and Plus trims. The standard range versions go 272 miles and 262 miles. Both are on the WLTP European cycle. The VF7 is also on its way.
"The trio of attractive crossovers slated to go on sale here in the coming years is rather intriguing from the three-row VF9 to the excellently styled VF7 that to me really seems like the most "premium" offering of the three. VinFast has promised an impressive suite of ADAS and infotainment tech and solid range numbers that'll be more than fine for the majority of American consumers," said DeGraff.
Both VFs have exceptional charging times using a 400-volt electric architecture. The VF9 can go from 10 to 70 percent charge in an estimated 26 minutes for the standard and 35 minutes for the extended range on a DC fast charger. The VF8 shortens that span to an estimated 24 and 31 minutes. For comparison, the Kia EV6 with a 77.4-kWh battery has a range of 310 miles and takes about 18 minutes to charge from 10 to 80 percent. That new EV uses an 800-volt architecture, hence the faster times.
"I'm really rooting for VinFast's success, however I'm a bit concerned about their idea of making buyers subscribe either monthly or annually for the battery pack in addition to the price of the vehicle. As the list of EVs available to consumers grows with each coming year, the competition is going to grow more intense. People in general aren't necessarily enamored with the idea of subscriptions, especially when it comes to vehicle ownership," said DeGraff.
He noted that the option might steer buyers away from VinFast to ones that don't have an additional cost.
"VinFast is savvy, realistic and understands the market," said Dunn. "It's under no illusions that entrance into the U.S. market will be easy. It took years for the Germans, Japanese and Koreans to gain trust. But it's not out of nowhere, they have good cards and are here to play them."