The View's Whoopi Goldberg Defends Kellyanne Conway: 'Don't Boo Her'
During Tuesday's episode of ABC's The View, host Whoopi Goldberg came to the defense of controversial guest Kellyanne Conway after the studio audience began to boo her.
Conway, who served as a senior counselor to former President Donald Trump from 2017 to 2020, appeared on The View to promote her new memoir Here's the Deal.
At one point during her appearance, she began to discuss her disappointment with Trump's loss in the 2020 election and coupled it with disparaging remarks about President Joe Biden, prompting boos from the live audience. In her remarks, she said that Trump "had all these accomplishments" and referred to Biden as "a guy who was stuck in the basement."
In response, Goldberg chastised the audience and argued that allowing guests to share their point-of-view was in keeping with the spirit of the show.
"Listen, this is The View," she said. "And she's talking about her view and how she feels about things. Please don't boo her."
"I think it was me saying it was Biden staying in the basement that was the problem," Conway added, appearing to take the boos in stride.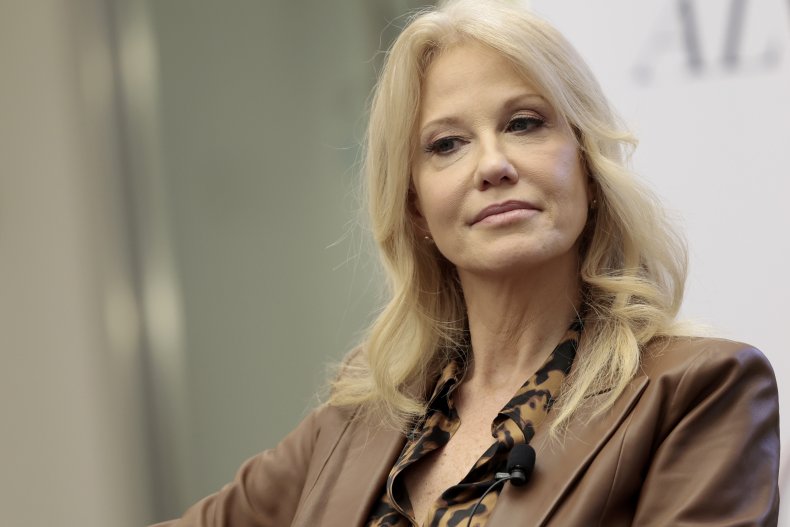 Conway has been generating considerable conversation with her new book, in which she discusses at length her time serving in the Trump administration. Notably in the book, she admitted for the first time that the former president lost the 2020 presidential election. She also discussed her tumultuous relationship with her husband, George Conway, who became one of the most vocal conservative critics of Trump.
"I had two men in my life," Conway wrote in her book. "One was my husband. One was my boss, who happened to be president of the United States. One of those men was defending me. And it wasn't George Conway. It was Donald Trump."
During her time in the Trump administration, Conway became infamous as a press surrogate for the president. She was among the first conservative voices to adopt the term "alternative facts" in support of Trump, and once seemed to reference a fake Islamist terrorist attack, which she called the "Bowling Green massacre."
On the Monday edition of The View, Goldberg spoke out in support of a lawmaker from the other side of the political aisle, House Speaker Nancy Pelosi. Goldberg called out the archbishop who barred Pelosi from receiving Holy Communion in San Francisco over her support of abortion rights.
"This is not your job, dude! You can't — that is not up to you to make that decision," Goldberg said. "You know, what is the saying? It's kind of amazing. But, you know, what is the point of communion, right? It's for sinners. It's for sinners. It's the reward of saints, but the bread of sinners. How dare you?"