Vince Gilligan Preparing Next Show and It Isn't in 'Breaking Bad' Universe
After 14 years of creating stories in the Breaking Bad Universe, Vince Gilligan is ready for something new.
Gilligan first created Breaking Bad in 2008, and the iconic AMC show, which starred Bryan Cranston and Aaron Paul, has also led to a sequel film titled El Camino and a spin-off series, Better Call Saul.
The latter is now in its sixth and final season, with the show set to come to an end on Monday, August 15, with the episode "Saul Gone."
Now that this chapter of the Breaking Bad franchise is about to close, Gilligan is said to be looking at making something completely different.
Vince Gilligan is Preparing his Next Show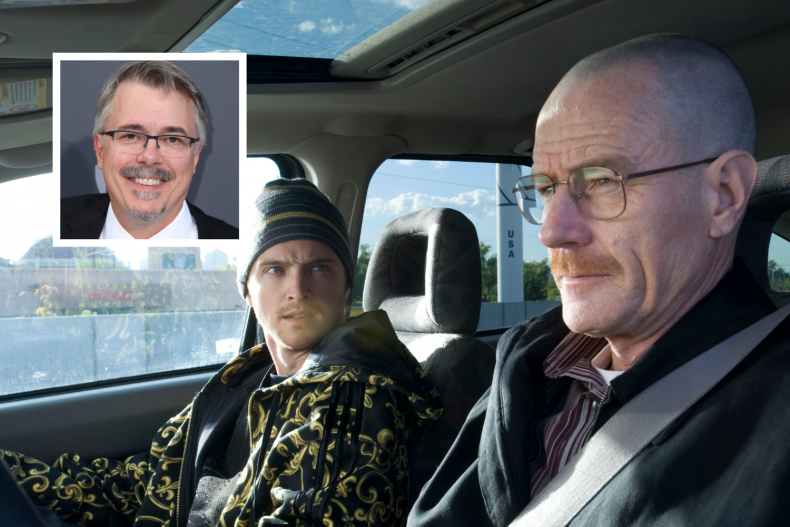 According to a report from Deadline on Wednesday August 11, Gilligan is preparing a new original TV show that he's said to be pitching to "at least 8-9 networks."
The publication claimed that the new project would see Gilligan hearken back to his days working on The X-Files, but that he's intending to make a "genre drama" rather than a straight Sci-Fi show.
It was also claimed that Gilligan's new series would be best compared to The Twilight Zone, but no specifics were given.
Newsweek has contacted Vince Gilligan's representatives for further comment.
The writer and director has spoken publicly about his desire to move away from making shows and films set within the Breaking Bad universe, saying that it felt like the right time to move on.
In an interview with Deadline, Gilligan said: "You can't keep putting all your money on red 21. I feel like we probably pushed it doing a spinoff to Breaking Bad [but] I could not be more happy with the results.
"Then I did El Camino and I'm very proud of that too. But I think I'm starting to sense you've got to know when to leave the party, you don't want to be the guy with a lampshade on your head."
When asked about any possible future spin-offs of the show, Gilligan said: "I don't have any plans right now to do anything more in this universe. I know I probably gave the same answer at the end of Breaking Bad. I gotta prove to myself that I got something else in me. I'm not a one trick pony, that's what I'm hoping."
Breaking Bad follows high school chemistry teacher Walter White (Cranston) who is diagnosed with lung cancer and decides to use his knowledge to start cooking crystal meth with former student Jesse Pinkman (Paul), all to make money for his family after his passing.
But what started out as a means to save money for his family becomes something much darker as Walt is drawn into the criminal underworld and starts to thrive in it, and his actions begin negatively impact those around him, like Jesse.
The show aired from 2008 to 2013, and it ended with its fifth season. A spin-off film centered on Jesse's actions immediately after the events of Breaking Bad was released in 2019, titled El Camino.
Better Call Saul is a prequel spin-off that follows Walt and Jesse's lawyer Saul Goodman (Bob Odenkirk), and it charts his journey to becoming the legal representative fans know and love. It began airing in 2015 and the show will end with its 63rd episode.
Better Call Saul Season 6 ends on Monday, August 15, on AMC and AMC+. It will air at 9 p.m. ET.