Vladimir Putin Blames Kremlin Staff for Trump Meeting Fail
While President Donald Trump earned a grilling at home for taking the Kremlin's word over that of his own security services, Russian counterpart Vladimir Putin fired into his own ranks. Speaking about the awkward, public failure to organize a formal meeting between the two, announced by Russia and rebuffed by the U.S., Putin said his own staff were partly to blame.
"As far as the issue of the separate meeting with Mr. Trump is concerned, firstly this was all linked to mine and Mr Trump's schedules," Putin said during the weekend's summit in Vietnam, where the two shared little more than a greeting and a handshake. "And [it is related] to certain protocol formalities that our teams could not handle, sadly."
Asked what the outcome for his staff would be, Putin was brief. "Well, they will be punished for it," Putin said with smile, in what Kremlin officials will hope was just a joke, state news agency Itar-Tass reported.
Read More: Russia says it has more tanks than any other nation in the world. Is that a good thing?
"While we are on the subject, nothing awful happened," Putin said later, noting that his short conversation with Trump on the sidelines was enough for him. "More or less, we discussed everything we wanted to."
Other Russian officials have blamed the U.S. for dropping the meeting or failing to make an effort to organize it. Notably, Russia's irate-looking Foreign Minister Sergei Lavrov barked at state TV reporters to "ask the Americans" why the two leaders were not meeting on Friday. He alleged U.S. "pencil pushers" were behind the collapse of a meeting.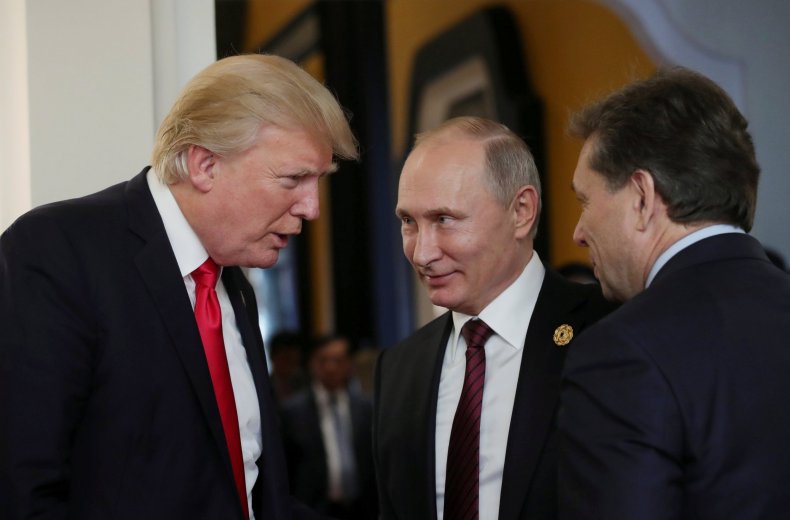 Putin's spokesman Dmitry Peskov distanced Russian staffers from the responsibility for the meeting fiasco. The Kremlin spokesman admitted that the U.S. delegation had offered one time and location, which did not suit Putin.
"This time the American side, despite the best efforts of our team, sadly offered no alternative options," Peskov said. "The Americans did not show flexibility and offered no alternative suggestions," Itar-Tass reported, citing the spokesman.
Despite Putin's explanation that a clash of schedules was to blame for his exchange with Trump being confined to a brief chat at the summit, the U.S. gave a different account last week. Several senior Russian officials gave the impression that the meeting was going ahead and the two sides only had to agree on an exact time before Secretary of State Rex Tillerson said Thursday that the meeting would not happen unless it was going to be a "meaningful meeting."
Contradicting Putin's story about a clash of schedules, Tillerson said that while Russia had an agenda of talking points, Washington doubted that there was "something sufficiently substantive to talk about that would warrant a formal meeting."
The difference in eagerness among the two sides for a meeting was telling off who stood to benefit, experts said.
Ex-U.S. Ambassador and diplomat in the former Communist Bloc, Steve Pifer told Newsweek that the publicity from such a meeting would have been desirable for Putin, but not for Trump.