Putin Seizes Control of Oil Project Amid Reports of Economic Turmoil
Russian President Vladimir Putin on Thursday issued a decree that gives the Kremlin control of a large oil and gas project on Russia's Sakhalin Island as the country aims to offset the impact of Western sanctions taking hold of its economy.
The Kremlin's presidential press service published a statement about Putin's measure. The statement claimed the move was a response to "emergency situations endangering the life and safety of people and threatening the national interests and economic security of the Russian Federation."
The decree allows Russia to fully take over the rights and obligations of the project known as Sakhalin-2, with state-run Gazprom keeping its stake in the project, but Reuters reporting that others must "ask the Russian government for a stake in the new firm within one month." Multinational oil corporation Shell is currently invested in the venture, as are Japanese companies Mitsui and Mitsubishi, though Shell announced after Putin's Ukraine invasion in late February that it was planning to exit its 27.5 percent stake.
The news of the project seizure comes after a recent report showed Putin's economy is being crippled by the sanctions imposed on Russia following the start of the invasion. Statistics from Russia's Federal State Statistics Service indicated production has drastically dropped across various sectors and retail confidence has sunk. The data found that Russia's auto industry has been hit particularly hard, with car production down by 96.7 percent compared to 2021.
Reuters reported that the Kremlin might be able to keep any proceeds from Shell selling its stake in Sakhalin-2. The news agency also said Japan imports 10 percent of its liquefied natural gas (LNG) from Russia, most of which comes from Sakhalin-2.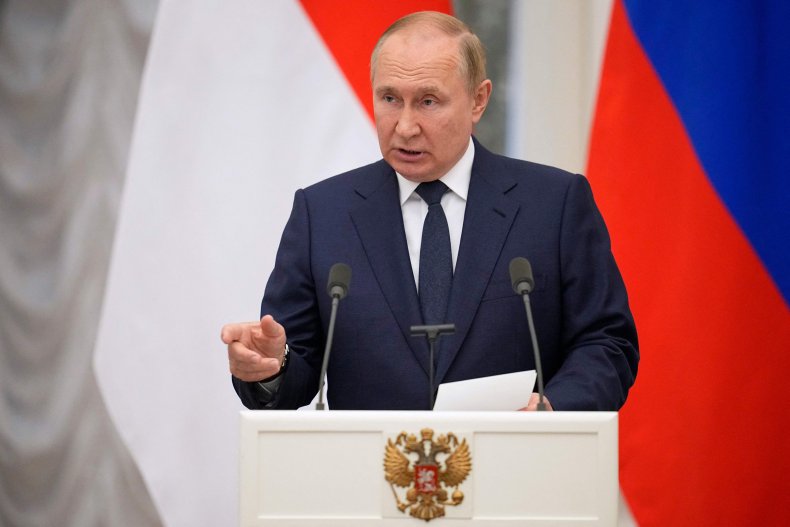 Even as Russia's economy has suffered from sanctions, reports indicate Putin is still able to fund his war in Ukraine due to continued profits from oil exports.
In June, the Centre for Research on Energy and Clean Air (CREA)—an independent research organization located in Finland—said it had found that Russia brought in 93 billion euros over the first 100 days of the war in Ukraine, which converts to around $97 billion. This equates to Russia making approximately $1 billion a day exporting fossil fuels during that time frame.
By comparison, an estimate released in May gave an indication of what Putin was spending on war efforts. The Moscow Times reported that the estimate, which was based on Russian Ministry of Finance data, showed that 628 billion rubles of Russia's federal budget in April was spent on national defense, which equals about 21 billion rubles—or more than $330 million—a day.
The numbers from CREA will likely soon shift as EU leaders in May agreed to a new sanctions package on Russia for its war, which includes a ban on 90 percent of Russian crude oil imports by the end of the year. However, Putin's action regarding Sakhalin-2 will bring in revenue for the Kremlin to counter some of the damage from sanctions.
Even with Russia assuming control of Sakhalin-2, Japan is reportedly not currently planing on giving up its stake in the project.
"The decree does not mean that Japan's LNG imports will become immediately impossible, but it is necessary to take all possible measures in preparation for unforeseen circumstances," Japan's Industry Minister Koichi Hagiuda said, according to Reuters.