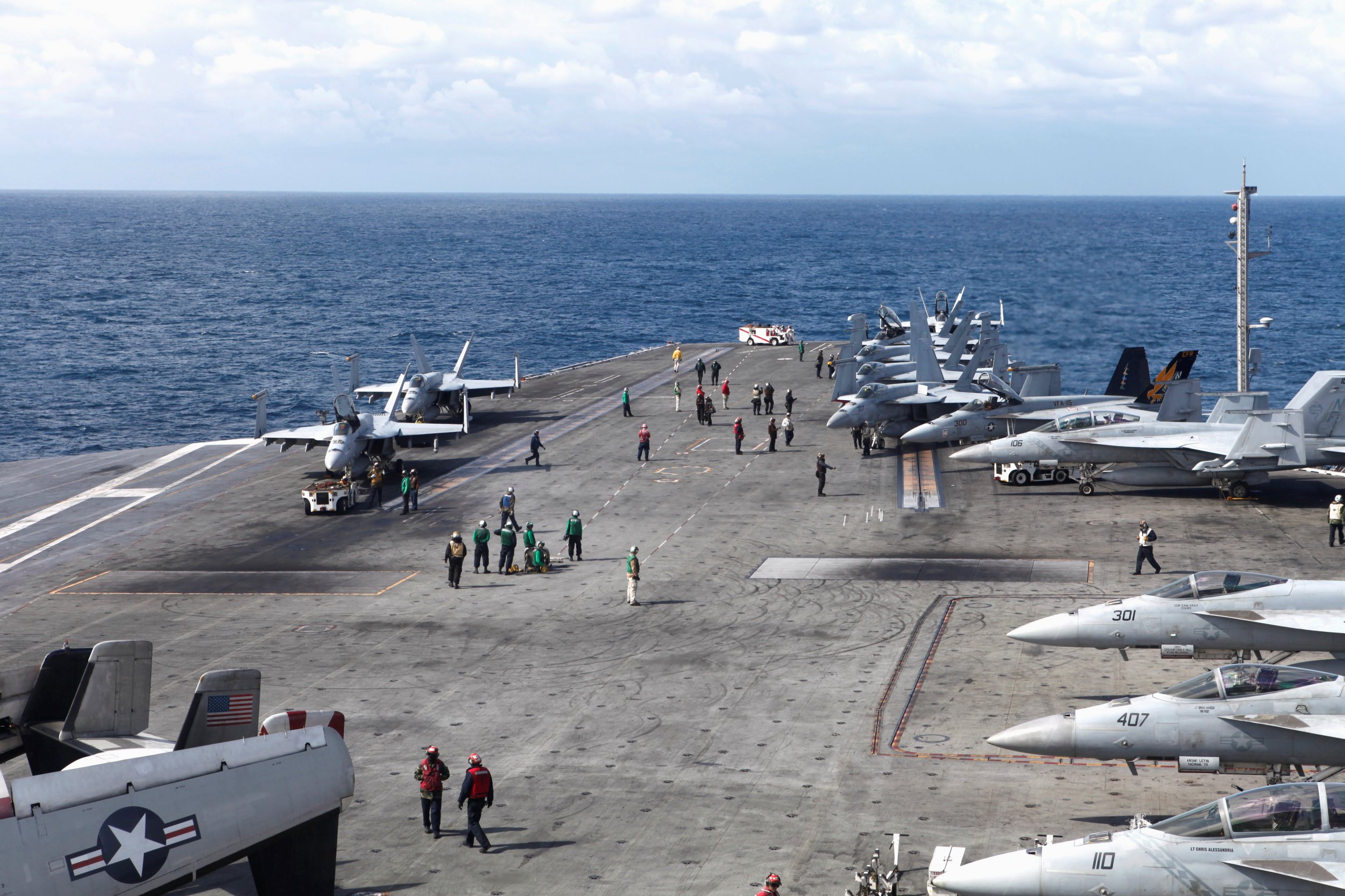 The South Korean military will join a rare U.S. Navy exercise off the coast of the Korean Peninsula this weekend.
The country's joint chiefs of staff (JCS) announced Friday that South Korea will send seven of its warships—including two Aegis Combat System–equipped vessels, one destroyer and four frigates—to join three U.S. aircraft carriers deployed in the Western Pacific that will perform their first joint drill in a decade.
"The training is aimed at restraining North Korea's nuclear and missile provocations and showing our military's strong willingness to act and military preparedness," the JCS said, quoted in the local press.
The drills are scheduled to take place from November 11-14 in the East Sea, also known as the Sea of Japan in an ongoing naming dispute between South Korea and Japan. In addition to the USS Ronald Reagan, the USS Nimitz and the USS Theodore Roosevelt, the U.S. Navy also will mobilize 11 Aegis ships.
The exercise aims to improve the two countries' ability to carry out cooperated operations through air operations, air artillery strikes and aircraft carrier escorts. U.S. Pacific Fleet Commander Admiral Scott Swift described the training as a "rare opportunity."
The last time such drills were held was during the Valiant Shield exercises in 2006 and 2007, which took place off the coast of the U.S. territory of Guam, which hosts two U.S. military bases and is on the North Korean radar for a potential missile strike.
The presence of the three aircraft carriers in waters around the Korean Peninsula and the South China Sea, the East China Sea and the Philippine Sea, unnerved North Korea, who said the presence of U.S. strategic assets was the reason for the country needing a nuclear deterrent.
After President Donald Trump described his strategy on containing North Korea as "peace through strength," Rodong Sinmun newspaper, the North Korean ruling party's mouthpiece, published an article on Friday protesting the drills and vowing to "defend peace until the end."
The article quoted the country's leader, Kim Jong Un, saying, "We will surely protect our country's peace and security with our own strength, and will also contribute positively to the peace and stability of the world."
For all the talks of peace, nonproliferation experts are concerned about an increased likelihood of military confrontation between the two countries.