Bernie Sanders Narrowly Leads 2020 Race as Elizabeth Warren and Joe Biden Slide in Latest Poll
Ex-Vice President Joe Biden and Senator Elizabeth Warren both slid in the latest poll from the 2020 Democratic race, as Senator Bernie Sanders slipped narrowly into the lead.
The Reuters/Ipsos online poll of 681 Democrats and independents, of which 552 were registered to vote, was conducted between January 15-16.
It placed the Vermont independent Sanders on 20 percent and Biden, who served in the Obama administration, on 19 percent. Warren, a Massachusetts Democrat, was on 12 percent.
Compared to the previous Reuters/Ipsos poll released January 9, Biden was down 4 points and Warren was down three points. Sanders, however, had held steady.
Biden remains the clear favorite in the RealClearPolitics national polling average, which places him in first on 27.2 percent. Second is Sanders at 19.2 percent and third is Warren at 16 percent.
This week, a dispute between the Warren and Sanders campaigns ignited out in the open after the CNN debate in Iowa.
The two have clashed over an allegation by Warren that Sanders told her during a private meeting in December 2018 he did not think a woman could beat President Donald Trump.
Responding to reports about the meeting, Warren issued a statement: "Among the topics that came up was what would happen if Democrats nominated a female candidate. I thought a woman could win; he disagreed."
Sanders denies making the comment and the issue arose at the debate. Once the debate had ended, Warren went up to Sanders to confront him, and declined to shake his hand.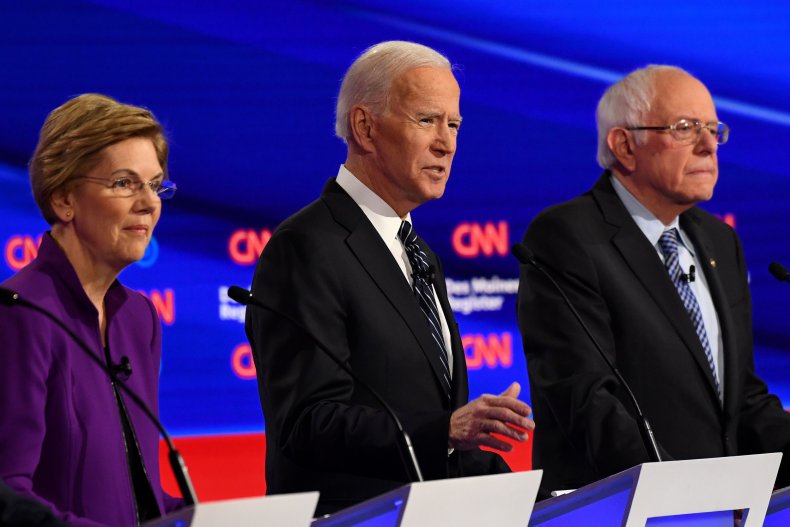 The CNN microphones captured the audio of their brief dialogue. "I think you called me a liar on national TV," Warren said.
Sanders responded: "Let's not do it right now. You want to have that discussion, we'll have that discussion."
During the actual debate, Sanders was asked about the alleged comment, and said "I didn't say it," before adding: "Anybody who knows me knows that it's incomprehensible that I would think that a woman could not be president of the United States."
While Biden is a moderate centrist, both Warren and Sanders are on the progressive wing of the race, and there is some crossover of their support bases.
The Iowa Democratic caucuses will open the primary season on February 3. The candidate who eventually wins will formally accept the Democratic party's presidential nomination at the convention in mid-July. The 2020 election will take place on November 3.
Newsweek has asked the Biden, Sanders, and Warren campaigns for comment by email and will update this article if any is provided.