What Family Therapists Think About Roe V. Wade Being Overturned
Family therapists are warning that the recent overturning of Roe V. Wade isn't just going to impact women and child-bearing individuals, but also their families.
Despite six in 10 Americans believing that abortion should be legal in all states, the 50-year-ruling was reversed by the Republican-leaning Supreme Court on 24 June. As a result, 26 states have either already, or likely will, make abortion illegal in the immediate future.
But family planning experts, including Planned Parenthood, say that the effect of the ruling goes beyond "abortion or no abortion," with the long-term implications impacting children along with their parents.
"There's no other way to say it, it produces harm," Sahila Bava told Newsweek. A licensed marriage and family therapist with a Ph.D in human development, several of Bava's patients have already expressed dismay at what the ruling means for them.
"At the most basic level, it's about dignity, and the psychological impacts when you have no choice," she explained. "The political is personal."
"Rattled"
Since the verdict was announced, people have been sharing their stories, both past and present. John Greg, a Family Preservation and Harm Reduction Campaigner from Safety Harbor, shared how being adopted as a baby shaped his life, after his mother—who already had four children and was escaping an abusive relationship—couldn't access abortion.
While Raven Ackerman went viral after her doctor refused to renew her prescription of vital heart medication as it can induce a miscarriage, despite her not being pregnant. Abortion is still legal in Ackerman's home state of Michigan, but a 1931 abortion ban in the state still stands. Whether or not it will be enforced depends on a Michigan supreme court ruling scheduled for November.
"[It's] really rattled those of us working in family planning," Matt Lunquist told Newsweek. Founder and clinical director of Tribeca Therapy in New York City, like Bava, Roe V. Wade has "dominated thoughts and feelings and conversations" at his practice.
"People who pay attention are seeing some really concerning things coming," he said.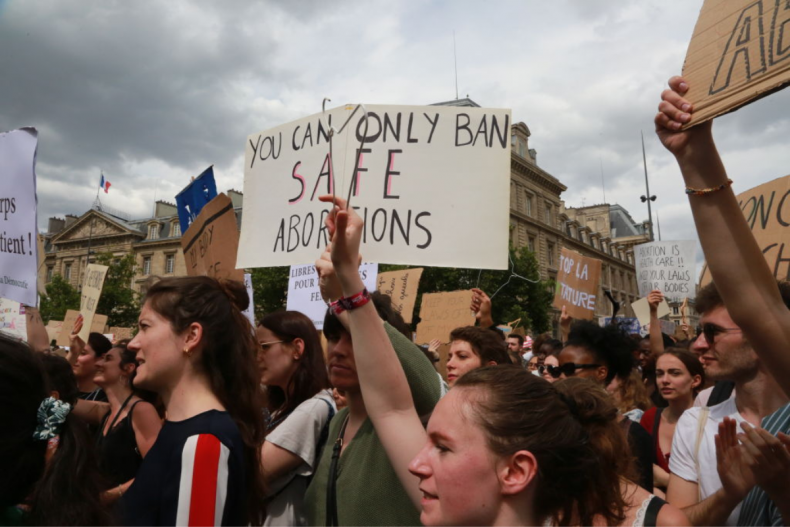 Increase in suicide rates
A longitudinal study published in 2018 showed that people who receive a wanted abortion are not at an increased risk of anxiety or depression, and it's not the only research to turn up such results.
The Turnaway Study, conducted by the University of California San Francisco and published in 2020, studied the effects of unwanted pregnancy on 1,000 women over a 10-year period. They found those denied an abortion were not only more likely to suffer mental health issues in the short-term, but to struggle with financial insecurity, single-parenthood, domestic abuse or health problems than those who were not—all of which have an impact on wellbeing.
"There are long-term physical and financial problems, which all tie back to mental health," Bava explained.
"I'm already seeing increased anxiety, but there will be an increase in suicide. Not just from depression, but as a way for [desperate] women to access health care."
Living below the poverty line
Black, Latin, Indigenous, LGBTQ+ and low-income families will be most impacted by the overturning of Roe V. Wade according to Dr. Meera Shah, Chief Medical Officer of Planned Parenthood Hudson Peconic and National Medical Spokesperson at PPFA.
She told Newsweek: "Communities historically targeted by racism, bias, and discrimination will disproportionately feel the effects of abortion bans and restrictions."
She said that we've already seen this play out in Texas, where a 6-week abortion ban was passed in September 2021.
"People who do not have access to the financial resources and support they need to travel out of state are forced to carry pregnancies against their will, and some will seek abortions outside of the health care system," she warned.
However, the consequences of restricted access do not only impact those denied abortion care, but also their children, leading to more families living below the poverty line.
"[When] women have children they can lose their earning capacity, even in loving and caring families," said Lundquist.
"For example, if a couple in a heterosexual relationship has two children and then she becomes pregnant again, that third child affects the family's economic stability as well as her relationship with her other children."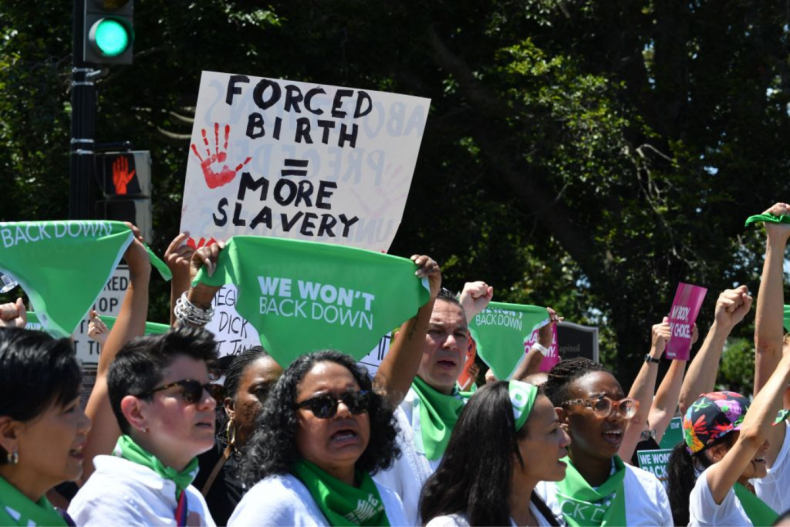 Giving abusers greater control
According to a study in the journal Obstetrics & Gynaecology, murder by a significant other is the number one cause of death for pregnant women or those post-partum. Bava believes the overturning of Roe V. Wade will make it easier for abusive partners to trap their spouses, or lead to an increase in domestic violence.
"It's going to increase the power imbalances in families," she explained. "As women or people with vaginas, the state says we don't have equal rights, and this [dynamic] is reinforced in these families."
"When pressure on families goes up, domestic violence [rates] increase, because it's signaling who has control."
Lundquist agrees: "If they're in a relationship that is cohesive or physically aggressive, having fewer decisions around conception can add layers of complications to that.
"We're concerned about these people's ability to assert themselves in these relationships."
However, the children are also at an increased risk of abuse and neglect by being born to parents who didn't plan to have them.
"We spend a lot of time working with adults reflecting on their experiences of childhood," said Lundquist.
"This includes awful harm like abuse and neglect, which has a huge impact on children and their emotional health as adults, but children who aren't totally wanted are also [at risk].
"A child can disrupt their life plans. As therapists we want kids to come into this world with parents who really adore them.
"We see the impact of children who are not fully welcomed or celebrated, which is why we are advocates for choice."
How can you help?
If you'd like to assist women and child-bearing individuals, Bava suggests organizing practical support, such as offering housing or transportation across state lines to where abortion is legal.
Planned Parenthood recommends donating to the National Network of Abortion Funds, where your contribution is split among more than 90 different organizations helping women to access safe and affordable abortions.
"We're committed to meeting the health care needs of as many people as possible," said Shah.
"Planned Parenthood will continue to help people understand what this decision means for their rights, and provide information and resources to help patients get abortion care.
"Where you live should not determine your ability to control your own reproductive future."