What Happened to Ron and Dan Lafferty and Where Are They Now?
Under the Banner of Heaven examines the real-life murder of Brenda Wright Lafferty and her 15-month-old daughter Erica in July 1984.
The 24-year-old and her infant child were killed by her brothers-in-law Ron and Dan Lafferty after Ron believed he had received a command from God to perform a ritual murder of them and two others, Chloe Low and Richard Stowe.
The FX true crime show stars Sam Worthington as Ron and Wyatt Russell as Dan, while Daisy Edgar-Jones portrays Wright Lafferty.
Here is everything you need to know about the Lafferty brothers and where they are now.
What Happened to Ron and Dan Lafferty and Where Are They Now?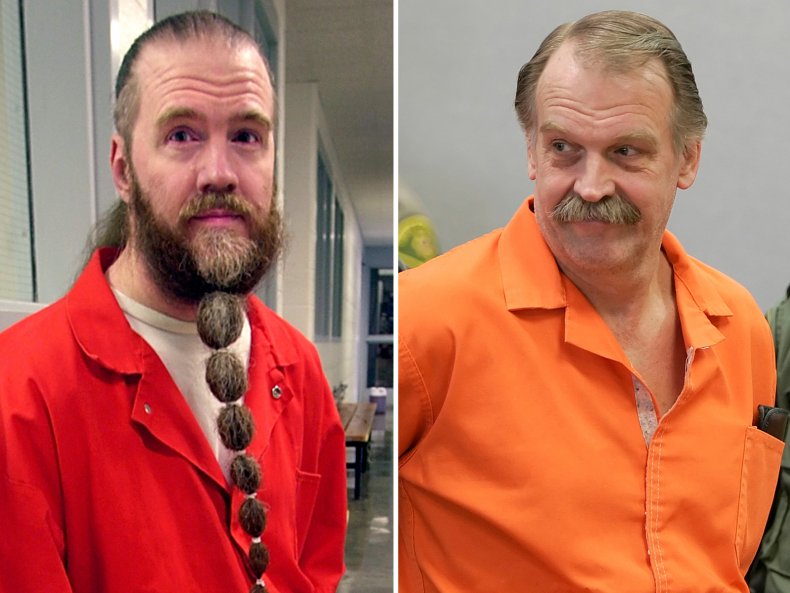 On July 24, 1984 Ron and Dan headed to his brother Allen and Wright Lafferty's home with two friends, Richard Knapp and Chip Carnes, to fulfil the removal revelation, Jon Krakauer explained in his book "Under the Banner of Heaven."
First, Ron stepped up to Wright Lafferty's door with a sawn-off shotgun and a butcher's knife hidden in his clothing, but she did not answer and he returned to the car where Dan, Knapp and Carnes were waiting for him.
The group started to leave but Dan decided to turn back after having a "feeling" he was the one God intended to do the killings, he would later claim at his trial.
When Dan went up to the house and knocked on the door, Wright Lafferty answered and he forced himself in when she tried to bar him entry, at which point he beat her and held her down.
Ron then made his way into the house and Wright Lafferty said, according to Dan, that she "knew it was going to come to this," and she begged them both not to harm her baby daughter.
After struggling against the two men and attempting to get away Wright Lafferty fainted, Dan then tied a cord from a vacuum cleaner around her neck so that he could kill Erica first.
At his trial, Dan said he closed his eyes when murdering Erica and he "didn't feel anything" as he cleaned her blood off the butcher's knife. He then killed Wright Lafferty using the same weapon.
The Lafferty brothers did not kill Low and Stowe as the former was not at her residence at the time, and Ron's friend Carnes managed to persuade him to wait to kill Stowe until another day.
On August 7, 1984 police arrested Ron and Dan while they were in line for a buffet at the Circus Circus casino in Reno, Nevada.
Dan represented himself at his trial where he spoke about Erica's murder with a "serene voice," per Krakauer, and after giving his testimony he told the jury not to be afraid to give him the death penalty for his crimes.
While the jury found him guilty of two counts of murder they did not come to an agreement of whether he should receive the death penalty, with the vote being split 10-2 in favor, and so his life was spared.
Dan is currently serving his life sentence in prison at the Utah State Prison in Point of the Mountain. Krakauer spoke to him for his book and the murderer described the maximum security unit he is in as his "monastery."
Ron was not tried alongside his brother because he had attempted to take his own life before going to court: he stopped breathing for approximately 15 minutes but paramedics successfully revived him and he had his trial four months later.
Unlike with Dan, the jury at Ron's trial were in agreement over the punishment he should receive and he was given the death penalty after being found guilty for the murders of Wright Lafferty and her daughter.
Ron chose to be executed by firing squad, but he died in prison of natural causes in 2019 at the age of 78.
Following his death, Wright Lafferty's sister Sharon Wright Weeks told the Daily Herald that her family felt Ron's death in prison meant they hadn't got justice, and she called for the death penalty to be overturned in Utah in favor of a sentence of life imprisonment, without parole.
Weeks said: "Finding out the death penalty isn't real, I would like to see the state provide justice. The death penalty is a lie."
She added: "It is important for families, but impossible to get justice. It is extremely disappointing and angering knowing our state can't provide what they pronounced. We will never have an execution in the state of Utah."
Wright Lafferty's father Jim told 2KUTV that he felt it was better Ron died in prison, and said: "From the very beginning, we as a family turned that over to the Lord and the law."
Under the Banner of Heaven airs every Thursday on Hulu.
Correction 05/12/22 10:03 a.m. ET: This article was updated to include a missing word in one sentence.