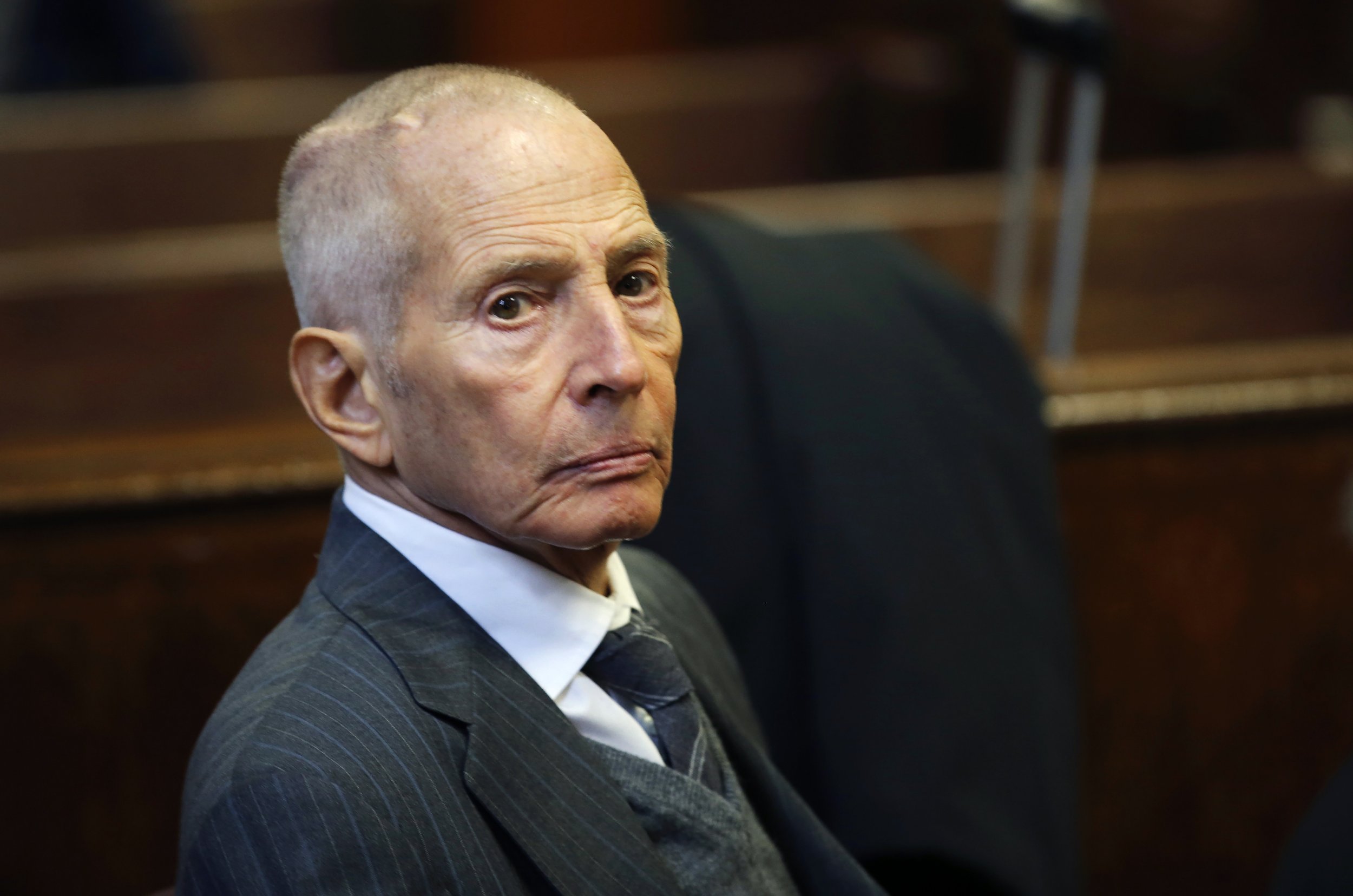 Days after Robert Durst was arrested and charged with the murder of friend and former spokeswoman Susan Berman, new details are emerging about his highly unusual lifestyle and quirky business dealings.
Durst "said I was helping him with one of his businesses," a source, who spoke on the condition of anonymity out of fear for their safety, told Newsweek on Thursday. (That source, whose gender is not being divulged, will be referred to as "Sam" from here on out.)
"He had a scanner, copier and a laminating machine," Sam said. "What I didn't realize is that I unwittingly saw what would have allowed Robert Durst to make a fake driver's license." When Durst was arrested on March 14 as a suspect in Berman's murder, he had a fake identification in his hotel room. While on the run in the past, Durst used dozens of aliases to check into hotels, as outlined in HBO documentary seriesThe Jinx: The Life and Deaths of Robert Durst.
Onetime heir to the multibillion-dollar Durst real estate fortune, Durst has long been suspected in Berman's murder, as well as in the murder of his former neighbor Morris Black, for which he was acquitted. Durst has also been named as a suspect in the disappearance of his first wife, Kathleen Durst, and his arrest came just a day before the airing of the final episode of The Jinx, in which he is recorded saying, "What the hell did I do? Killed them all, of course."
Sam first worked for Debrah Lee Charatan, Durst's second wife, in the late 1990s and early 2000s. Newsweek was able to verify Sam's identity by cross-referencing statements and addresses, but Charatan's office hung up on several attempts by Newsweek to confirm Sam's employment history. Durst's lawyer did not reply to request for comment regarding Sam's employment.
Sam claimed to be hired in the 1990s by Debrah Lee Charatan Realty Inc., which public records show was affiliated with Charatan until 2002. "I got Durst as a client through her," Sam explained. "They were tied together."
Another source, who occupied a leadership role at Debrah Lee Charatan Realty at the time and is referenced here using the alias Jamie, told Newsweek that Durst "gave Debrah [money]," adding: "It's absolutely Bobby Durst's money." A third source, a real estate investor with knowledge of the matter, told Newsweek earlier this week that they believed Charatan's companies were a "front" for Durst's business dealings. Indeed, in 2014, Charatan's company announced the $21 million sale of two Brooklyn properties owned by Durst. (Jamie confirmed their identity with records linking them to Charatan's business.)
According to Jamie, Durst would come into the office "periodically," often when he needed something notarized. Both Jamie and Sam say that Durst mostly worked out of a private apartment. Sam did some work out of that apartment.
"His place was fuming with weed and he was stoned all the time," Sam said. "Instead of having a bulletin board on his wall, he would take sticky notes and thumbtacks and stick them right into the wall of a nice, New York apartment." Jamie added that Durst "quite liked his [drugs]," a characterization that jibes with prior media reports that categorize Durst as a marijuana user.
Sam claims to have been paid sporadically in cash by Durst, in stacks of bills in envelopes. When Durst was arrested on March 14, similar envelopes containing more than $42,000 were recovered from his hotel room in New Orleans, along with a revolver with one spent bullet and four live rounds, a rubber or latex face mask and marijuana.
Durst's lawyer did not respond to requests for comment on his client's business dealings or marijuana use.
Sam, who would on occasion smoke pot with Durst, also grew close to Charatan. "Debrah felt comfortable and close, she considered me a friend," Sam said. Jamie was less effusive, calling Charatan a "not lovely person."
It was because of their closeness that Sam was surprised when Charatan let him/her go in 2001, just weeks after Durst was arrested on charges of murdering Black. Sam claims s/he discovered new hires within the firm did not have access to past information that old employees had been allowed to see.
In deposition video that appears in The Jinx, Charatan says she did not know Durst was living in Galveston, Texas until after he was arrested for Morris Black's murder. "I never even heard of Galveston, Texas," Charatan says, adding that she did not know he had an apartment in Galveston until after he was arrested (Durst was later acquitted of killing Black, a neighbor, in this apartment building.) Sources who spoke to Newsweek found this hard to believe. "They spoke relentlessly," Sam said. "They were always, just always, on the phone," Jamie added. According to 2003 media reports, Charatan was Durst's most frequent visitor in jail.
Charatan did not respond to request for comment.
Despite Durst's idiosyncrasies, though, both sources said they never saw him commit any major wrongdoing. "He never did a bad thing to me," a source said. "He was a kooky guy."