What Kamala Harris Has Said About $2,000 Stimulus Checks for Americans
While Congress remains embattled over raising stimulus checks from $600 to $2,000, Vice President-elect Kamala Harris has supported the prospect of increasing direct payments for qualifying Americans.
Harris has long advocated for passing a heftier round of stimulus and previously urged Congress to pass a bill that would give Americans up to $2,000 in checks per month, rather than just a one-time payment.
In May, Harris joined Democratic Senators Bernie Sanders and Ed Markey to introduce the Monthly Economic Crisis Support Act, which proposed monthly payments worth up to $2,000 for those earning up to $120,000 per year.
"We need to give people $2,000 a month as recurrent payments...to help them and sustain them through these months of crisis so at the end of it, they can get back up on their feet instead of falling deep, deep, deep into the crevices of this crisis," she said during an interview with MSNBC in July.
The bill failed to gain the bipartisan support it needed to pass in Congress. But it has been speculated that Harris could urge lawmakers to reconsider the monthly payments when she takes office in January.
For now, Harris issued her support for the $900 billion bipartisan coronavirus relief package by casting her vote on the Senate floor in December.
"The American people need relief and I want to be able to do what I can to help them," she said on December 22.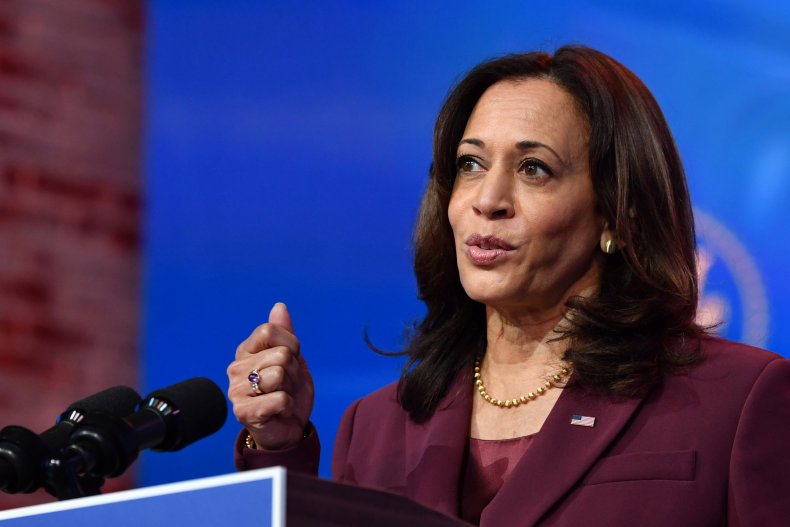 But President-elect Joe Biden vowed that package was only a "down payment," and pledged that he and Harris would take additional steps to provide relief amid the ongoing health crisis.
"Congress did its job this week," Biden said at a news conference on December 22, "and I can and I must ask them to do it again next year."
On Monday, Biden confirmed to reporters that he supports increasing payments from $600 to $2,000.
But the fate of the increased stimulus checks remains uncertain as Democrats and Republicans face off in Congress.
After President Donald Trump called the $600 stimulus checks proposed in the current relief bill "ridiculously low," the Democratic-controlled House of Representatives moved to quickly pass the the Caring for Americans with Supplemental Help (CASH) Act to increase payments to $2,000.
The proposal now sits in the Senate, where Republican Majority Leader Mitch McConnell blocked two separate motions to bring the legislation to a vote.
Instead, McConnell introduced a proposal that connects the increased direct payments to some of Trump's additional requests, including investigating election fraud and removing protections for social media platforms.
But Senate Minority Leader Chuck Schumer criticized this approach and accused McConnell of attempting to kill the stimulus checks by adding "unrelated, partisan provisions" to the CASH Act.
"Senator McConnell knows how to make $2,000 survival checks reality and he knows how to kill them. If Sen. McConnell tries loading up the bipartisan passed CASH Act with unrelated, partisan provisions that will do absolutely nothing to help struggling families across the country, it will not pass the House and cannot become law," he said in a statement Tuesday.
"Any move like this by Senator McConnell would be a blatant attempt to deprive Americans of a $2,000 survival check," he added.
While the legislation sits in limbo, the Internal Revenue Service (IRS) announced in a statement on Tuesday that the first rounds of $600 checks would be distributed this week.
Newsweek reached out to the Biden-Harris transition team for additional comment regarding the $2,000 payments, but did not hear back in time for publication.