The world is reeling today from the explosive interview Meghan Markle and Prince Harry gave to Oprah Winfrey on Sunday night.
The couple made some devastating revelations about their treatment by the royal family and the U.K. tabloid media, which ultimately lead to them stepping down from their royal duties and moving to the U.S.
The Duke and Duchess of Sussex made some shocking statements last night—with one powerful revelation about racism sparking a huge debate in the U.K. today.
They said that while Markle was pregnant with her son Archie, members of the royal family expressed "concerns" about how dark the color of the baby's skin would be.
The former Suits actor also opened up about having suicidal thoughts amid relentless negative press coverage of her, admitting: "I just didn't want to be alive anymore."
However, there is one elephant in the room with Oprah's interview, despite how revealing it ultimately was. That is the situation surrounding Prince Andrew.
Prince Andrew, the Duke of York, is still a royal, but not a working one having stepped down from his official duties in late 2019 amid a severe backlash to a BBC interview about his friendship with deceased pedophile Jeffrey Epstein.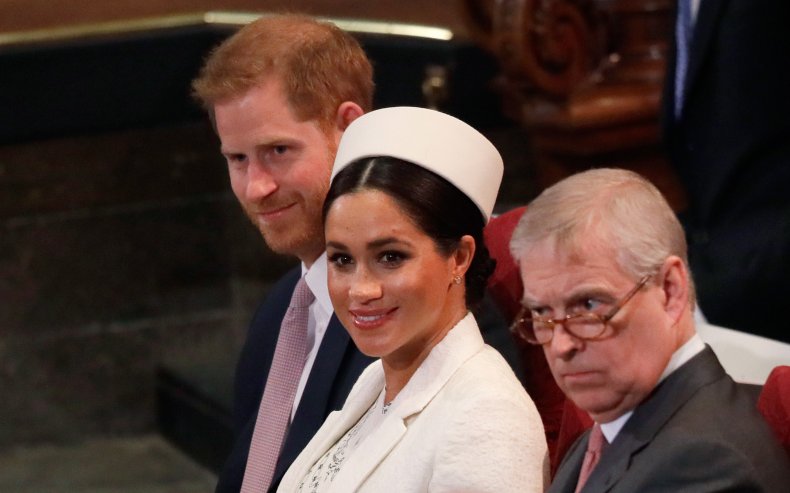 Prince Harry had to give up his honorary military titles when he stopped performing his royal duties this year. However, Andrew, who has been also accused of having sex with one of Epstein's underage victims—Virginia Giuffre—still holds all of his titles. Andrew has strenuously denied the accusations.
Oprah did not question Markle and Harry about the accusations against Andrew, but the duke did speak about being cut off financially by his father.
"I was totally cut off financially," Harry told Oprah. "My family cut me off—if I didn't have what my mum left me, we wouldn't have been able to do this.
"All I wanted to do was keep my family safe."
Prince Andrew is believed to still be financed by the royal family.
Similarly, the couple spoke about having their security detail removed when they stepped down as senior royals.
Conversations between Harry and the royals, Markle said, showed that Archie "won't be given security, he's not going to be given a title."
Harry explained to Oprah: "While we were in Canada, in someone else's house, I then got told, short notice, that security was going to be removed. So suddenly it dawned on me: 'Hang on, the borders could be closed, we're going to have our security removed, who knows how long lockdown is going to be, the world knows where we are, it's not safe, it's not secure, we probably need to get out of here."
Tyler Perry offered the couple use of one of his homes and his security during this time.
Meanwhile, The Sun has claimed that the Queen ensured that Prince Andrew's security arrangements were maintained when he stepped down as a senior royal.