What Prince Harry Told Oprah Winfrey About Princess Diana and Meghan Markle
Prince Harry invoked Princess Diana's memory with Meghan Markle by his side and said: "My biggest concern was history repeating itself."
Oprah Winfrey is seen in preview clips of their interview saying "you've said some pretty shocking things here" and adding: "Were you silent or were you silenced?"
The Duke and Duchess of Sussex's tell-all will run from 8pm to 10pm ET on March 7 and is expected to include searing criticism of the British media.
Royal watchers will be eager to know whether the couple also accuse the palace or any royal family members during their discussion of the pressure Meghan experienced.
For now, it is only Prince Harry's contribution that has been publicized by the network with the royal comparing Meghan's experience with his mother's.
In a clip released by CBS, Harry tells Oprah: "I'm just really relieved and happy to be sitting here talking to you with my wife by my side because I can't begin to imagine what it must have been like for her going through this process by herself all those years ago.
"Because it has been unbelievably tough for the two of us. But at least we had each other."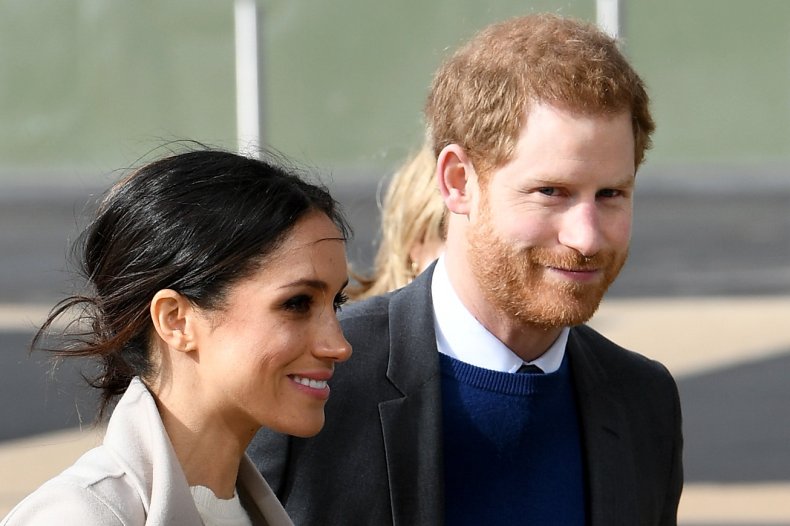 As he speaks, a still image of Princess Diana holding him as a child plays in the background.
In other clips, the prince said: "My biggest concern was history repeating itself."
Princess Diana and her boyfriend Dodi Fayed died in a Paris crash in August 1997 as paparazzi photographers chased the car they were passengers in.
The tragedy came just a year after her divorce from Prince Charles was finalized in 1996, following their separation years earlier in 1992.
Diana's traumatic experience of the palace has been brought to life in the most recent season of The Crown, which depicted her bulimia and loneliness while Prince Charles carried out an affair with Camilla, now his wife the Duchess of Cornwall.
It is unclear from the preview clips whether Prince Harry's comparisons go beyond his previously well publicized attacks on the media to discussion of the couple's relationship with palace staff or even the royals.
Oprah said in the preview: "I just want to make it clear to everybody there is no subject that's off limits."
Oprah's question about whether Meghan had been "silenced" also hints at claims made by Meghan's lawyers in court filings as part of her lawsuit against the Mail on Sunday.
The duchess' lawyers wrote: "[Meghan] had become the subject of a large number of false and damaging articles by the UK tabloid media, specifically by the defendant [the publisher of the Mail on Sunday], which caused tremendous emotional distress and damage to her mental health.
"As her friends had never seen her in this state before, they were rightly concerned for her welfare, specifically as she was pregnant, unprotected by the Institution, and prohibited from defending herself."
The filing added: "This shared frustration amongst [Meghan]'s friends left everyone feeling silenced, as it appeared that other so-called sources were able to disseminate false statements about [Meghan], while the people who knew her best were told that they needed to remain silent."