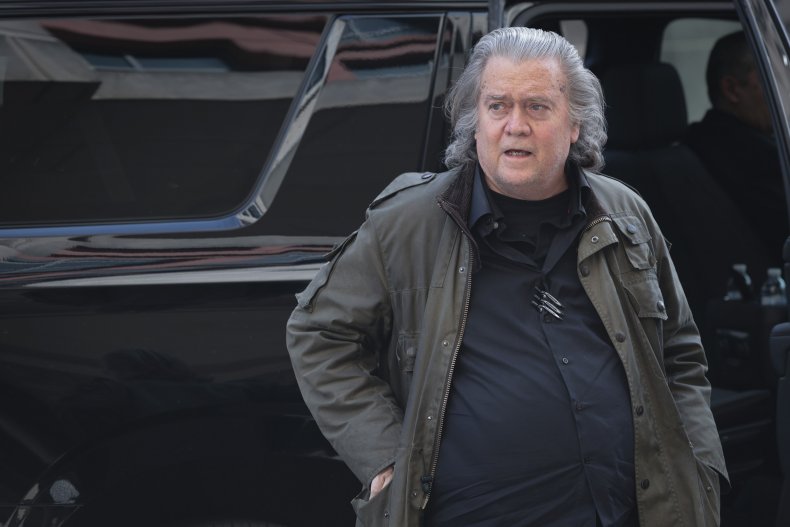 Steve Bannon may be looking to point the finger at former President Donald Trump by employing a "public authority defense" in his upcoming trial for contempt of Congress.
Bannon, Trump's former adviser, is facing trial in July. He was indicted last November for refusing to comply with a subpoena from the House Select Committee to Investigate the January 6th Attack on the U.S. Capitol. Documents filed in court on Friday suggest that Bannon's defense may argue that he is blameless because he was acting on Trump's authority while refusing the subpoena.
Trump asserted "executive privilege" against January 6th committee subpoenas despite having left office last year. Bannon cited Trump's claim as a reason why he refused to comply with the committee. However, President Joe Biden rejected Trump's privilege claim and courts were not swayed by related arguments from the former president's lawyers seeking to block the committee from obtaining records from the National Archives.
On Friday, the Department of Justice (DOJ) filed a motion to stop Bannon from using evidence in support of the "public authority defense" and the related "entrapment by estoppel defense." The motion noted that Bannon "was not subpoenaed in relation to his time as an Executive Branch official" and not directed by Trump to "engage in total noncompliance" with the committee while arguing to exclude the evidence.
The DOJ defines several types of "public authority defense." One involves a defendant claiming to have honestly but mistakenly believed they were "performing the crimes charged in the indictment in cooperation with the government."
In another, defendants claim to have "knowingly committed a criminal act but did so in reasonable reliance upon a grant of authority from a government official to engage in illegal activity," although the DOJ stresses that the defense can only be used "when the government official in question had actual authority, as opposed to merely apparent authority."
"Entrapment by estoppel" is another type of "public authority defense," defined as an argument that the government made errors that convinced a defendant that they were acting within the law, assuming the defendant "was reasonable in believing that his/her conduct was sanctioned by the government."
The second definition, casting Trump as the "government official" who issued "a grant of authority" for illegal activity, has also been used as a defense strategy by several of those accused of crimes related to storming the Capitol on January 6, 2021.
The defense has so far not been successful as a strategy for those involved in the riot. Dustin Thompson, one of several Capitol rioters who claimed Trump "ordered" them to the Capitol, was convicted Thursday of charges including felony obstruction of Congress and could face 20 years in prison.
Others who have pointed to Trump include Jacob Chansley, the so-called "QAnon Shaman" who was convicted of multiple charges and sentenced to 41 months in prison last November. Earlier this week, legal expert Neama Rahmani told Newsweek that blaming Trump was "really the only viable defense" for those accused in the Capitol attack.
In addition to Bannon, contempt of Congress claims have been directed toward several other members of Trump's inner circle who have refused to comply with committee subpoenas, including his former chief of staff Mark Meadows and his former trade adviser Peter Navarro. Whether they would choose to employ a "public authority defense" is unclear, should they also face trial.
Bannon has pleaded not guilty. A conviction for contempt of Congress is punishable by a maximum fine of $100,000 and up to 12 months in prison.
Newsweek reached out to Bannon's attorney Robert Costello for comment.